Player Stock Ticker
Fantasy Football Stock Report: Broncos WR Demaryius Thomas looks to bounce-back in '16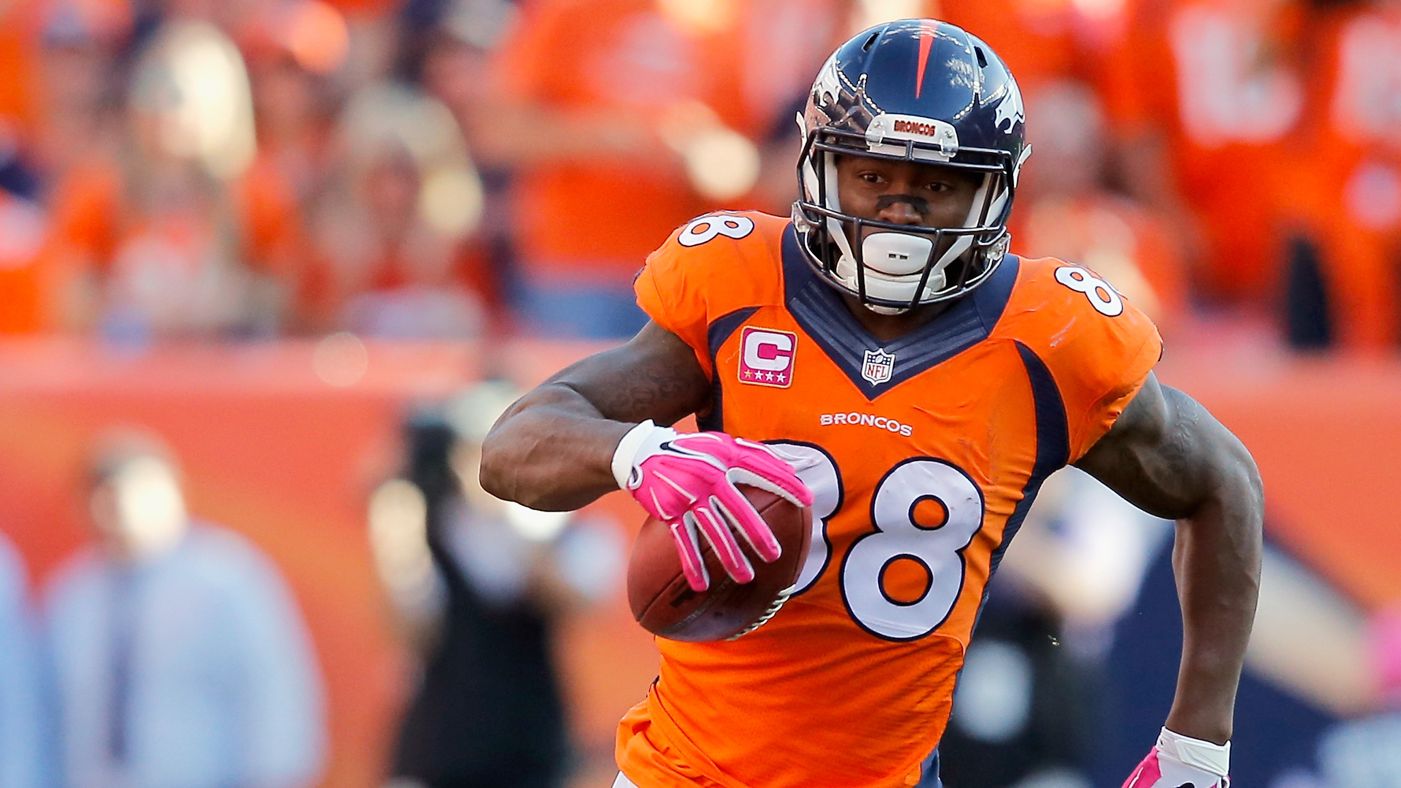 Every morning we compile the most important fantasy football links of the day for you to stay up-to-date and ahead of your fantasy opponents… This is your number one place for beat writer blabber, injury news, transaction tracking, and fantasy analysis from the experts who taught us a thing or two.
"It's just keeping a clear mind and going out and working hard to get prepared for this year to have a better year than I had last year," Thomas said. "It wasn't the best of years — and the drops were one of the biggest reasons. But it happens. I'll come out this year and for sure have a better year."
– Broncos WR Demaryius Thomas via broncos.com
Last year was an exhausting year for Demaryius Thomas, as his mother finally got out of prison and he had 1.5 quarterbacks throwing him the football. He had a couple of big time, uncharacteristic drops and looked soft at times. The funny thing about Thomas' "down" year is that he still put up a 101/1,304/6 statline. With his 1.5 quarterbacks no longer in the picture, Thomas and Emmanuel Sanders will have to suffer through 2016 with Mark Sanchez, Paxton Lynch or something called Trevor Siemian throwing them the rock. Even if Thomas is mentally sharp and cuts out the drops, he will be a fringe WR1 in 2016.
"I think we're getting better just throwing the ball down the field more," [Dwayne] Harris said. "We're definitely trying to work on throwing the ball down the field, throwing more deep passes. And [we need to get] the run game going. That's one of the key elements in our offense. We got it going later on in the season. We've just got to continue that momentum and keep carrying it in the beginning of this season."
– Giants WR Dwayne Harris via giants.com 
Per PFF, the Eli Manning only threw 20-plus yards on 10 percent of his dropbacks, one of the lowest in the league. With Odell Beckham Jr., a (possibly) healthy Victor Cruz and Harris to stretch the field, along with rookie Sterling Shepard underneath, Manning should have more opportunities to throw the ball deep. This offense will put up serious points in '16 and Beckham, Shepard and Manning should all put up excellent fantasy numbers for their respective positions.
On FA WR Anquan Boldin: Source said #Saints are making the strongest push to sign him & he loves ex-#49ers, now NO's, WR coach John Morton

— Ian Rapoport (@RapSheet) July 14, 2016
The receiver room is already at near-capacity for the Saints, and they could be adding a proven veteran to the mix. The Saints drafted a big-bodied receiver in Michael Thomas (who has a good rapport with Drew Brees already) and have Brandon Coleman in the mix, so Boldin could be signed for his vet presence and insurance for the young guys at the receiver position. If signed, he could take away redzone opportunities for Coby Fleener and take time away from Michael Thomas' development. We'll keep you updated if/where Boldin signs.
Not strictly fantasy:
Broncos TE Virgil Green could "shatter" his career highs in receiving categories (which is probably like 10 receptions)
So, the Bills have a fat (K. Williams) RB, an overly aggressive (McCoy) RB and now a drunk RB
If either Michael Crabtree or Amari Cooper get injured this season, look to pick up Seth Roberts; Derek Carr is high on him.