Player Stock Ticker
Daily Fantasy Stock Report: Thomas Rawls unlikely to play in preseason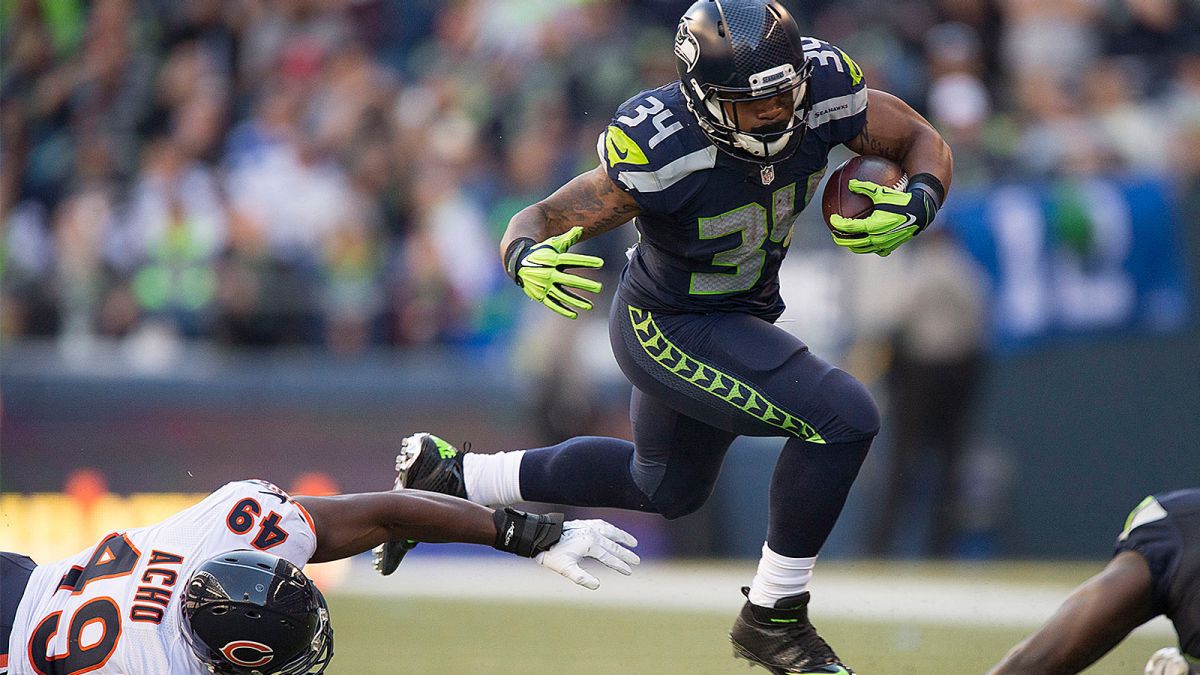 Every morning we compile the most important fantasy football links of the day for you to stay up-to-date and ahead of your fantasy opponents… This is your number one place for beat writer blabber, injury news, transaction tracking, and fantasy analysis from the experts who taught us a thing or two.
"ESPN Seahawks reporter Sheil Kapadia does not believe Thomas Rawls (ankle) will play in the preseason. The Seahawks have been tight-lipped about Rawls' recovery from a broken ankle, but they have consistently targeted Week 1 for his return. That suggests he will not see any work in the preseason, and he could be extremely limited deep into training camp."
There are big expectations from Rawls this year with the sudden and surprise retirement from Marshawn Lynch. The Seahawks' run heavy offense tabbed Rawls as an RB1 this season and a likely very early draft pick. With the increased doubt of any preseason appearance thanks to an ankle injury, along with the very possible return of Marshawn Lynch, owners should be cautious when looking to draft Rawls. He has big play capabilities, but there are some red flags to consider this offseason.
"The stress fracture in [Kevin] White's left shin that required surgery and sidelined him for his entire rookie season remains a storyline until he plays in Week 1. White, the seventh overall selection in the 2015 draft, even said he's still spending time in the Bears' treatment room. But the most significant mental and physical hurdles were overcome long ago. White said he has felt 100 percent for months."
-Adam L. Jahns , Chicago Sun Times
Chicago Bear fans will love to hear this. The former No. 7 overall pick in last year's NFL draft missed the entire season thanks to a stress fracture in his leg. Now claiming to be 100% healthy, White should look to put up solid numbers alongside Alshon Jeffery. Experts loved White last year, so you would have to imagine that many are eager to see what he can do in his first action in the NFL.
"The Vikings will again try to get Adrian Peterson involved in the passing game, especially as they try to use him in the shotgun more effectively than they did last year. The running back said he wanted to be a better receiver after last season, and he has been working to improve there in the offseason."
-Ben Goessling, ESPN Minnesota
This would be huge for Peterson and his value if he could become more dangerous in the receiving game. Peterson isn't known for having a lot of catches out of the backfield, but he's usually been good for a decent amount from an every down power back. Adding even more receptions to his game would boost him into the extreme upper echelon of RB1's nearly solidifying his spot as a top 10 overall pick.
"For DeVante Parker, 'sky is the limit' as he enters second season. I expect him to be a heck of a football player [and] a guy that other teams fear, because he can make big plays down the field [and] inside," the quarterback said. "He's a big-bodied guy. He's a guy that we're going to want to use in the red zone and we're going to want to use him on third downs and to stretch the field as well."
-Ryan Tannehill, Miami Dolphins Quarterback
DeVante Parker was a first round pick last year who missed games early in the season due to a foot injury. Many expected him to have a large impact once he returned, to which Parker put up 26 catches for 494 yards and 3 touchdowns. He appeared in eight games, and while those numbers over the course of a whole season wouldn't impress anyone, he started to pick it up over the last few weeks of the regular season. Miami will look to exploit his talents more, especially with teams keying in on PPR machine Jarvis Landry. A talent like Parker who can stretch the field and make big plays would do wonders for Tannehill's fantasy value. Look for Parker in middle rounds with the potential for some nice upside.
Not strictly fantasy:
The NFL Pro Bowl will be held in Orlando starting in 2017. It has been played in Hawaii since 1979.
Jeff Fowler believes Antonio Brown has a chance to break Marvin Harrison's single season reception total (143) by putting up over 150 receptions.
Former No. 3 overall pick Dion Jordan is seeking to be reinstated by the NFL after failing drug tests