Player Stock Ticker
2018 NFL Free Agency Fantasy Football Preview: Top Available, Rumored Interest and Best Landing Spots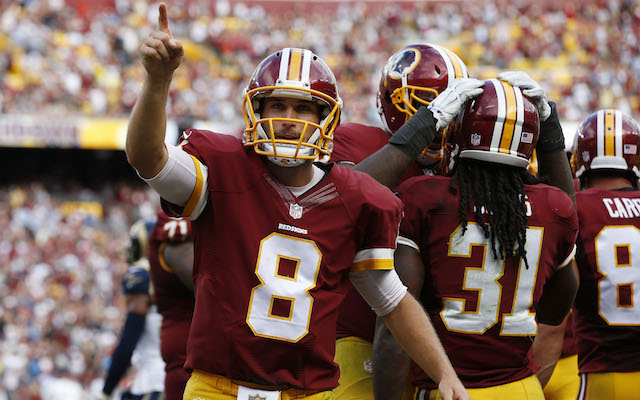 Wide Receivers

Tier 1
1) Allen Robinson
Who is he? Robinson brings "Alpha WR1″ size (6'2", 220 lbs) and leaping ability (39 inch vertical) to the table, even if his long speed is a bit lackluster (4.6 forty). He's smooth in his routes and is excellent at climbing the ladder, making him a target you can "throw open." Robinson's surprisingly dangerous after the catch as well, turning intermediate gains into huge chunks with one broken tackle. He's coming off a torn ACL, however, which could sap him of his already lacking speed; moreover, he was a flatout bust in 2016, seeing his yardage . Still, Robinson's not far removed from a 1,400 yards and 14 TDs season in which he looked like a legitimate superstar.
Rumored Interest: The Redskins made their interest apparent even before Robinson avoided the franchise tag. The 49ers and Bears are also commonly linked to Robinson.
Ideal Fantasy Football Fit: The 49ers would be a fantasy wet dream come true, as Kyle Shanahan's forged a legacy for voluminously targeting his Alpha "X-Receivers." Indeed, having elite talents like a prime Andre Johnson and Julio Jones can dictate target share, yet Pierre Garcon led the league in looks and receptions in 2013, while Santana Moss and even Jabar Gaffney have recorded fantastic seasons under Shanahan. Robinson's enormous catch radius and full route tree would make him Shanahan's latest "Alpha X," and arguably his third most talented behind Jones and Johnson.
Meanwhile, the 49ers could certainly use Robinson's skillset to the fullest. Yes, Garcon and Marquise Goodwin performed admirably, but neither offer the gigantic red zone radius of Robinson.  Despite scoring on 62% of their drives with Jimmy Garoppolo under center, the 49ers only scored 7 passing TDs on 45 red-zone attempts. Meanwhile, Robinson has hauled in 20 TDs over his past two seasons on the field. Additionally, Garoppolo had a 24.3 passer rating on deep throws last year, compared to a 102.8 rating for Bortles while targeting Robinson in his prime 2015 season.
2) Sammy Watkins
Who is he? Watkins has always been able to flat out fly, and has flashed glimpses of the greatness that made him the top wideout selection in a loaded 2014 Rookie Class (Odell Beckham, Mike Evans, Brandin Cooks, Allen Robinson to name a few). However, he has lacked consistency, both with staying on the field and performing when available. At times, he'll dominate and look capable of shouldering a passing offense. At others, he half-asses his routes and plays incredibly soft. There's a chance he finally realizes his immense WR1 ceiling, but a greater likelihood is continued flashes and nothing more.
Rumored Interest: The Rams will reportedly "be aggressive" in trying to resign Watkins, according to Ian Rapoport, but ESPN notes Watkins anticipates  "very strong market from outsider suitors." Some rumored suitors include the Bears, Jets, and 49ers.
Ideal Fantasy Football Fit:  Despite their recent trade for Torrey Smith, the Panthers still remain my preferred landing spot. Norv Turner attacks defenses vertically in his "Air Coryell" attack, while Cam Newton can hose the rock with the best of them. In Carolina, Watkins would walk into a clear-cut WR1 role in a scheme tailor-made to his elite strength and ball-tracking abilities. Smith is far more of a one-trick pony than Watkins, who could dominate at all levels of the field and reemerge as a 1,000 yard, 10+ TD threat alongside Turner and Newton.
Tier 2
3) Terrelle Pryor
4) Donte Moncrief
5) Marquise Lee
6) Paul Richardson
Breakdown:
The drop off at WR is clearly noticeable, yet upside still exists in this tier. Pryor and Moncrief both carry the Prototypical Alpha X size, speed, and leaping abilities, yet both have struggled with health and inconsistency. Before the Jarvis Landry trade, Pryor seemed bound for a Cleveland reunion,  so his market will be intriguing to now track. Meanwhile, Moncrief has been most commonly linked to the Ravens. Baltimore, alongside Chicago and San Francisco, lack a true WR1, and any of these landing spots would offer prime set ups for rebounds.
Meanwhile, Lee and Richardson seem destined to be quality second or third targets. Richardson brings pure speed to the table, and is able to streak down the field with the best of them. Meanwhile, Lee may not possess the same long speed, but is a more polished route runner with plenty of downfield ability in his own right. Both players carry small frames, however, and have faced durability woes while struggling to break tackles. Still, they are far more guarantees in their respective roles than the names above. The Bears have been linked to both targets… and pretty much every available pass catcher.
Other Names to Monitor:  Mike Wallace, Tyrell Williams, John Brown, Jordan Matthews, Taylor Gabriel, Danny Amendola (don't leave). 
Tight Ends
Tier 1
1) Jimmy Graham
Who is he? Though he no longer possesses the seam-stretching speed that once made him Rob Gronkowski's equal, Graham can still dominate many facets of the game. Number one is undoubtedly in the red zone, where Graham still shields with his size, leaps above defenders, and tracks one on one balls like no other. He is also still dangerous in the intermediate and short game, as Graham is still plenty shifty for a man his size. Even at 31, Graham still has plenty of juice to become a prominent weapon in many NFL attacks.
Rumored Interest: While Seattle has expressed interest in a reunion, Graham is likely to find greener pastures elsewhere and a departure is imminent. One commonly mentioned team is the Ravens, who are devoid of pass-catching talent and playmakers in general. The Saints have also expressed interest, and many are speculating the Texans and (gasp) Patriots will be players.
Ideal Fantasy Football Fit: The Texans and Saints both would be dream scenarios. Both offenses have gaping tight end holes, and will also frequent the red zone. Thus, Graham would be in line for heavy targets on either team, especially where they matter most. The Saints might be ideal, since the past chemistry with Drew Brees and Sean Payton is already established. Still, Graham would find tons of open grass to operate alongside DeAndre Hopkins and Will Fuller. He's a shoo-in Top-5 Tight End in either offense.
Tier 2
2) Tyler Eifert
3) Trey Burton 
Tier 2.5
4) Austin Seferian Jenkins
5) Martellus Bennett
For stretches, Tyler Eifert has dominated at Graham levels, including 13 TDs in only 13 Games in 2015. Yet, the obvious and glaring question mark has, and will continue to be, his health. He's only played in 39 of 80 career games, including 8 or fewer games in 3/5 seasons. Most recently, he's coming off a micro-disk back surgery and a cyst-removal surgery in his knee. Though he's reportedly "been cleared to practice" since, the Bengals are expected to let him go. While he's certainly no one to rely on, Eifert would be a highly attractive Penny Stock if he lands with the Texans or Saints and can somehow maintain health. The upside for 12+ TDs will always exist with Eifert.
Meanwhile, Trey Burton will depart from Zach Ertz's enormous shadow to prove he's a worthy TE1 in this league. In two 2017 spot-starts for Ertz, Burton was dominant, recording 2 rec – 41 yds – TD against Denver, and 5-71-2 TDs versus the Rams. The only negatives in Burton's Scouting Report are being undersized and overmatched as a blocker, yet ideally he'd land in a nearly full-time pass catching role. In 2014, Burton blazed the fastest 40 and 3-cone times among tight ends, and he's always been a natural pass-catcher. He's the right spot away from a TE1 fantasy season.
Austin Seferian Jenkins is the most freakish athlete of the bunch at a towering 6'5″ and 270 lbs. The Jets are working to resign him, with ASJ reportedly turning down a 2-year, $8 million offer and the ante now around $12 million. He can be a red zone terror, but ASJ faded for lengthy stretches, and is not the most fluid. He seems destined for a Jets return.
Martellus Bennett severely underwhelmed with Green Bay, failing to carve out any type of meaningful role despite injuries around him. He was hampered by a shoulder injury all year, however, and flashed plenty of juice in New England two seasons ago. If he's able to return to full health, Bennett still is capable of a TE1 role on a number of needy teams.
Other Names to Monitor: Ben Watson and Antonio Gates' corpses.
Offensive Lineman
Offensive Line additions are often overlooked by many, yet represent some of the most important free agent moves for fantasy value. Whether increasing the time for a passing play to develop, to paving gaping holes in a defense, linemen are the engine to offensive success. Thus, tracking the landing spot of these names is absolutely crucial:
1) Andrew Norwell: While the interior line isn't quite as vital or challenging in pass protection as tackles, Norwell was arguably the best in the league at keeping his QB upright. He was the only offensive lineman to not allow a single sack all season, let alone a QB hit, while only allowing 13 hurries — second best in the league. Meanwhile, Norwell's consistently graded highly by PFF as run blocker, ranking 8th with an 83.4 in 2017, a score he had previously bested in 2016 (84.1) and 2015 (87.6). Norwell can anchor the interior of an offensive line, and will be a major boon to whichever offense lands him.
2) Nate Solder: Solder may be coming off arguably the worst season in his career, yet he's essentially the only left tackle of value on the 2018 market. Solder has never graded below a 70 by PFF, and has reliably defended Tom Brady's blindside for 98 of 112 games since 2011. Despite allowing a career high 51 pressures, Solder's only 29 and should still see a huge market thanks to simple supply and demand. He's well rooted in New England, and rumors suggest he'd prefer staying here, but ultimately money talks and this is likely Solder's last chance to command the big bucks. The Boston Herald's Jeff Howe upward of $12 million a yearexpects Solder to receive offers — certainly reasonable considering how many teams are starved at the position.
3) Justin Pugh: Pugh has proven two things during his first five years in the NFL: he's versatile, and he's injury prone. Pugh hasn't played a full season since his rookie year, and most notably missed 8 games last year due to a back injury. Still, when on the field, Pugh's been an impact starter along the line. Thanks to the Giants god-awful line, Pugh has played plenty of guard and tackle, but is at his best on the interior, where he graded in the 80s by PFF in 2015 and 2016 (10th highest ranked guard in 2015). He's a nasty run blocker and strong pass protector, and would bolster any line. Given the Giants immense need at the position, all reports suggest they'll prioritize bringing Pugh back. He's been medically cleared, and will be a plus starter who's perhaps available for a slight discount given his recent injury-plagued season.
Summary
Free Agency always sends Fantasy Football values swinging in all directions, and 2018's crop promises to do the same. This is especially true at quarterback, where up to five available players (Kirk Cousins, Case Keenum, Josh McCown, Teddy Bridgewater, Sam Bradford) could land starting gigs, impacting not only their own fantasy value but those all around them. Additionally, plenty of teams have gaping Running Back needs, and an intriguing crew, spearheaded by Carlos Hyde and Dion Lewis are available to fill these holes. The Wide Receiver market is quite lackluster, though it received a massive boost when the Jaguars and Rams declined to franchise Allen Robinson and Sammy Watkins respectively. Both should command WR1 targets wherever they land. Lastly, Jimmy Graham heads a tight end class that features plenty of athleticism, but equal amounts of uncertainty. Still, multiple guys (Graham, Tyler Eifert, Trey Burton, ASJ) could emerge as legitimate 10+ TD threats in the right situation.
Thus, be sure to tune in all day Monday, when "legal tampering" begins, and bookmark Roto Street Journal for the rest of the offseason. We'll cover every move and their fantasy implications as they unfold. Plus, don't miss the triumphant return of our Facebook Live Sunday Broadcast (newly dubbed "The Roto Street Rundown) where we'll break down all the moves from Free Agency and field any and all mailbag questions.
Pages: 1 2