Player Stock Ticker
Fantasy Football Rankings 2017: Post-Free Agency Wide Receivers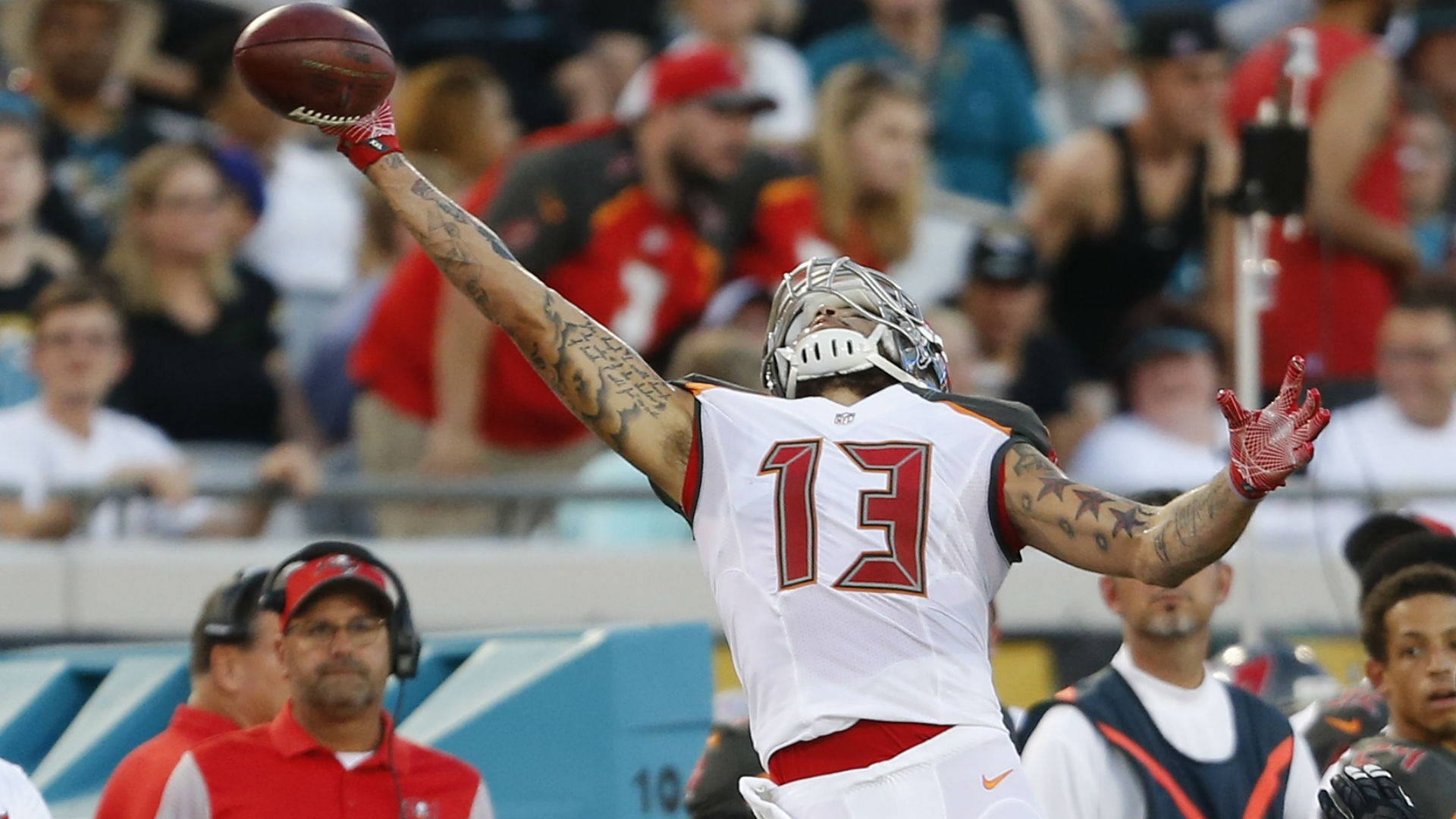 25. Willie Snead (NO)↗?
Stock Up Update:  The Blonde Muskrat has long been a personal favorite, but he's never achieved consistency thanks to highly unpredictable usage. When given chances, however, he's always produced, and, with Cooks now departed for New England,  Snead's opportunities should be more plentiful than any point in his career. On our first ever Fantasy Fullback Dive, Nick Underhill of the Advocate set Snead's yardage line at 1,000, which feels a bit light given he also expects another ho-hum 5,000 yards out of Drew Brees.  This is clearly among the most plentiful passing pies in the entire league, and Snead has now been invited for seconds and thirds. He needs to be higher in rankings.
26. Michael Crabtree (OAK)
After finishing inside 2016's top-12 WRs in half ppr formats, including a spot above his more well-renowned teammate Amari Cooper, WR26 feels insanely low for Crab.  Indeed, Crabtree and his sturdy floor will finish ahead of plenty names above him; the guy was among 2016's most consistent producers, topping double digit FPs in 11 of 16 contests, after all.
Still, unlike many of the other names, the floor is really all Crabtree has going for him, and 2016 is likely the highest we'll ever see. The talented wideout topped 20 FPs only once, and while he rarely lost owners a game, he also never truly won one either (outside of a three TD, 30 FP day against Baltimore).  Still, with his reliability, Crabtree makes the perfect investment if your WR1 is a little unproven (Hi, Michael Thomas) or injury prone.  As this tier develops more clarity, Crabtree feels sure to rise; I'm just chasing the unknown a bit right now.
27. Brandon Marshall (NYG)↗
For a more in-depth breakdown of Marshall's 2017 outlook, check out our Fantasy Stock Profile.
Stock Up Update:  Leaving the hapless Jets was crucial for Marshall's 2017 fantasy outlook, and the Giants present a prime landing spot for a rebound.  As discussed in Episode 4's "Football Fantasies", the team and Eli Manning are talking up Marshall's red zone prowess, comparing him to Plaxico Burress, who averaged 1,075 yards and 9.3 TDs over his three full Giants seasons:
"I was excited when we made that acquisition," Manning said. "He's obviously a big target. I think Plaxico was kind of the last one similar to that size. They can be open when they're not really open. You don't want to get into a habit, it's not a jump-ball but you can throw him open."  Oh, Marshall leads the NFL with 35 red zone scores since 2012.
Eli is spot on with his assessment of Marshall:  since 2012, this 6'4″ monster leads all NFL wideouts with 35 red zone scores. Coincidentally, only Aaron Rodgers and Drew Brees have attempted more red zone throws since Ben McAdoo arrived in New York, and the Giants own the sixth highest red zone throwing percentage over that span, despite having no one over six feet tall.
Of course, some major hurdles still exist. Was 2016 just an unmotivated mirage, or a sign of a decline? Can Marshall's combustile personality coexist with the equally volatile Odell Beckham? Is Manning talented and strong-headed enough to keep so much personality appeased? If those difficult questions are all answered positively, Marshall should have no trouble rebounding to typical 1,000+ yard, double-digit TD territory.
Previous Assessment: On the heels of one of his worst professional seasons, Marshall recently came out and "promised" to finish 2017 among the top five wide receivers in yardage:
"Last year was a down year for several reasons," the Jets' wideout said on ESPN's First Take, "I'm not even in the top 30 (best receivers in NFL right now). I had 700-and-something yards. But this year, I promise you, I'll be in the top five."
While his confidence is admirable, Marshall's insane to believe this while a member of the hapless Jets.  He had only four legitimately useful weeks in all of 2016, and as of now their QB situation is among the league's darkest.  Of course, a change of scenery (rumored to be a likely outcome) or a New York QB upgrade such as Tony Romo could send Marshall soaring up. With so much uncertainty, however, Marshall remains nothing more than a WR3, despite his top-ten talent.
28. Julian Edelman (NE) ↘
Stock Down Update: Brandin Cooks' addition to an already stacked receiving cast sends Edelman falling to third on the target totem pole, and thus down these rankings. JE11 began 2016 floundering for targets and consistent fantasy value with Rob Gronkowski and Martellus Bennett hulking over him, and, while Bennett has since departed, Cooks is an even greater threat to Edelman's workload. Brady's new toy can bring all of Edelman's shiftiness to the slot, while adding explosiveness and a deep-game that Edelman can't even sniff.  Plus, with Edelman's contract nearing the end, it's entirely plausible Cooks transitions into this role full time.  
Of course, no one has chemsitry and trust with Tom "Our Savior" Brady quite like Edelman. Indeed, he'll still churn out plenty of 5-catch, 70 yard, useful days, and make for a high-floor, but unsexy WR3. His shot at WR1 numbers are all but gone, barring injuries.
Previous Assessment: Since the days of Wes Welker, New England has churned reception machines out of the slot, and Edelman has proven among their best. Since ascending to the lead role in 2013, Edelman has never dipped below 92 catches when he plays 14 or more games: 105 receptions in 2013, 92 in 2014 (14 games), and 98 in 2016.  In 2015, when limited to only 9 contests, Edelman was on pace for his best numbers yet, as a full 16 would have yielded 108 catches, 1230 yards, and a whopping 12 TDs — bonafide WR1 numbers.  Regardless of the situation, Edelman will always be a reliable source of PPR points.
Still, Edelman's 2016 was hurt by the early quarterback carousel, and he was particularly lost in the red zone with the monstrous Rob Gronkowski and Martellus Bennett hulking over him.  Both tight ends are expected back, but, unfortunately, Gronk's health is far from a guarantee. If the ultimate seam stretcher is limited for part of 2017, Edelman's value would soar: he ranked fourth in WR points once Gronk exited thanks to a tsunami of targets (17, 11, 12, 15, 12, 8, 13 regular season, 13 and 10 in the playoffs). Clearly, monitoring 87's recovery from back surgery is crucial, as Edelman goes from dependable but unsexy WR2 to a quality WR1 in his absence. He's ranked in the middle ground right now.
29. Pierre Garcon (SF) ↗?
Stock Up Update: Death. Taxes. Kyle Shanahan funneling targets to his"X" receiver.
From Andre Johnson in Houston to Julio Jones most recently in Atlanta, Shanahan has produced monstrous seasons out of his alpha WRs.  True, Garcon is a far cry from those talents; yet, he himself rode the Shanahan gravy train in 2013 when he led the league in both targets (181) and receptions (113), ultimately churning out 1,346 yards, and 5 TDs.  Though Garcon is now 30, his possession-type skillset remains in-tact, and receivers don't typically falter until age 35 regardless.  Newly-signed Brian Hoyer is no stranger to Shanahan's system, and historically has aggressively locked in on his #1 guy (just ask Josh Gordon or DeAndre Hopkins). All good news for Garcon's stock.
Though expecting another league-lead in targets would be ambitious, Garcon could very-well enter the top-1o, especially considering the 49ers other receiving options (Vance McDonald & Jeremy Kerley are the next biggest threats for looks…LOL).  The TDs will likely leave owners thirsty, but the yards and receptions should make Garcon a highly viable WR2, and ideal high-floor WR3 to balance out an under-proven corps.

30. Kelvin Benjamin (CAR) ↗
Stock Up Update:  The coaching staff wants Cam Newton running even less in 2017, and Ted Ginn Jr. has now left and opened up even more targets for the massive Benjamin.  The fourth-year pro was at his best while a rookie, when he was both in peak shape and also the power-run game and play action were clicking.  With a major backfield addition (hello, Leonard Fournette) looming, we just need to see Benjamin's physical form. A top-15 campaign is well-within reach if he's fully healthy.
Despite reports that he was out of shape and falling behind Devin Funchess after his ACL surgery, Benjamin exploded out of the 2016 gate, hauling in 6 catches for 91 yards and a TD versus the vaunted Broncos secondary, followed by a 7 catch, 108 yard, 2 TD thrashing of San Francisco. He looked like a bonafide WR1 ready to build off a wildly successful rookie campaign.
Unfortunately, Benjamin faded fast.  He only scored twice over the next 12 weeks, though Benjamin still mustered eight double digit scoring games (.5 PPR) amidst four complete duds.   Another year removed from surgery, Benjamin is fully capable of returning to high-end form with a strong offseason; plus, Ted Ginn Jr. is expected to depart in free agency, giving Benjamin the unquestioned top WR role.  If the massive Benjamin enters camp motivated and in-shape, he could shoot up these rankings, well above the likes of Jarvis Landry and Larry Fitzgerald. With his size and Cam Newton's willingness to chuck, Benjamin's WR1 upside is very real.
31. Eric Decker (NYJ)↗
Stock Up Update:  With former alpha Brandon Marshall and his massive target share heading to the Giants, Decker should be an easy upgrade; nonetheless,  a few hurdles still need to be cleared. One, and most importantly, is his health, with Decker still recovering from shoulder surgery.  Second,  and nearly as important, is Decker's quarterback. If the Jets take an enticing rookie, Decker would see a nice bump. New offensive coordinator John Morton's system is still a relative unknown, but he hails from the Saints as a former receivers coach, and we know the extended aerial success they've experienced.  So really, Decker remains a wait and see, but at least one ball (chiefly his targets) has bounced right so far.
Previous Assessment: Mystery surrounds Decker's 2017 fantasy value. Will he be fully recovered from his shoulder surgery? (Late October reports suggested a mid-summer return). Will Brandon Marshall be back? (Early January reports suggest no). Who will be the Jets quarterback? (Early February reports suggest a pile of dog mess).
Depending how these questions are answered, Decker and his big ole d  could rise into the 20-25 range, or plummet down even further.  He's been a consistent red zone maven throughout his career, and should continue this if he has a half competent signal caller… far from the expectation though.
32. Larry Fitzgerald (ARI)?
Stock Down Update: Fitzgerald falls to no fault of his own, but because there's simply other players who've risen that excite me more.  I usually miss this train, and usually regret it. 2017 shouldn't be any different.
Previous Assessment: Ho Hum. Another 1,000 yards (eighth time). Another 90+ catches (seventh time). Another Pro-Bowl (10th time). Another top-15 fantasy season (pretty much every year).
Fitzgerald's consistency is unparalleled, and it starts with some of the best hands this game has ever seen:
Normally, this would be "rinse and repeat," as Fitzgerald has found new life since converting to slot-receiver role — 2015 and 2016 marked his career highs in receptions with 109 and 107 respectively.  However, both he and Carson Palmer are potential 2017 retirees, most likely as a package deal if it happens.  Nonetheless, nobody stays in shape quite like Fitz, so if he and Palmer give it another go, expect another high-floor season filled with consistent 9 – 15 FPs each game.
33. Jarvis Landry (MIA)?
Stock Down Update: Unfortunately, Stills and his scoring ways are returning to Miami, which keeps Landry unappetizing.  As much as I love Landry's talent, I hate Ryan Tannehill and his shockingly inconsistent usage in this offense, especially since Jay Ajayi's takeover.
Previous Assessment: Despite finishing 2016 as a top-15 half PPR guy, Landry's season still felt like a major bust.  Maybe because we were way too high on him.  Maybe because he has the talent for so much more.  For whatever reason, Landry was flat out obnoxious to own.
2017 may be brighter. Though Ryan Tannehill unfortunately remains Landry's signal caller, the pesty Kenny Stills (who had more double digit half PPR games than Landry, Amari Cooper, Larry Fitzgerald among others) and his 9 TDs are hitting the free agent market. Though a greater share of targets should help, this offense and team was at its peak when funneling through Jay Ajayi, and this run-centric approach should be expected moving forward. A couple duds, one or two blow ups, and a whole lot of 7-10 pointers should be the norm, and Landry might be best treated as a high-floor #3 when possible.
34. Stefon Diggs (MIN)
At first glance, nothing about the Vikings passing attack appears sexy; however, Diggs a little deeper (so punny!!) and you'll unearth some sneaky ceiling. Diggs was limited to only 13 games, but scored double digits in six of those contests, while also ranking 14th in PPR points per game among WRs (14.9).  Even more promising, Diggs really exploded from Weeks 8 through 10, when new offensive coordinator Pat Shurmur took over ran the offense through Diggs and the dink and dunk  passing game:
Week 8 @ CHI:

13 targets, 8 receptions, 76 yards, 1 TD, 17.6 half PPR points

Week 9 vs. DET:

14 targets, 13 receptions, 80 yards, 15.7 FPs

Week 10 @ WAS:

15 targets, 13 catches, 164 yards, 22.9 FPs
Unfortunately, Diggs got dinged up and never looked quite the same for the remainder of 2016, plus Adam Thielen really emerged in his absence. Nonetheless, Diggs is a fantastic slot WR, silky smooth in and out of his breaks, and is known as a football diehard and gym rat — my kind of guy.  With Adrian Peterson expected to depart, there's a real chance Shurmur funnels the offense through Diggs again, giving him a shockingly real WR1 ceiling for a WR3 price. Diggs in! (knee slappers all night).
35. Donte Moncrief (IND)
Well, our "Next Allen Robinson" prediction was half right.  Given Moncrief's parallels to Robinson's long build, insane ups, and high-pointing abilities, we called Moncrief a real candidate for 14+ TDs. Though health derailed this prediction, a full season would've been damn close to netting this, as Moncrief has now tallied 12 TDs in 15 full games (!) with Andrew Luck.
Unfortunately, the story doesn't travel much farther. Moncrief never once topped 70 yards in 2016, and has only done so twice in his career; despite training camp reports that he was becoming a go-t0 reception hog, the athletic freak has yet to become anything more than a red zone aficionado.  Given his rawness entering the league + the fact he's only in Year Four, Moncrief could definitely still make this leap, and his sturdy TD floor make this upside very easy to invest in.  Still, owners expecting a WR1 emergence are more than likely to be disappointed.
This tier finally ends! Continue on for Sexy Flexy's, or check out the last page for the cumulative cheat sheet!