Week 9 gave us two top-6 fantasy outings at their position from tight ends who are largely running free on waiver wires. Do they now warrant spots on fantasy rosters, and possibly slots in starting lineups as the season continues?
CADE OTTON FANTASY OUTLOOK
Otton, a 4th round pick out of Washington last season, didn't come into the NFL as a projected top-tier player, but he did earn the starting job in his first season with the Buccaneers.
With a 69-percent snap share and playing alongside Tom Brady, Otton had sleeper potential. Unfortunately, it didn't come to fruition, and he finished last season as the TE31 in half-PPR despite Brady throwing for an NFL record for passes thrown in a season.
Although plenty of tight ends don't break out in their rookie year, going from Brady to Baker Mayfield (or most other quarterbacks) did not spark a ton of confidence in Otton, or the rest of the Bucs offense, to reach new heights.
But after Cade's last three games, the fantasy world has to take notice. In Week 9, Otton saw a team-high nine targets culminate in six catches for 67 yards and two touchdowns. For the two weeks prior, Otton had seen six targets in back-to-back games.
Is this a sign of things to come? Or has Cade Otton hit his peak usage and production for the season?
WHO IS CADE OTTON?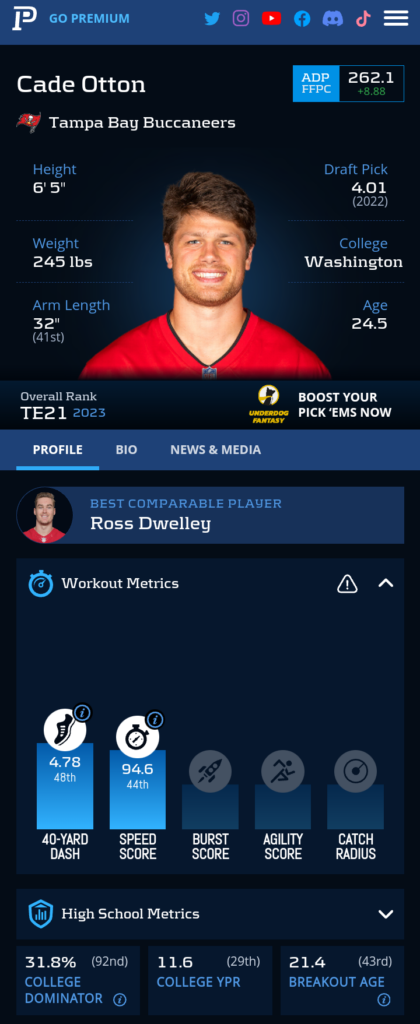 Per PlayerProfiler, Otton posted a 92nd-percentile College Dominator ranking, fending off concerns of whether or not Otton's size and athleticism could be a liability in the pros.
Per Pro Football Focus, Otton's run-blocking ranks 33rd out 49 tight ends with at least 100 run-blocking snaps. This is down from being 36th out of 83 last season, possibly because Tom Brady and his ability to lift the team around him led the offense in '22.
Regardless of what PFF thinks, the Bucs coaching staff has seen enough to keep him on the field. After seeing 69 percent of snaps last season, Otton hasn't seen less than a 91 percent snap share in any game this season.
This is ELITE field time for a tight end.
Catches like his second TD catch against Texans can only help Baker Mayfield's trust in the second-year man out of Washington:
SHOULD YOU TRUST OTTON'S WEEK 9 EXPLOSION?
It should be noted that the Texans came into Week 9 very solid at defending wide receivers (4th-best in full-PPR), but susceptible to tight ends (2nd-worst). So it's not surprising that Chris Godwin was almost non-existent.
That script may flip during the next two weeks against the Tennessee Titans (26th vs WRs, 2nd vs TEs), and San Francisco 49ers (29th vs WRs, 7th vs TEs).
To be fair, Otton's production has not consistently correlated with the opposing defense's strength versus the position. He's blown up in tough spots, and fizzled out in plenty of juicy ones, whether with Baker Mayfield or Tom Brady.
To his credit, Otton's receiving chops have never been the issue. That, along with playing nearly every snap, will keep him on the fantasy radar all season long.
Or at least it should. The fantasy community, by and large, hasn't had faith in him (1.8 % rostered in NFL.com, 5% in Yahoo, 7% in ESPN).
This is sure to change, but most people still might not be buying in yet, making it viable that dropping 5% percent of your FAAB could be enough if you want to buy in, even after his career-best fantasy day.
Anything higher does risk wasting FAAB on a fluke. Still, at such a thin position in fantasy, getting a steady contributor can justify spending a little more.
If you've missed picking up guys like Dalton Kincaid and Trey McBride, Otton may be the last true Waiver Wire TE capable of making a real difference.
JONNU SMITH FANTASY OUTLOOK
After looking like his best days were left behind him with the Titans, Smith remained a fantasy afterthought after the Falcons traded a seventh-round pick to the Patriots for him.
And why not? There's no way he will be even close to a factor when you have a talent like Kyle Pitts rightfully demanding the bulk of the attention at the position.
Enter Arthur Smith.
Arthur Smith doesn't care what anybody thinks of him as a coach. He hasn't cared what you think of his utilization of Pitts, Drake London, and especially Bijan Robinson.
He hasn't cared since week 1, and after nine games, it's time to account for that in our fantasy decisions.
As a result, we can't consider his 5-catch, 100-yard, 1-touchdown outing in Week 9 a total fluke.
To Jonnu's credit, he was not optimally utilized during his time in New England.
He's receiving between 50 and 72 percent of the snaps in every game so far and ranks 18th among tight ends with a 14.4% target share.
It's time to assume this will continue, and as such, the current TE10 in half-PPR merits roster consideration.
Like Otton, people still might not be buying into Jonnu despite his usage regardless of whether it's Desmond Ridder or Taylor Heinicke under center (17.4% rostered on NFL.com, 28% on Yahoo, 27% on ESPN).
CADE OTTON OR JONNU SMITH?
These two might not put up TE1 numbers rest-of-season, but there are typically a couple of names that make the top-12 that weren't on the radar to begin the year.
Still, Otton has been seeing his field time, and targets, increase all year. As he makes increasingly more plays, Otton continues to forge his rapport with Mayfield, who has leaned on TEs in the past. Follow Otton's surge, and switch him out on your fantasy squad for underperforming guys like Tyler Higbee and Gerald Everett.
And we all know now that Arthur Smith is crazy enough to keep the ball coming Jonnu's way.
While Otton was just TE26 on Wolf's Rest Of Season Big Board and Rankings to open this week, he will surely rise after this impressive outing. Check in later in the week to see how much Roto Street Journal's fearless leader buys into Otton and Jonnu's breakout performances.