Welcome to Week 9, where running back rooms look exactly like we expected! Gus Edwards is handling the work in Baltimore, Chuba Hubbard has seemingly surpassed Miles Sanders in Carolina, and Devin Singletary is stealing touches in Houston.
These preseason backups are getting meaningful work, but can you start them in fantasy? Let's take a look at each player's outlook and decide if they should be in Week 9 fantasy lineups.
CHUBA HUBBARD WEEK 9 OUTLOOK
This may sound a bit aggressive, but it's wheels up for Chuba Hubbard. Not only for Week 9 but the rest of the season.
The changing of the guard in Carolina has already happened, with Hubbard seeing the majority of the work in Week 8.
Head coach Frank Reich has already said that Hubbard will be the lead back in Week 9. He did note that he still has confidence in Miles Sanders, but Hubbard has the hot hand, so they will be sticking with him. Reich also shared that Sanders will see more work as the season progresses, and there will be more of a split between the two backs.
With Hubbard getting the nod in Week 9, it appears this is his job to lose. If he can produce in the next few weeks, it's looking like Hubbard would be the "1a" in this backfield, with Sanders taking the back seat.
But the question is, should Hubbard be in lineups for Week 9? The answer is a resounding yes. Hubbard should be viewed as a solid RB2 in Week 9.
First, Hubbard will have the starting role, which is incredibly valuable on its own.
Second, Hubbard has a premium matchup in Week 9 with the Indianapolis Colts. The Colts are giving up the 5th most fantasy points to running backs this season. Indianapolis has also allowed some big-time performances from opposing RBs this season.
With a high-end matchup and a starting role, Hubbard is a great play in Week 9 and should be slotted in as an RB2 in most leagues.
DEVIN SINGLETARY WEEK 9 OUTLOOK
Over the last few weeks, Devin Singletary has been slowly but surely coming for Dameon Pierce's job. This culminated last week with the two backs seeing a nearly even split.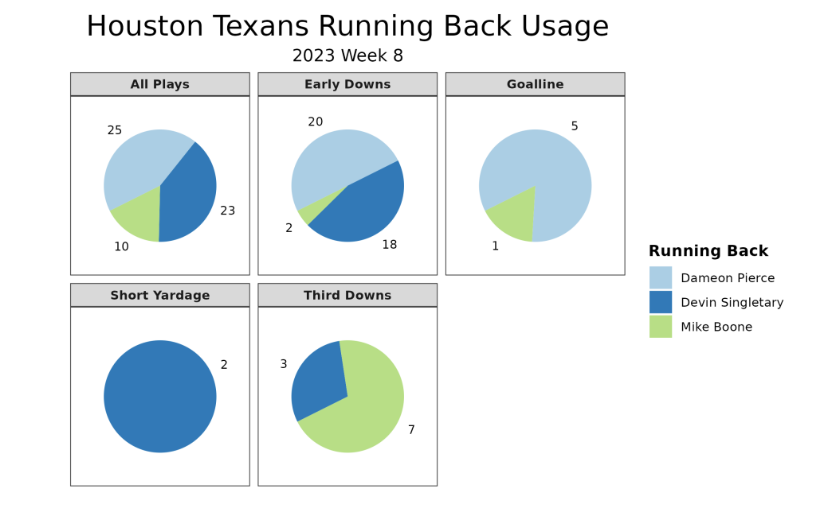 These signs are encouraging for Singletary in the long run, but Week 9 introduces another wrinkle in the Texans' backfield.
Like Hubbard, Singletary has been encroaching on the RB1 job due to a lack of efficiency from the presumed RB1. However, Singletary will benefit from a true RB1 workload in Week 9 due to the Pierce injury.
Even though Singletary will have the starting role this week, should he be in your starting lineup? Unfortunately, the answer is most likely no.
The Texans take on Tampa Bay this week, a less-than-ideal matchup for Singletary and company. The Buccaneers rank 7th in fantasy points allowed to running backs per game. They also allow just 99 rushing yards per game, 10th best in the NFL.
On top of having a stout rushing defense, Tampa Bay will be returning one of their run stuffers in Vita Vea. Vea, who missed Week 8 with a foot injury, has been a full participant in practice this week and appears to be in line to return on Sunday. Vea is PFF's 11th-highest-graded interior defensive lineman and will surely impact the Houston rushing attack.
If possible, Singletary should be held out of lineups in Week 9. However, if you're in a pinch, an RB1 workload is hard to come by, and it is still possible for Singletary to succeed because of this volume.
GUS EDWARDS WEEK 9 OUTLOOK
Following a massive breakout in Week 8, Gus Edwards appears ready to handle the workload again.
Tough choice of words, but Edwards' usage in Week 8 was encouraging nonetheless. The Gus Bus handled 19 of 23 running back carries and tacked on two receptions for 94 total yards, hitting paydirt three times in the process.
Justice Hill mixed in consistently last week, playing just under 50 percent of snaps. However, he played primarily as a pass catcher, running 15 routes on 31 snaps with just four carries.
The usage for Edwards is encouraging, but I'm pumping the breaks for now. Even though Edwards dominated touches in Week 8, he and Hill have been splitting snaps pretty consistently. Since Week 4, Hill has played 48+ percent of snaps in three of four games.
In terms of snaps, this is effectively a 50-50 split. I hope to see another week of Edwards dominating touches before comfortably starting him. However, if you're in a pinch, Edwards is a solid bye week or injury replacement. The Ravens offense can put up plenty of points, and Edwards should see some opportunities during Baltimore's trips to the red zone.
THE FINAL TAKE
Edwards, Singletary, and Hubbard are all in similar situations. Injuries or poor play from teammates have led to an increased role in the offense.
An increased role in the offense means very different things for each player. All three running backs have seen an increase in value over the last few weeks, but how should we value each one?
Regarding Week 9, Hubbard should be the guy you look to first. He's got a great matchup and should see at least 15 touches.
Edwards is the backup option. Edwards should handle the majority of the touches in a good offense. His goal line usage in Week 8 indicates he'll get the chance to punch one in if the opportunity presents itself.
Singletary is a solid fill-in start this week but falls behind Hubbard and Edwards. This is primarily based on the tough matchup with the Buccaneers. Tampa Bay is very capable of containing the run game, and Singletary is not the type of player to single-handedly overpower this defensive line.
If you're interested in how we at RSJ view each of these players for the rest of the season, look at The Wolf's Rest of Season Rankings.