Zach Charbonnet was surprisingly available on a good chunk of waiver wires last week for some reason, and Charbonnet made those who stashed him look very smart when he led the Seahawks' running backs in snaps with 32 to Kenneth Walker's 24.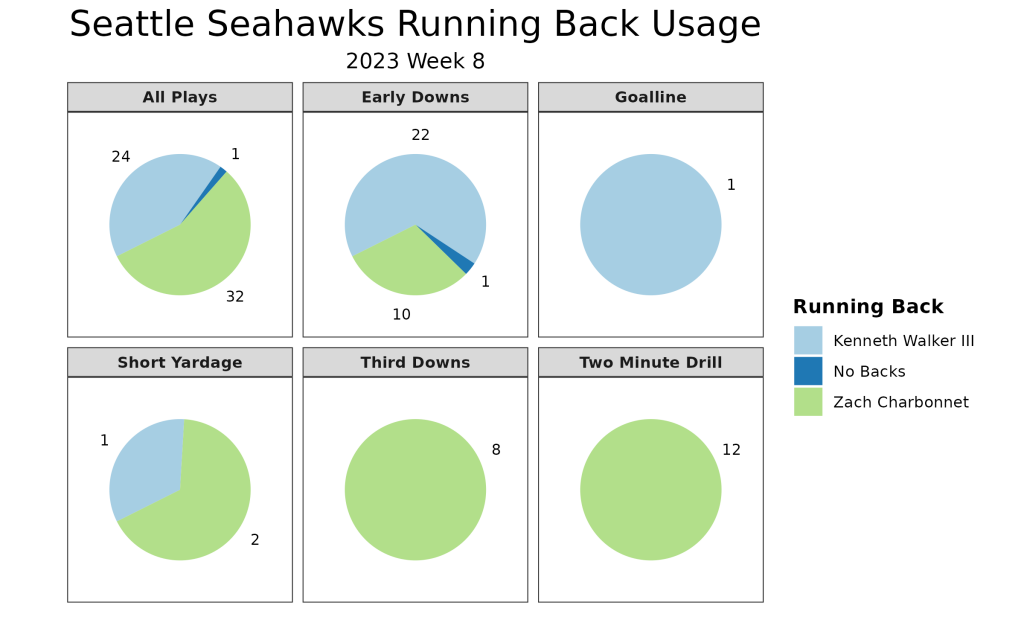 Although Walker dominated early downs and out-carried Charbonnet eight (for 66 yards) to five (53 yards), Charbonnet led the room in short yardage, third down, and two-minute drill snaps. The rookie likely benefited from Walker's calf injury that kept him on the injury report for much of the week. Still, this juicy backfield is something to monitor as we enter the second half of the fantasy football season.
IT'S STILL KENNETH WALKER'S BACKFIELD
When healthy, Walker has been a beast in the Seattle backfield, hitting double-digit fantasy points in all but last week, with highs of 28, 18, and 17 fantasy point games this season.
Although Walker was not listed on the team's final injury report, he did miss practice on Wednesday and Thursday with a tricky calf injury that typically forces running backs to miss the upcoming game. He was held to a season-low in carries against a tough Browns defense, yet he still registered at least 60 yards on the ground for the sixth time this season and ranks second behind only Saquon Barkley for the most rushing yards over the last three weeks.
Due to a pretty tough remaining schedule and the emergence of Charbonnet, Walker could be a sell-high in fantasy. However, this is still his backfield until further notice, and we'll keep tabs on his third down and passing down snap counts this week when they square off against the Ravens.
ZACH CHARBONNET IS AN ELITE HANDCUFF WITH BENEFITS
The Seahawks broke fantasy owners' hearts when they selected Charbonnet in the second round after drafting Walker the year prior. But Pete Carroll does not always make sense, and he has an addiction to using early-round picks on that position.
In college, Charbonnet proved to be a third-down workhorse. At UCLA, he toted the rock 398 times for 2,511 yards and 27 touchdowns at a clip of 6.31 YPC. Not to mention, he is a thick 6′ 214 lb. back who can plow over defenders and quickly accelerate.
Charbonnet averaged a nice 4.15 YAC/att. and around 22% of his carries went for first down. Oh, and he also caught 60 targets for 501 yards.
Although he's been in and out of the lineup as a rookie, he's shown the power on the ground and in Week 8, the coaching staff trusted him enough to man the third down and two-minute opportunities over DeeJay Dallas.
With Dallas healthy and available, Charbonnet out-snapped Dallas on third down and two-minute drill 20 to zero, meaning he's locked into that role moving forward. That alone warrants a Week 9 waiver wire add if you weren't lucky enough to stash him last week.
It'll be interesting to see what this week's expected fantasy points look like with Charbonnet's new juicy role because it looks like we have a committee brewing in Seattle.
WALKER VS CHARBONNET: REST OF SEASON OUTLOOK
As noted, when healthy, Walker is the team's RB1 to Charbonnet's RB2 — although many could argue Charbonnet has crept up to RB1B. Some fantasy owners may see Charbonnet on the Week 9 Waiver Wire and think of him in the same breath as Jaylen Warren, Tyjae Spears, Roschon Johnson, or Ezekiel Elliott — a team's clear RB2 that needs an injury to the respective RB1 to make significant fantasy noise.
However, we know Carroll's shenanigans. He doesn't hold loyalty to any running back and will ride the hot hand even if it doesn't make sense. Rookies tend to get a bump after the bye week, and although he parlayed that with Walker's calf injury, the third down and two-minute drill snaps could be telling. If Walker regresses to the early-down back while Charbonnet completely takes over passing down duties and goal line opportunities, he becomes a major second-half breakout candidate.
Either way, he's a must-add on this week's waiver wire.
The Wolf ranks Walker at RB6 and Charbonnet RB33 on his Rest of Season Fantasy Rankings.