As Dameon Pierce continues to fail to deliver, opportunities for Devin Singletary to take over the lead RB role for the Texans grow.
Pierce entered the season as the clear RB1 for the Houston Texans, who were expected to struggle with its rookie QB, CJ Stroud. Devin Singletary was brought in from Buffalo to back Pierce up and provide depth at running back.
In some instances, picked as high as the fourth round, Pierce has failed to deliver time and time again with highly inefficient running. In Week 6, staring down the barrel of another disappointing outing by Pierce, the Texans pivoted and gave Singletary the nod, and he responded with 58 yards on 12 carries.
It's very possible the Texans will deploy more of Singletary moving forward.
WHY STASH DEVIN SINGLETARY?
To put it bluntly, Pierce has been terrible. The Texans' starting running back has scored once on the ground this year while running at a disgusting 2.9 yards per carry. Don't let the idea that he might be making it up as a receiving back even occur to you. He has caught less than ten balls for 84 yards the entire season.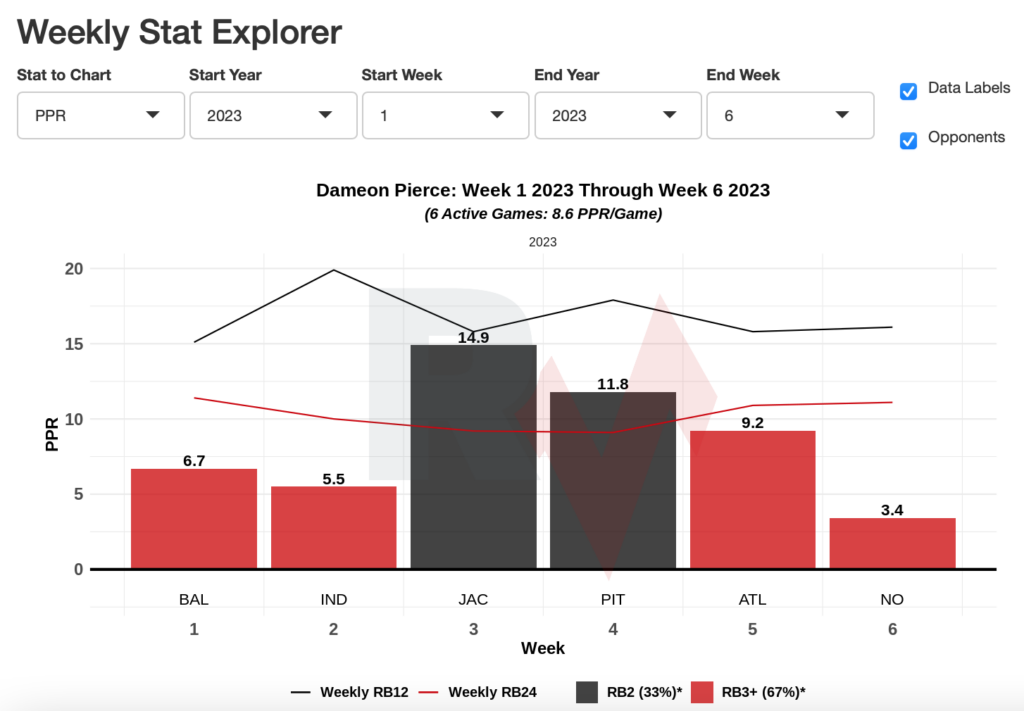 Graphic courtesy of https://www.rotoviz.com/nflstatexplorer/
That's right, Pierce has managed to eke out performing as a fantasy RB2 just twice this season. Two-thirds of the time, he hasn't done anything that would merit giving him a start.
ASCENDING USAGE FOR DEVIN SINGLETARY
Singletary has seen limited work all season until Week 6. However, despite his sparse usage, Singletary has only failed to reach Pierce's pathetic 2.9 yards a carry mark in a game one time, which was in Week 1. For the season, Singletary averages a respectable (if not remarkable) 3.9 yards a carry behind an offensive line that is a middle-of-the-pack unit — ranking 15th on PFF's list.
It appears someone decided to give Singletary a shot at some point during the Texans' Week 6 tilt against the Saints. Suddenly, he was on the field for over half the snaps. In contrast, the ineffective Pierce saw his field time almost cut in half.


Graphics courtesy of https://www.fantasylife.com/nfl/
Along with those snaps, Singletary saw a season-high in carries and yards with 12 carries for 58 yards. Given the woeful ground production of the Texans this season, his 4.8 yards a clip was unprecedented.
PICKUP SINGLETARY OFF WAIVERS BEFORE IT'S TOO LATE
As of the time this piece was written, Devin Singletary is only rostered in 28% of ESPN leagues and even fewer Yahoo (20%). This may have something to do with the Texans going on bye right after his Week 6 showing, making the number artificially low. If this is the case, take advantage of other fantasy owners asleep at the wheel.
The fact is that if Dameon Pierce doesn't start performing, Singletary is going to see more and more of the field. Sadly, there has been no indication that Pierce will do anything but continue to plod along. This is your chance (maybe your last chance) to get Singletary while he's still dirt cheap. Don't forget, Singletary finished as RB23 last year with seven double-digit fantasy point weeks.
The Wolf currently slots Singletary RB37 on his Week 8 Rankings, only four spots behind Dameon Pierce.
Singletary faces a Panthers team surrendering the most TDs, second-most yards, and second-most FPs to RBs. Don't be shocked if the keys are turned over to Singeltary and he never looks back. Plus, the offensive line should be fully in-tact for the first time.
As the lead RB in a Top-12 offense, Singletary could be a meaningful RB2 for 2023's second half. Pounce on him if he's still out there.