There's no perfect way to describe the events of Week 3. I truly don't remember a more explosive week from a fantasy perspective. The Miami Dolphins dropped a 70-piece on the Broncos and had three different players score more than 30 PPR points. Oh, and they did this with Jaylen Waddle on the bench. Outside of the Dolphins, Keenan Allen and Davante Adams had 40-point performances. Sunday, September 24th, 2023 will go down in the fantasy football history books. Let's take a closer look at Week 3 and dissect the biggest storylines.
DE'VON ACHANE WILL BE A VALUABLE PLAYER ON FANTASY ROSTERS
The breakout player from the Dolphins' 70-point performance was none other than rookie running back De'Von Achane. Achane and the rest of the Miami offense made the Denver defense look like a pee-wee football team that hasn't quite learned their playbook yet. Achane racked up 233 total yards on 22 touches while finding paydirt four times.
This level of explosivity should come as a shock to nobody. Achane ran a 4.32 40-yard dash at the combine and spent most of his time at Texas A&M, leaving players in the dust.
Achane had a big day and has the talent to make a massive impact in Miami. But will he make a consistent impact in your fantasy lineup? The answer is yes. Mike McDaniel currently has this offense operating at a level that can support 5 or 6 fantasy starters in any given week.
Achane will be a boom-or-bust player for the most part. He will not be a plotter who steadily picks up yards on 20 touches per game. Achane profiles to be a home run hitter who will deliver fantasy performances of either 7 points or 25 points. Given this outlook, Achane is a flex play until a more clearly defined role exists. However, those who own Achane should be excited, and if he's on waivers in your league, he should be the top priority.
BUZZ
JAHMYR GIBBS IS A BUY-LOW CANDIDATE
Through three weeks of the season, highly touted rookie Jahmyr Gibbs has disappointed. Gibbs has yet to score more than 13 PPR points and has cracked double-digits in one game. This isn't what fantasy managers were hoping for out of their 3rd round pick.
The floodgates were supposed to open for Gibbs in Week 3 without fellow RB David Montgomery on the field. Unfortunately, this was not the case, and Gibbs scored just nine PPR points on 18 touches. Gibbs' role in Montgomery's absence is both interesting and concerning. Gibbs saw an increased snap share as expected but he was primarily used on the ground and not so much as a pass catcher. Gibbs played most early down snaps but split 3rd down reps with Craig Reynolds. Reynolds also saw every snap during the two-minute drill. Gibbs' Week 3 role resulted in 18 carries but only two targets, a steep drop-off from his nine targets in Week 2.
Gibbs has finished two of three games with less than a 7% target share. If he does not carve out a larger target share, Gibbs could quickly turn into a bust. It's only Week 3, so there's plenty of time to turn things around. But, the panic button has officially been pressed for Jahmyr Gibbs.
BOGUS
ZAY FLOWERS IS ON THE BRINK OF FANTASY STARDOM
As the years have gone on, expectations for rookies have steadily increased. Zay Flowers, the Ravens' 1st round selection, has shown flashes of elite talent.
Flowers has made some big plays and looked like a human joystick throughout the season. Although he has been making plays, the most encouraging thing about Flowers is his usage. Flowers has 25 targets this season, hitting the double-digit mark twice. In Week 3, Flowers garnered a 33 percent target share while Mark Andrews was just 16.7 percent. Andrews will certainly have his days throughout the season, but Flowers seeing this much volume in his 3rd career game is very encouraging.
The only concern for Flowers is his ADOT (average depth of target). Flowers has an ADOT of just five yards, one of the lowest among all WRs. If this does not change, Flowers' ceiling is certainly capped. However, volume is ultimately king in fantasy football. Zay Flowers is currently seeing enough volume to overcome his low ADOT and ascend into fantasy stardom.
BUZZ
MARVIN MIMS NEEDS TO BE FREED
We're back to Denver vs. Miami. Many people would say that the most absurd part of this game is the fact that Miami put up 70 points and it wasn't a Madden game. I would say otherwise…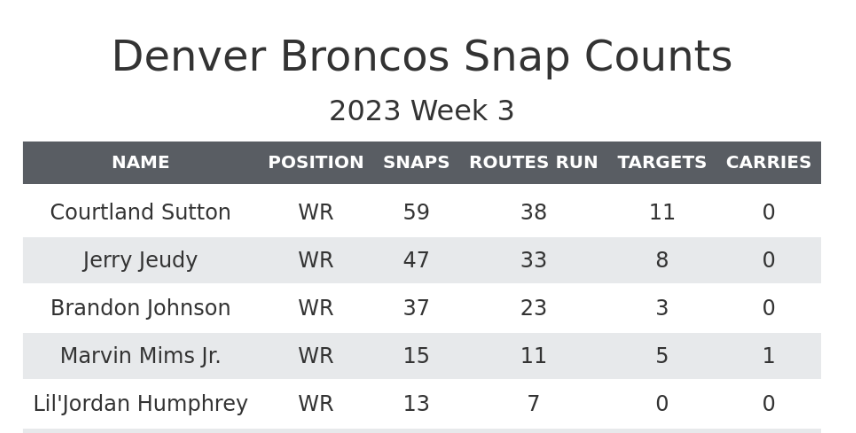 Yes, Marvin Mims played just 15 snaps, while Brandon Johnson played 37. It doesn't take an analytics or film nerd to realize this isn't right. This isn't incredibly shocking since Mims is just a rookie, but I expected that Sean Payton would realize what he has in Mims by now.
I can't wrap my head around how a guy producing at this level on limited opportunities isn't seeing a more significant role. If you have played fantasy football for a while, you may remember the movement to free Aaron Jones. I am officially starting the movement to free Marvin Mims, and I will be coming after Sean Payton until the rookie gets more opportunities.
At this point, Mims is most likely unavailable on waivers. However, he is someone who should be targeted through trades. Mims has shown the ability to make big plays and is electric with the ball in his hands. Getting Mims on the field gives the Broncos the best chance to win. Although the Broncos have struggled so far this season, I still believe in Sean Payton's ability to identify talent, and Mims will see the field more often.
BUZZ