Injuries are cruel. Jeff Wilson Jr. is a zone-blocking dream running back.
Fortunately, the Miami Dolphins backfield drips with juice for fantasy players to exploit. Enter Raheem Mostert.
Before the Dolphins acquired Wilson from the 49ers last season, Mostert paced for 250 touches and 1,332 total yards from scrimmage.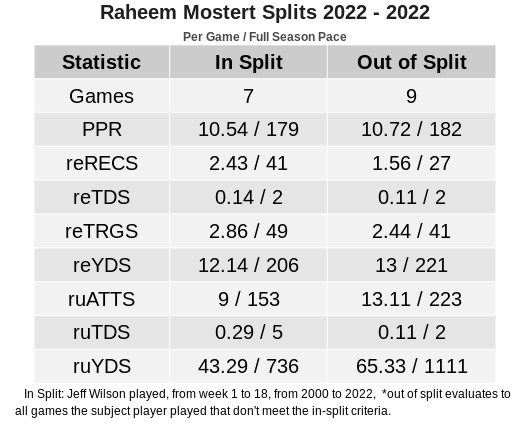 Worried about the offensive line? I wouldn't be.
Despite the offensive line in Miami being a harrowing site to see (20nd overall, according to PFF), Mostert still averaged 3.52 yards after contact per attempt. Mostert received around 1.38 offensive line yards per rush attempt, which was more than enough for his 4.43 speed to make sweet fantasy lemonade.
What does The Wolf love just as much as workhorse running backs? It's a juicy running scheme capable of gashing defenses for chunk plays. Bred from Kyle Shanahan's scheme in San Fran, Miami's zone-gap scheme squeezes the juice out of its abundance of speedy running backs.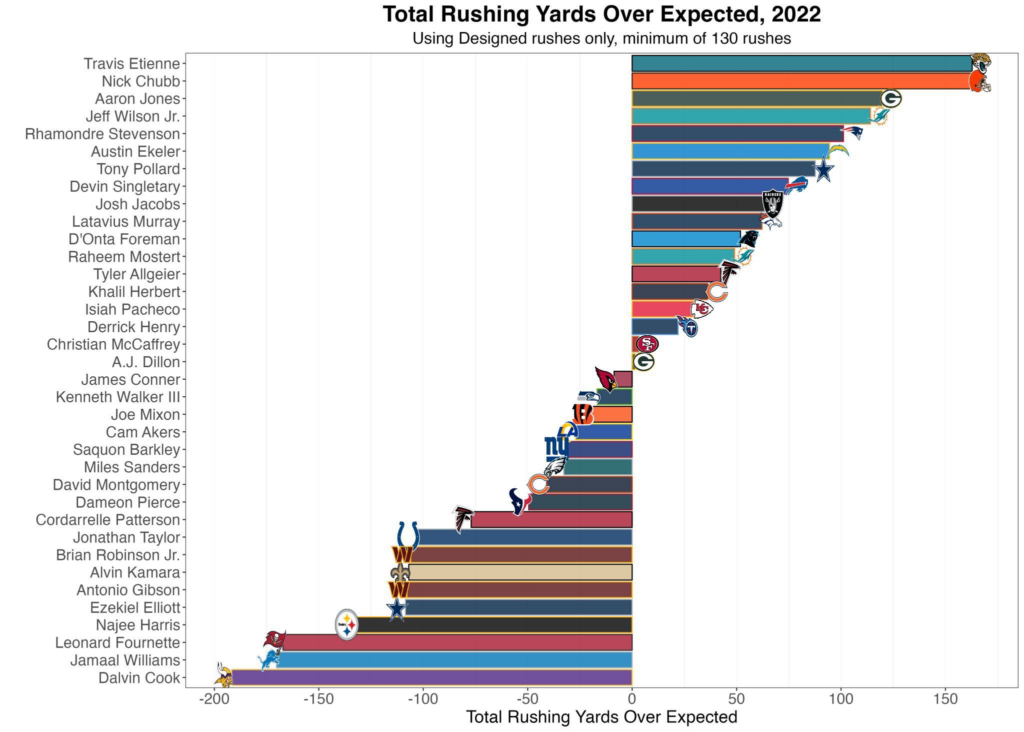 As you can see, Wilson and Mostert ranked among the top running backs in total rushing yards over expectation (4th and 11th, respectively).
DE'VON ACHANE IS LURKING
Despite splitting the backfield with Wilson for half the year last year, Mostert's 10.5 fantasy points per game was good for a solid RB19 ranking… and he only scored five total touchdowns on the season.
Now Mostert's primary backfield competition is electrifying rookie De'Von Achane.
"It's a game of speed, right?" Dolphins running back coach Eric Studesville said. "If you're faster than everybody else, you got to use that at the right times and the right way. He'll do that."
That's the key to the Miami Dolphins offense: speed.
Enter Achane and his 4.32 blistering speed. For context, that's the fourth-fastest time ever for the running back position in NFL combine history.
Of his 181 rush attempts in 2022 with Texas A&M, 114 came from zone-running schemes, and 61 of the remaining 67 came from gap-running schemes. As a whole, Miami utilized zone schemes on 54.8% of their rush attempts, and 32.4% came from gap-running concepts.
Mostert's Week 1 prospects are high against a Chargers rush defense that has historically struggled to contain the running back position. With an over/under of 51 and a close spread (LAC -3), touches and touchdown opportunities are rampant for Mostert to make an early statement.
Raheem Mostert is currently ranked RB33 (+8 vs ECR) on The Wolf's 2023 Big Board.