Just recently, Ron Stewart of The Basement podcast said that "Double Hero RB" strategy won droves of money for redraft league managers last year and I couldn't help but laugh.
"Double Hero-RB." Running backs have always flown off draft boards early because we recognized how often having a good team correlated with having a strong one-two punch at running back. But, not everyone can have that, and Zero-RB was born. To some, it was "the way." Then, Zero-RB was too extreme, and Hero-RB was born, and Hero-RB was "the way." The roster construction that most of us have always succeeded with in redraft leagues has become "the way" in 2022, only now under a different name: Double Hero-RB.

What once was old is new again.
Fantasy football joins fashion and music, whose latest trends are cyclical, going in style, then out, then back in. Even the high-level quarterbacks this year lead some to think that this season isn't a good one to wait until the late rounds to take a QB. But what if these things don't have to be cyclical? Is there a way to approach fantasy drafts that can guide your strategy, no matter the ultimate construction?
With Anchor Strategy, I have aimed to answer "yes" to that question because I am becoming too wrapped up in Zero-RB, Hero-RB, taking a QB early or late. Even the Double Hero-RB that was once prevalent on our site doesn't give enough respect to the fact that the draft board may not fall to you in a way that makes any of those strategies the best way to construct your roster.
PILLARS OF ANCHOR STRATEGY IN REDRAFT
What is a "Fantasy Anchor?" Simply put, an anchor is a locked-in weekly starter. They're not necessarily all in the same tier, but you never wonder whether to play them.
When targeting fantasy anchors, "High floor" slightly edges "high ceiling," avoiding volatility; it doesn't always win your week, but it is least likely to lose your week
You want as many of these steady producers as you can get. Considers drafting anchors at a position, even if you're depth need at other positions is higher
There's also a place for Bulkheads: higher floor/lower ceiling, but consistent players. Not quite at the "Anchor" level of "every-week starter," but guys who are unlikely to crush you when tossed into the lineup
The Anchor Strategy is largely conceptual, as most aspects of fantasy are. Despite the prevalence of continuously more deep analytics, the occasional "we know nothing" tweets don't seem to be going away, and never may.
A big catalyst in motivating me to release Anchor Strategy into the public in 2020 was my thoughts on anti-volatility, which was antithetical to another take on redraft strategy at the time which was particularly popular among the Roto Street crowd, Upside Wins Championships, by FantasyPoints' Scott Barrett, before the 2020 season. In it, Barrett denounces taking James White's consistent but pedestrian, 10-ish PPR points-per-game, whereas I was just fine taking someone I considered a FLEX-it-and-forget player. Instead, Barrett pointed to guys like Daniel Jones. Jones, who had four elite 28+ point games in 2019, also finished as QB5 from weeks 8-17 (21.2 ppg).
The Upside Wins Championships series has provided valuable insight and its fair share of hits on players. But I couldn't reconcile how much the rest of my team would have had to make up for Jones' floor weeks, where despite a resemblance of rushing usage (3.75 carries-per-game in his 12 starts), didn't reach the Konami-code level that supplied any reliable floor that justified ignoring his risk at his QB13 ADP. In his seven active weeks during that stretch, he averaged 5.2 ppg fewer than the QB12 in four weeks and 10.2 ppg less than the QB6, scoring only 13.6 ppg, the QB29 rate for that season. It's a good thing I didn't buy in, considering that same 13.6 ppg is what Jones would average in 2020.
Fast forward a year, and volatility does get an honorable mention in the Upside Wins Championships, 2021 Redux, as well as Anatomy Of A League Winner: 2022 Edition, and likely more articles from that series. But it's not with the emphasis that I approach my draft strategy.
ESPN's Tristan Cockcroft helps visualize the importance of considering volatility in his 2022 Fantasy Football Consistency Rankings. Perhaps the most relevant observation is in the WR position. For receivers who scored enough to earn a starting spot in fantasy rosters at least 47.1 percent of the time, nine receivers had a consistency rating of at least 0.532 (more volatile), and six had less than 0.532 (less volatile). The more volatile WRs had more "stiff" games or games where they ranked at the bottom of their position, 26 percent to 12.9 percent.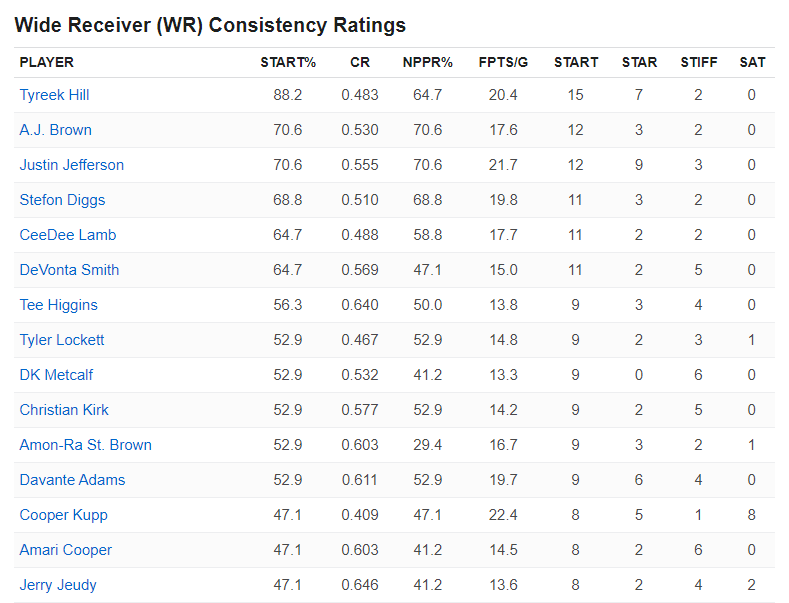 It makes sense that the least volatile receivers are mostly NFL teams' unquestioned alpha-WR, including Cooper Kupp, CeeDee Lamb, Stefon Diggs, and Tyreek Hill. Conversely, roles and surrounding talent make sense for most volatile receivers. Amari Cooper, Jerry Jeudy, and Davante Adams weren't on prolific offenses, and Tee Higgins, as talented as he is, is WR2 on the Bengals to Ja'Marr Chase.
Barrett and I are climbing different sides of the same mountain and updating and adjusting old takes as more data, experience, and nuance dictate. With my eyes on the fantasy playoffs, where I'll have to win two, possibly three games in a row, I want players less likely to bust on a given week, especially considering the teams you're facing in the playoffs are inherently better. So, while it's nice to have players whose numbers can jump off the page, that's not likely to be every player in your lineup, and boring but steady producers have their place.
A draft room where everyone drafts for upside will logically send players with less upside-down draft boards. 2022's edition of Anatomy of a League Winner points out how the players with the highest win rate in the playoffs and championship are early-round picks, or double-digit round picks/undrafted.
Middle-rounders scarcely make that list. But, that doesn't mean they don't get drafted or aren't on fantasy rosters. So, why not complement chasing upside by watching out for volatility in the players whose upside isn't as attractive but will make fantasy rosters anyway? For example:
SAVED BY A BULKHEAD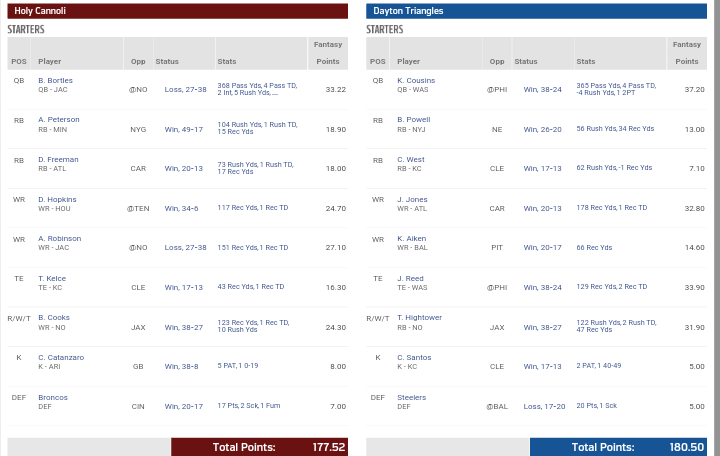 Take this full-PPR league championship I squeaked out by just under three points in 2015. Tim Hightower's infamous week 16 headlines a championship roster that was less than orthodox. And while Hightower and his late-season upside were crucial in winning the 'ship, I needed everyone to show up, even if it was a pedestrian performance out of Charcandrick West, a total flop would have cost me the game.
The real player to highlight is Kamar Aiken. Aiken was the PPR WR27 that season. He was no anchor. Only weeks 1, 3, and 7 were flops. They were total flops, but they were the only weeks he scored less than 10.8 points. No anchor, but he was what I would define as a "bulkhead", a player that you shouldn't count on to win your weeks, but you can count on them not to lose your weeks as much as anyone. They won't sink your ship.
Pieces like Upside Wins Championships and Anatomy of a League Winner won't tell you about these players because their ADP largely matches their production. But in 2021, Darnell Mooney, Christian Kirk, and Tyler Boyd, as unsexy as they were as PPR's WR23, 26, and 31, filled a need when your team needed every last point to win in the playoffs and the championship.
If every player you draft is an upside-chaser, your league mates aren't chasing them, which likely won't happen. So, why not complement upside-chasing by leaving room for a few boring but reliable names when you need that extra juice to get past your opponent, who's likely got solid upside-chasing players on their squad.
Between 2017-2021, 2018 Christian McCaffrey was the player on the most championship rosters at 38 percent. That means 62 percent of winning teams won without him. So, even if you had CMC, there were other ways to win.
WHO ARE MY ANCHORS IN 2023?
The ways to decipher who qualifies as high-floor, high-ceiling, locked-in starting anchors are plentiful. There are many variations of an anchor list that merited opinions can back. Some players will end up being right, and some will be wrong.
So, rather than go through every single justification of who I think fits the mold, I'll give my list for 2023 and leave you to agree, disagree, or reconsider your previous notions.
QB – Patrick Mahomes, Josh Allen, Jalen Hurts, Lamar Jackson, Justin Herbert, Trevor Lawrence, Joe Burrow, Deshaun Watson, Justin Fields
RB – Bijan Robinson, Christian McCaffrey, Austin Ekeler, Breece Hall, Nick Chubb, Saquon Barkley, Josh Jacobs, Derrick Henry, Tony Pollard, Najee Harris, Jahmyr Gibbs, Javonte Williams, Jonathan Taylor, Travis Etienne
WR – Justin Jefferson, Ja'Marr Chase, Cooper Kupp, Tyreek Hill, Davante Adams, Keenan Allen, AJ Brown, Amon-Ra St. Brown, Stefon Diggs, Garrett Wilson, CeeDee Lamb, Tyler Lockett, DeVonta Smith, Jerry Jeudy, Chris Olave
TE – Travis Kelce, Mark Andrews, Darren Waller, TJ Hockenson
A poster child of volatility in 2022, George Kittle led the charge in six of your squad's games, with at least 16.3 PPR points, four with at least 21.8. But, although he was the TE2 in ppg, he had seven out of his fifteen active weeks with 7.7 points or less. These weeks averaged out to 5.5 ppg, the TE37 rate, averaging 4.2 points less than that week's TE12, 8.7 points less than the TE6.
In a league that only counts total points, no one argues if you take Kittle as the second tight end off the board. But when facing weekly matchups, the weeks he contributed to a win are matched by weeks he was a liability. Kittle remains at least a tier above the tight end bulkheads on this list, but when drafting him, you know what you're getting: a player with a solid chance of disappointing during a week in the fantasy playoffs.
WHO ARE MY BULKHEADS IN 2023?
QB – Kirk Cousins, Aaron Rodgers, Dak Prescott, Geno Smith
RB – Rachaad White, Miles Sanders, Antonio Gibson, Joe Mixon, Dameon Pierce
WR – Brandon Aiyuk, Deebo Samuel, Chris Godwin, Diontae Johnson, Christian Kirk, DJ Moore, Terry McLaurin, Marquise Brown, Treylon Burks, Drake London
TE – Dallas Goedert, Pat Freiermuth, Gerald Everett
Uncertainty keeps certain players off either list until they understand their roles better. For example, JK Dobbins could light the world on fire. So could Calvin Ridley. David Njoku could have that long-awaited breakout year. But how many of these high-risk players should you take on?
The logical end of a team full of high-risk players is that most will disappoint, and you won't be winning anything. But the Anchor Strategy and Upside Wins Championship strategies agree that playing it safe with every pick won't put you over the top. Anchor Strategy's end goal is roster flexibility, including grabbing as many anchors as possible to grab high-upside/high-risk players because you want to, not because you have to chase that particular upside.
Having a rock-solid anchor as my RB1, then taking Dobbins as my RB2 in the 4th round, is a lot less problematic than relying on Dobbins as my RB1 in case he does end up producing in the low-end RB2 range that some are projecting him for.
How many of each player type should your roster have? Exactly:
Five high-floor/high-ceiling
Six high-floor/low-ceiling
Four high-upside/high-risk
Just kidding. There isn't a universal formula for that, how to best construct your roster during a draft depends too heavily on the players you've already drafted, starting with your first pick. Anchor Strategy doesn't emphasize a universal formula, but as another guide to try and bring perspectives and analytical tools together into a single optimal mindset, one that ultimately remains a matter of opinion.
Say I've filled my WR1, WR2, and FLEX spots with wide receivers, and all I have left to fill out of my starting lineup (besides kicker or defense) is my RB2 spot. Tyler Lockett, one of my WR anchors, falls to me in the 7th. All my RB anchors have been drafted. As stated before from 2022's Anatomy Of A League Winner, mid-round players scarcely make the list of the highest-owned winning playoff and championship team players. A running back can wait. I'll take another anchor at WR, thank you.
But that's my opinion on Tyler Lockett. Maybe you don't think he's an anchor. But you can use your own list of anchors, compare them to things like ADP, and possibly insights on how your league mates draft, and prepare for the scenario where any of your anchors may drop to the middle rounds.
Drafters of early-round quarterbacks may run into a situation where a few teams haven't drafted a QB by the 7th, and a guy like Deshaun Watson is still on the board when it's your turn to pick. Assuming you consider Watson an anchor as I do, taking Watson means the QB you took early can be moved to potentially greatly improve your depth at another position, enabling roster flexibility, and raising your team's overall value.
But, this scenario depends on 1) how willing your league mates are to make trades, and 2) how many starting positions you have left to fill. If your league mates like to trade and you only have your FLEX spot left to fill, the environment is ripe for this situation to succeed. If your league mates are allergic to trades, and you need to fill a WR3, and two FLEX spots, the environment is not. A barren trade environment can spoil the value of taking an anchor in the Tyler Lockett scenario I mentioned earlier.
The concept of bulkheads can help you decide if you want a healthy mix of safe but unsexy players to go with higher-upside guys during the mid-late rounds. Or, maybe you want to take all high-upside/high-risk players, that strategy could technically work out in the end. But Anchor Strategy was born from observing the dangers of taking a particular angle too extreme.
CONCLUSION
I hope this article helps you in your fantasy drafts, where complicated and unexpected things can happen, and where mislabeling even one player's value can set your team off on the wrong foot right from the jump.
If you want to check out how Anchor Strategy changes in the context of dynasty, feel free to check out the RSJ Dynasty Dive, episodes 5 through 8. Myself, Emery Dinsmore, and a rotating cast of RSJ staff go through each position group to decide who our locked-in, long-term starters are and the ways utilizing anchors in dynasty differs from redraft.