If Daniel Jones wasn't getting enough preseason hype before, he certainly is now. Jones' Week 2 preseason performance was surgical as he looked every bit the part of a fantasy QB1 in his limited action.
The Duke product finished the game 8-for-9 for 69 yards and a score with one carry for 6 yards. The lone incompletion was a drop by tight end Darren Waller. While it was only one drive, it was certainly good enough to cement his status as a top-10 quarterback in The Wolf's 2023 Fantasy Rankings.
The first three throws of the drive all went to Waller who appears to be Jones' top target after developing a quick rapport with his quarterback. In order for Jones to reach his potential, the Giants had to add talent to the offense and they did just that by acquiring Waller from the Raiders.
Another new target the Giants went out and got this offseason, Parris Campbell, came over from the Colts and is the favorite to be starting in the slot. Campbell had two targets on that opening drive, catching both for 18 yards. The slot role is an important one for the Giants offense, as we saw Richie James fill that role in Week 11 and finish as the WR12 from Weeks 11-18. Being on pace for 108 targets with 14-plus fantasy points in five of the last seven games is pretty notable and if Campbell can stay healthy, he oozes in upside.
Last year, Jones finished as the QB10 despite a receiving core led by Darius Slayton and throwing for only 15 passing touchdowns. Let that sink in real quick. His best finish before that was QB24 his sophomore year, but the addition of head coach Brian Daboll has done wonders for Jones' QB play already. Daboll could be the man responsible for unlocking Daniel Jones as a fantasy stud, and if history has any say in it, there's a fairly decent chance it happens.
I know they're different quarterbacks, but in Josh Allen's first full season under Daboll, he finished as the QB14 with 3,089 passing yards and 20 touchdowns. In his second season with Daboll, Allen exploded to the QB3, throwing for 4,546 yards and 37 touchdowns. Sure, Buffalo went out and got Stefon Diggs in between those seasons which plays a massive role, but Daboll has shown that he can take a QB and really bring out the best of them.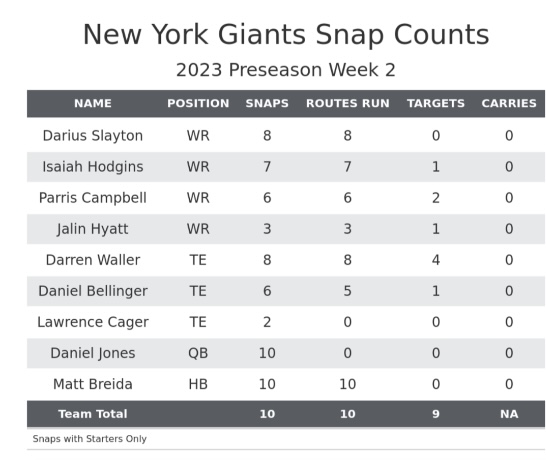 I haven't even touched on rookie Jalin Hyatt yet, but the deep threat out of Tennessee brings that added element to open up the offense. Now, it looks like the Giants are following the trend of loading up on weapons to boost the quarterback play and try to maximize Jones' true potential as the team's franchise quarterback.