Although my favorite team to land Bijan Robinson's services was the Cowboys, the Falcons were definitely on mine, and others', radar as candidates to land the dynamic talent out of Texas. With most experts labeling Robinson as an overall top-three player in the class, the former Longhorn was destined to come off the board between No. 8 to the Falcons and No. 27 to the Cowboys.
In the end, the Falcons could not pass up the opportunity to select the top overall offensive player in the draft and the best running back prospect since Saquon Barkley.
As the eighth pick in the draft, Bijan will supplant 2022 day three pick Tyler Allgeier not just as the primary back in a committee, but as an outright workhorse. At least, that's the kind of role that really everyone would assume for someone with Robinson's acumen and skill-set.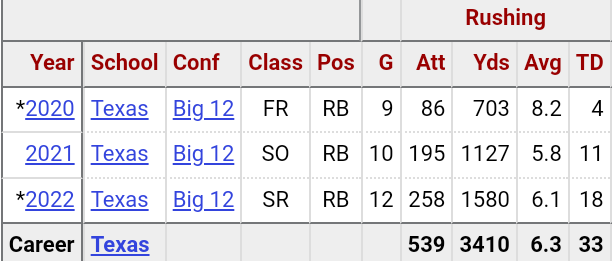 Head coach Arthur Smith wasn't afraid to rely solely on Derrick Henry while in Tennessee, and he wasn't afraid to roll with a committee last year with Atlanta. So, it stands to reason that if Bijan is as much of a better talent than Allgeier as he seems to be, then he should absolutely take the reigns of this backfield.
That's where things get very interesting, and a little confusing. As a rookie, Allgeier had a 1,000-yard rushing season, acting as the Falcons' primary back down the stretch, finishing as the RB8 in half-PPR over the last four games of the season.
With Atlanta's offensive line becoming one of the better units in the league, Bijan has an opportunity to feast from day one and pull off 1,000 yards rushing in his sleep. It's scary to think what he could do if he was awake.
"It goes to show you how he's utilized as a weapon, not just a running back," Falcons' area scout Dante Fargnoli said about Robinson. "It's like with (Kyle) Pitts as a tight end. He's not just a tight end, he's an all-around offensive weapon. Whether it's Cordarrelle (Patterson), now Bijan, we're not going to just use these guys in the box. It'll be outside-the-box thinking."
With that in mind, because of Allgeier's success, and the overall competency of Atlanta's rushing attack last season without the presence of a big name, it is a bit surprising that they went out and got a big name for a position that wasn't a big team need. After Drake London and Kyle Pitts, the other current starting receivers of Mack Hollins and Scotty Miller don't inspire much confidence in a passing attack that was 25th in completion percentage and only ahead of the Bears in total yards passing. Oh, and Desmond Ridder will be under center for his sophomore campaign after showing next to nothing during his few games as a rookie.
The Falcons' defense has historically had trouble igniting fear in opponents, the last couple of years being no exception. Bringing in a flurry of defensive free agents highlighted by Calais Campbell, Jessie Bates, and David Onyemata could make the unit above average, but it's not a lock even if they go defense the rest of the draft. Regardless, it may have helped convince the Falcons to go best player available at No. 8, and it's hard to argue they got it wrong from a talent standpoint.
Arthur Smith may have gotten his next Derrick Henry, which would go a long way toward relieving some of the pressure off of Ridder as he continues to get acclimated to the pro game in what should be his first full season as the starting quarterback.
QUICK 2023 FANTASY OUTLOOK
Simply put, Bijan is poised to be an RB1 in fantasy, a first-round selection in redraft leagues this year, and a justified 1.01 selection in dynasty rookie drafts.
WHAT THE EXPERT SAYS
"Overall, Robinson is the complete package as both a runner and receiver with vision, instincts, and elusive traits that will translate well to the NFL. He is one of the most talented players in the draft class," wrote Dane Brugler of The Athletic.