The Saints signed running-back Jamaal Williams to a three-year, $12 million contract to complement Alvin Kamara. This comes after his record-breaking season in Detroit where he scored 17 touchdowns, surpassing Barry Sanders' 1991 season with 16. Williams did more than just score touchdowns, though, as he racked up 1,066 yards over the course of the 2022 season with D'Andre Swift in and out of the lineup. 
How will this impact Jamaal Williams' fantasy value? Let's break down the different factors facing last year's RB12 in his new home and how they affect his predicted performance and draft stock.
SHARING THE BACKFIELD
Alvin Kamara is no stranger to splitting the rock, with his first season in the league highlighted by a staggeringly effective New Orleans backfield. Both Mark Ingram and Kamara surpassed 1,500 yards from scrimmage. If you remember, Mark Ingram did most of the heavy lifting in the power run, where he amassed 230 carries for 1,124 yards. Kamara, on the other hand, had only 120 carries, but still managed 728 yards rushing and added another 81 receptions for 826 yards. 
Flash-forward to 2023, Kamara has kept pretty similar numbers, hovering just around 1,300-to-1,400 yards from scrimmage each year. With the decline of any complementary runner, though, Kamara has seen his workload shift, earning the most carries of his career in each of the last two seasons. His receiving share has dropped, too. Three of his first four seasons saw him eclipse 100 targets, but the last two seasons have been under 80.
This means a couple of things. Firstly, Jamaal Williams will likely have a similar role to last season, as he takes a large bearing of the carries while Kamara returns closer to his Ingram-era stats. But, if we see a potential Kamara suspension, Williams has the skills to be a three-down back. Prior to Detroit, he had five seasons with at least 25 receptions but had his role reduced last season. 
Verdict: Jamaal Williams will take the majority of the carries while Kamara takes most of the catches out of the backfield, very similar to what we saw last year on the Lions. 
Stock: Steady.
BIG GUYS UP FRONT
Last season, Williams had the privilege of running behind a top-10 run-blocking unit according to PFF. There is no denying the impact of running back talent considering the likes of Christian McCaffery and Austin Ekeler, but most rushing success comes at the hands of the offensive line. Even if it didn't, Jamaal Williams does not possess a particularly striking athletic ability that would allow him to conquer mediocre blocking.
When it comes to the Saints' offensive line, just a couple of years ago they would have been touted as a top unit. But in each of the last two seasons, they have been a bottom-eight run-blocking regime in the league, according to PFF. While new offensive line staff and potential draft prospects could have a positive impact, it is a stretch to say this line will be able to match the holes to run through in Detroit.
Verdict: Jamaal Williams' new offensive line in New Orleans is unlikely to surpass the unit he ran behind last season in Detroit.
Stock: Down.
THE TAYSOM HILL EFFECT
A large difference between Williams in Detroit and New Orleans is the existence of a man named Taysom Hill. He is typically not very valuable in fantasy himself, but his ability to take touchdowns away from others is well-documented. Taysom Hill has scored 20 rushing touchdowns over his last three seasons, making his attempt-to-touchdown ratio rather impressive. He does not get a ton of carries, but when he does, he cashes in.
The Saints are choosing to spend a notable amount of money on Jamaal Williams, a goal-line specialist, so we would like to think he is used that way. But, with Hill in the mix, the red zone can become the 'dead zone'. Kamara has fallen victim to his vulture abilities for years, and it may be Jamaal's turn.
Verdict: Jamaal Williams may be less susceptible to goal-line vulturing than an average back, but Taysom Hill is still likely to take away a few scores at least.
Stock: Down.
SUCCESS VS SUSTAINED SUCCESS
It is much easier to have great success in a single game than to repeat that over the course of a season. Likewise, one great season is easier to obtain than a career full of them. Jamaal Williams has a solid career but had an especially great season last year. We all know this success was largely fueled by his ability to find the endzone.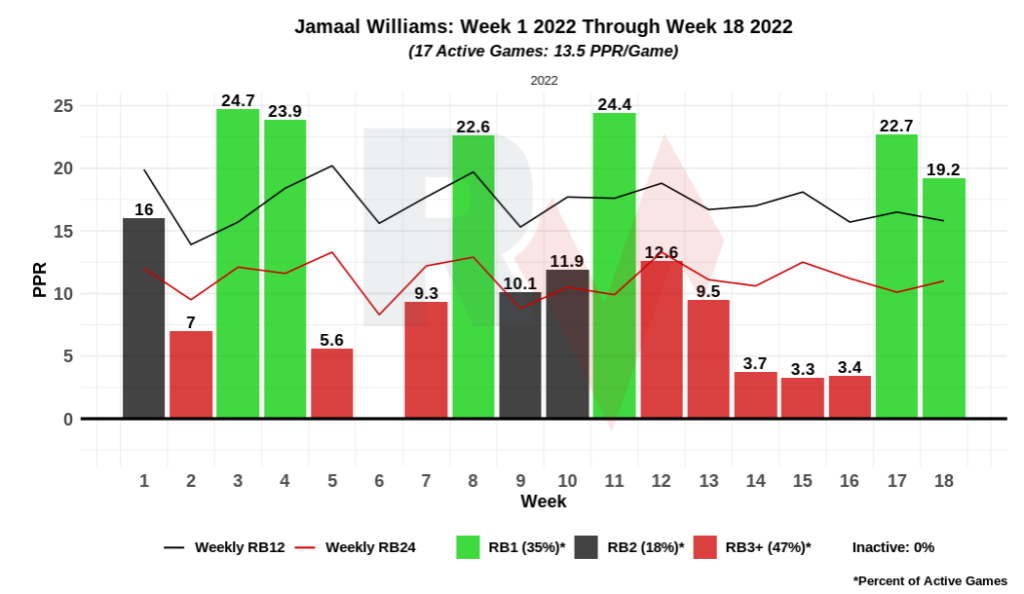 Compare the graph above, Jamaal Williams' fantasy points, to the one below, with his rushing touchdowns.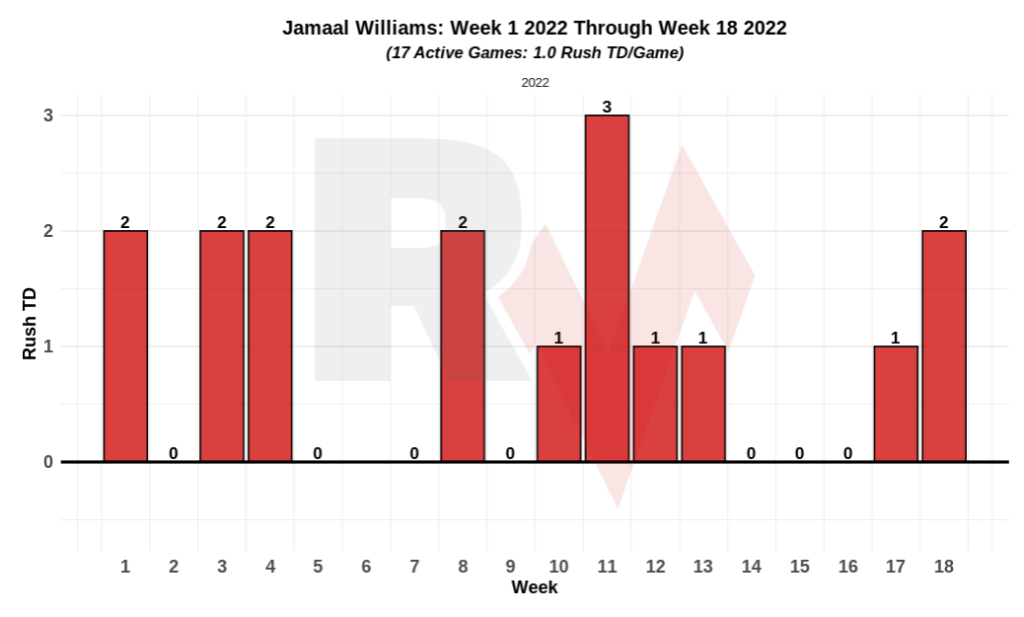 Of course, more touchdowns lead to more fantasy points, but the correlation is worryingly similar. Only once over the course of the entire season did Jamaal Williams finish as an RB1 that week with less than two touchdowns. You read that right. He finished as RB12 on the season, yet never reached RB1 status in a week without two touchdowns until Week 17. 
This is an immediate red flag to how volatile Jamaal Williams can be. His dependence on touchdowns is concerning, especially considering he is going from the fifth-highest-scoring offense in the NFL last year to the 22nd. Given his volume and opportunities, the number of touchdowns he scored is unsustainable. 
Verdict: Jamaal Williams may have a similar rushing role on the Saints, but it will be damn near impossible to replicate the touchdown output he had this season.
Stock: Down.
FINAL VERDICT
Williams had a stellar season in 2022. His hard-nosed running was much-needed for the Lions, and it earned him not only 17 touchdowns but a three-year deal with the Saints. But, given his new backfield, offensive line, teammates, and volatility, it is unlikely he can reproduce a season like this.
With that being said, he is certainly not a lost cause. He will have a path to score many touchdowns (maybe not 17) and will be given opportunities in this offense. He will likely be going higher in a draft with average football fans and should be avoided, but in a league full of knowledgeable fantasy footballers, you may be able to snag him late. And hey, if Kamara does end up on suspension, he could be a steal in the draft and a lucrative sell-high upon Kamara's return.
Jamaal Williams is currently slated as RB30 (+3 vs. ECR) on The Wolf's 2023 Fantasy Rankings and may continue to move as more information is released about Alvin Kamara and his Las Vegas case.