All good things must come to an end.
Coming off a disappointing season that left Dallas picking from the No. 4 spot in the 2016 NFL Draft, Jerry Jones couldn't help himself and had to give the offense a potential franchise-changing weapon. The draft card read Ezekiel Elliott and Dallas quickly turned things around.
Pour one out for Zeke!
Tony Pollard, the latest explosive dynamo to sweep the fantasy scene, has had chatter about him being a workhorse growing louder and louder by fantasy analysts and players alike as it became clear Elliott was falling off.
To say Pollard was sensational last season is an understatement.
His season began leaving much to be desired on the fantasy stat sheet. Through Week 7, Pollard averaged 10.1 fantasy points, bolstered by a 19.8 Week 2 performance against the Bengals. In weeks 8 through 14, Pollard scored over 21.8 points in five of his six games, including two games over 30 fpts.
Overall, his fantasy finishes suggest he was a bit more boom/bust than he actually was.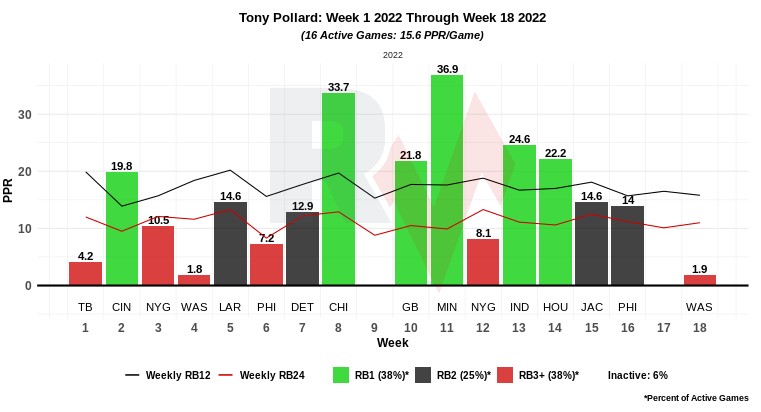 Pollard ranked second among running backs in fantasy points over expectation per game and first in total fantasy points over expectation.
Taking an opportunity-based approach, Pollard scored 246.9 PPR fantasy points on only 242 opportunities (19th among qualified RBs). He was one of only nine RBs to average more than 1 fantasy point per opportunity, ranking behind RBs like Breece Hall, D'Andre Swift, and Austin Ekeler.
Take Pollard's incredible stretch into the fantasy playoffs, weeks 8 through 14, his 17-game averages were:
258 rush attempts, 1,470 yards, 20 TDs, 51 rec. on 65 targets for 493 yards and 8 TDs. That's a 17-game pace of 417 fantasy points… 44.3 more than Austin Ekeler's RB1 finish last year.
Putting that into context, that's the most fantasy points a running back would have scored since Christian McCaffrey broke fantasy football in 2019.
That's Pollard's ceiling.
POTENTIAL ROADBLOCKS
Okay look, nobody is going to project Pollard for a stat line of 1,963 total yards and 28 total touchdowns. The hype around Pollard is about how incredibly efficient he was with his opportunities and how adept he was at creating for himself.
In 2022, Pollard recorded 31 explosive runs (10+ yards) while forcing 41 missed tackles. He averaged 5.2 yards per attempt, including 3.82 yards after contact per attempt. The potential hiccups surrounding Pollard aren't talent related. It's more related to the big man in the room.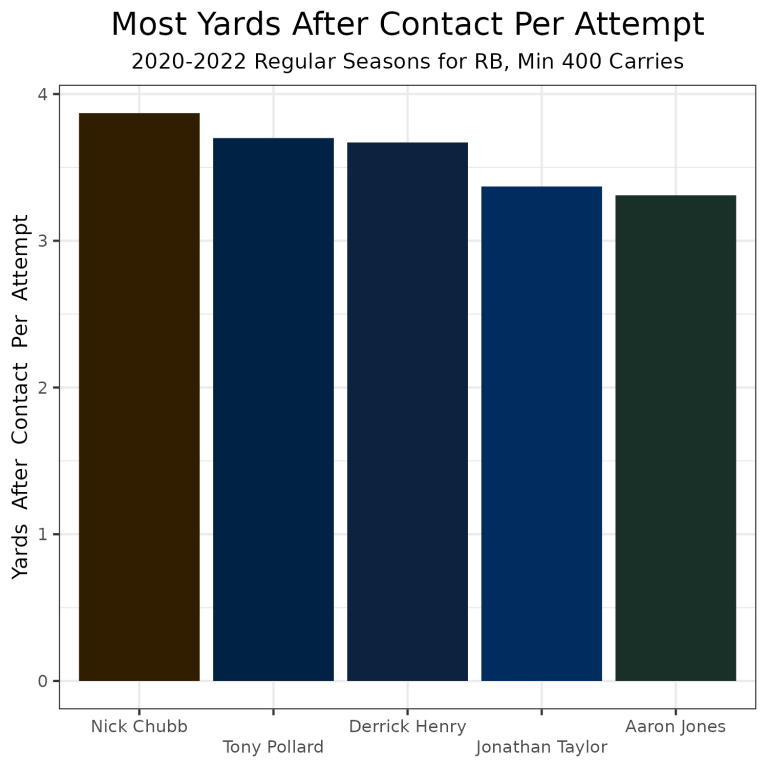 Head Coach Mike McCarthy has taken over play-calling duties after Dallas and Kellen Moore decided to part ways this offseason. Moore excelled in putting his players in space to create and actively wanted to run up the scoreboard.
McCarthy recently said, "I've been where Kellen has been. Kellen wants to light the scoreboard up. But I want to run the damn ball so I can rest my defense."
This suggests maybe more per-game volume for Pollard but fewer scoring opportunities.
McCarthy's patented, archaic west-coast offense also expects to offer fewer opportunities for Pollard to punish defenses with his explosiveness.
"I don't desire to be the No. 1 offense in the league," McCarthy added.
McCarthy said this clearly meaning he wants to be the team hoisting the Lombardi trophy at the end of the season, but that still creates slight apprehension for Pollard in 2023.
INJURY SITUATION
Pollard went down with a broken left fibula and a high-ankle sprain in Dallas' playoff loss to the 49ers.
My initial reaction to this injury made me even more apprehensive about Pollard's outlook. After further research, Pollard's expected outlook is more optimistic than I expected.
Dr. Deepak Chona, a Stanford and Harvard-trained sports surgeon and sports medicine analyst also expressed optimism around Pollard's outlook. He took to Twitter and said, "Agreed. Tony Pollard should be back by Week 1. Avg return = 4-6 months. #NFL data suggests low impact of this injury on production. Overall optimistic on Pollard".
With all of this in mind, Pollard should still be locked in as a solid RB1 in 2023, as long as Dallas can resist the allure of the first-round RB again.
TAKING AN RB IN THE NFL DRAFT
While this would likely affect Pollard's dynasty outlook more than his 2023 outlook. If Jones simply cannot help himself and drafts Bijan Robinson, then Pollard's 2023 outlook would reasonably be flushed down the toilet.
While Jahmyr Gibbs is also an enticing RB draft prospect that is garnering round-one buzz, neither of these RBs are close to the level of Robinson.
The most likely scenario for Dallas is they add another RB later in the draft or on a cheap deal in free agency to fill the Elliott role and help keep Pollard's legs fresh. Someone who can move the chains in short yardage and help protect Dak Prescott.
Pollard checks in at RB7 (+4 vs the ECR) on The Wolf's latest 2023 Fantasy Football Rankings.