With the sixth pick in the 2019 NFL Draft, the New York Giants selected Daniel Jones. The NFL community went, "Ummmm, okay." It even caught Baker Mayfield off guard.
But while Baker is trying to get his career back on track, Jones cashed in on a 4-year, $160 million deal. It's a testament to the growth of Jones' own career arc after four seasons.

Jones saw incremental improvements every year in completion percentage and interceptions, on his way to his first winning season as the Giants starter. What remains concerning for fantasy purposes is that the team's success only culminated in 15 touchdowns for the year, and 200.3 passing yards-per-game, 21st and 25th in the league for quarterbacks who started at least nine games, respectively.
I believe Daniel Jones is a dynasty buy, and just to show you, I'm out here practicing what I preach: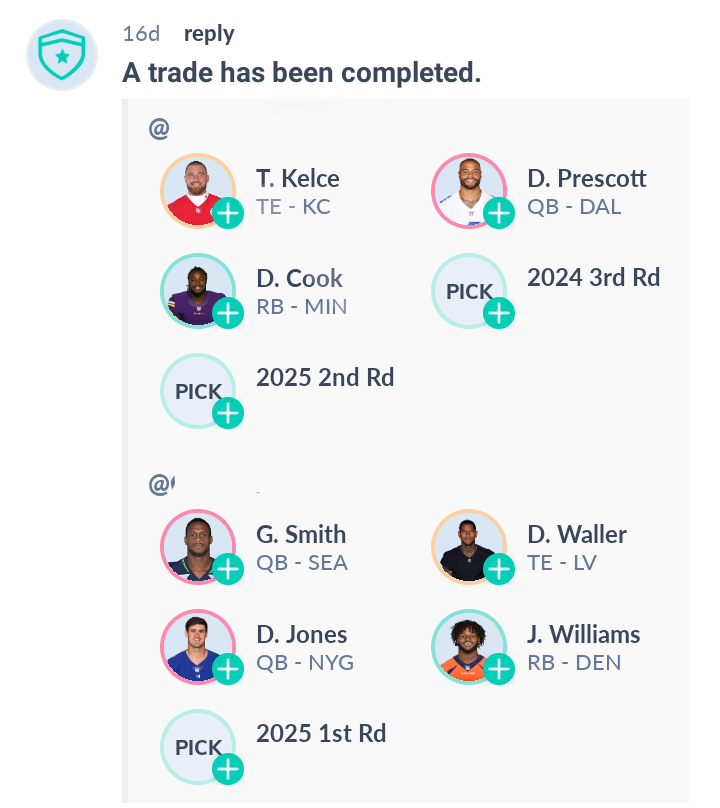 When having a contending team in dynasty, it can be hard to watch other teams finish in the top three of your league. It's even harder to watch them beef up their rosters even more while they're doing it. That was my experience in the RSJ Dynasty league this past season, and it inspired me to see if I could retool an older squad, and apparently find my knack for trading for quarterbacks just before they sign impressive deals. And despite the success the Giants had as a team, the fantasy community at large seems to be holding on to much of the skepticism that was present when New York drafted Danny Dimes.
But what makes Jones such a great buy requires not overthinking his situation. Yes, his finish as the QB9 last season could be a fluke, as it was his first year above middling-QB2 territory. But, the effect of the environment surrounding him, and what it says about the near future, can't be ignored.
A DEPLETED RECEIVING CORE
Entering 2022 the receiver room was already problematic. With injury-prone guys like Kadarius Toney, Sterling Shepard, and what turned out to be one of the most overpaid free agents in history in Kenny Golladay, the season was already set up to be a challenge. Even second-round rookie Wan'Dale Robinson had trouble getting on the field, active for only six games.
The core that ended up having the most consistency was Darius Slayton, Richie James, and Isaiah Hodgins. C'mon, now. I know, I know, "It doesn't matter who the Patriots had at receiver, Tom Brady was still winning." Sure, QB talent affects an offense more than WR talent, I won't argue against that. But if we want to talk about what's fluky involving Daniel Jones, then we have to recognize the significance of him posting his highest career QB Rating with this squad, and the receiving core has nowhere to go but up from here — especially with a healthy Robinson set to return after a mid-season ACL injury.
BRIAN DABOLL
How much can a coaching change make a difference? If your argument is "a lot" then the 2023 Giants can suffice as your Exhibit A. With Daboll's decision to risk losing the game by going for two down 20-19 to the Titans in Week 1, and succeeding, the pain of the Ben McAdoo/Joe Judge/Jason Garrett/Dave Gettleman era began fading, and fast. That energy lasted the whole season, through to Daboll earning NFL Coach Of The Year. The Giants unquestionably outplayed expectations.
They got wins in spite of some weaknesses, including an offensive line that had trouble staying near the cellar of PFF's O-Line rankings as the only trustworthy player on the line was left tackle Andrew Thomas. Defensively, they allowed the ninth-most yards-per-play in the NFL, third-most rushing yards allowed-per-play, and were only 25th in turnovers, garnering 19. Despite this, they only allowed the 16th-most points.
Daboll's staff was able to squeeze some lemonade out of lemons, which combined with Jones' low-end, but responsible numbers speak to a franchise that is going in the right direction in terms of decision-making. Now, the next step will be upgrading the roster, something that should be easier for GM Joe Schoen to accomplish, now that the Giants have become an attractive situation for free agents, and that Schoen is out of the Gettleman-era salary cap issues.
SO WHAT SHOULD IT TAKE TO TRADE FOR JONES IN DYNASTY?
The ability of the Giants to have success while having a leaky defense and not putting up large passing numbers means that they likely don't have to rely on Jones to light up any stat sheets unless he has to, and aren't necessarily scheming to do it. In that sense, there's little to back up any argument that boasts Jones as a reliable QB1 in the near future.
First, his floor is very solid. His 708 rushing yards and seven rushing scores crushed his previous highs in those categories. It's possible we saw career highs there, but he clearly has the dual-threat capability to make it a relevant part of his fantasy value. Without the rushing numbers, sure, he finishes as QB23. If we cut 2022's rushing totals in half, he'd sit at QB16.
Now, consider his 15 total passing scores and 200.3 passing yards per game. These are floors. Upgrades to PFF's 24th-best pass-blocking unit and arguably the worst receiving core in the NFL are coming. Another five passing touchdowns and 30 passing yards per game boost him to QB13 from QB16.
To me, that QB13 mark is in the "not much improvement" category, the "no one should be surprised if Daniel Jones hits those marks" category. I don't put Jones' situation in that category. I believe that 2022 saw a massive upgrade for the Giants in coaching and the front office, and that last season will not prove to be a fluke.
The arrow for New York's offense is pointing up and set to be trending up for the next few years. How the team handles Saquon Barkley during that time will be something to watch, but we know that teams don't need generational talents at running back to succeed, and I'm betting that this front office will be able to handle its roster decisions, whether Barkley ends up on another team, or stays in New York through his eventual decline.
For the Danny Dimes manager in your league, it can't hurt to inquire about his value. Seeing him run open and free toward the endzone against the Eagles on Thursday Night Football in 2020 to see him get tackled by the turf monster may still be a resounding image in people's minds. Even dynasty managers who perhaps only consider Daniel Jones a "could be worse" candidate filling in their Superflex position.
It likely got a little harder to buy Jones after he signed his 4-year, $160 million contract, but there's still time. But if Jones and the Giants build on '22 with an even better '23, no one will think 2022 was a fluke, and it'll be too late to get him.
Right now, DynastyProcess' Trade Calculator values him at around an early '23 or '24 2nd. I'd be hard-pressed to pass that up. FantasyCalc.com values as a 2023 mid-1st, with quarterbacks like Tua Tagovailoa and Trey Lance. Those comparisons give me some pause. In terms of ADP, DLF has him among the likes of Kirk Cousins and Russell Wilson, hard not to roll with the guy who's a decade younger there.
Because of his ceiling, Danny Dimes-to-Dollars fits with any dynasty scenario: contending, rebuilding, or like me, retooling. The Jones that made people say "Umm, okay," when the Giants drafted him could still hang around, but if the "Umm, okay" version of Danny is the vicinity of the trade value you can get him for, you won't hate yourself for trading for him if he remains a middling fantasy QB. You will hate yourself if you don't.