It's finally here — Super Bowl LVII in Glendale, Arizona. The Chiefs and Eagles, fresh off 14-win seasons followed by two playoff victories, face off for the Lombardi Trophy. With two electric offenses at play and two creative head coaches at the helm, we're sure to be in for an exciting matchup on Sunday night before the NFL says goodbye for the spring and summer.
To soften the inevitable blow of losing the game we love for the foreseeable future, we figured we'd help you make a few bucks on this one. So when you're using your winnings to throw some bets on regular season NBA and MLB games to make them remotely enjoyable, remember to come back and thank us.
We're going to give you some game and novelty props that we love, but first, you know we have to set our PrizePicks lineup. Not just because PrizePicks is the best app in the world and gives you a chance to win up to 25x your entry, but because all week long they're giving out a free square in the form of Patrick Mahomes over/under 0.5 yards. Yes, a single yard from the league's best QB in the biggest game of the year already sets you up at one-for-one.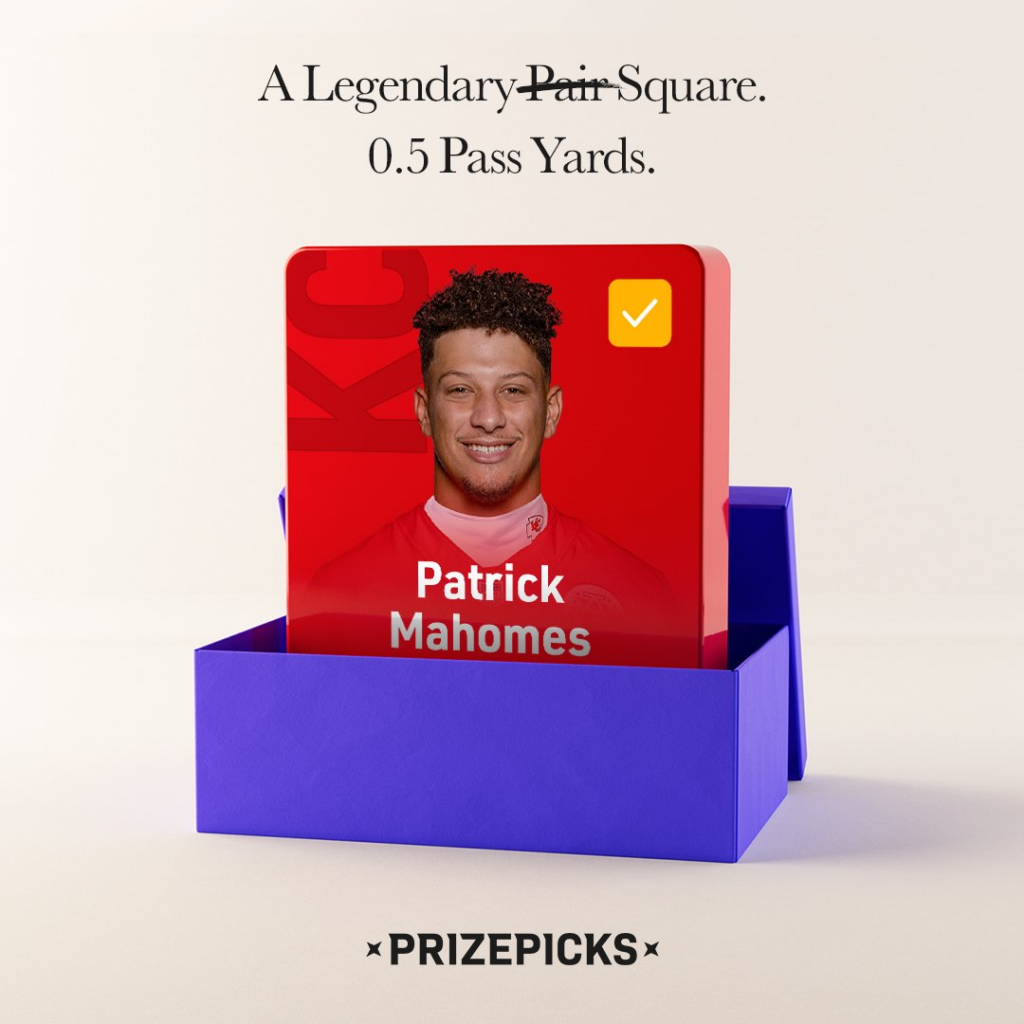 With Mahomes already included as our first pick, let's round out our PrizePicks lineups with four more winners.
Kenneth Gainwell Over 1.5 Receptions
Kenneth Gainwell has averaged two receptions per game over the Eagles' past eight games, including catching two of three targets for 26 yards against San Francisco. I think Philly emphasizes the run game more in this one via Miles Sanders and quick shifts from Boston Scott, leaving Gainwell to be the pass-catching back against a Kansas City defense that allowed the most receptions to running backs this year.
Marquez Valdes-Scantling Over 2.5 Receptions
With injury question marks surrounding JuJu Smith-Schuster and Kadarius Toney, who are both expected to play, Marquez Valdes-Scantling could be in for a second straight big game after catching six passes for 116 yards and a TD in the AFC Championship. His fellow receivers aren't 100%, and Philly's defense knows the attention that needs to be paid to Travis Kelce — which could leave MVS some great opportunities to contribute.
Brett Kern Over 0.5 Punts Inside the 20
"Yay, punting props" – Nobody
I think Brett Kern is the victim of a small sample size here. After taking over for Aaryn Siposs in December, he punted ten times in the regular season and only one stayed inside the 20. But, in the NFC Divisional round, Kern punted three times, pinning the Giants inside the 15 every time. He didn't have a repeat performance against the 49ers, but as long as he's the punter on Sunday (supposedly Siposs is trying to make a return), he should have a chance. Philly was T-9th this year in the fewest punt return yards allowed, and Kansas City was 26th in punt return average.
Noah Gray Over 2.5 Fantasy Points
Obviously, when it comes to the Chiefs' tight ends, Travis Kelce is the guy. But the Eagles know that and will undoubtedly make him a focal point of their defensive strategy. Relatively unknown players always seem to step up in the Super Bowl, and Noah Gray fits that bill for KC. Gray has one catch in each of his last six games, averaging about 11 yards per game. That average puts him around 2.1 points already, and I think we can bank on a little bit more production from Kansas City's TE2 in this one.
GAME PROPS
Game Picks: Eagles -1.5 and Over 51
When it comes down to it, the Eagles are the more complete team, especially on the defensive side of the ball. I'm expecting a high-scoring battle with two explosive offenses, but Philly will come out on top in the end.
First Touchdown Scorer: Miles Sanders +700
Look for the Eagles to establish the run early, as they typically have more success when doing so (see: their first loss of the year to Washington, when Sanders had one carry in the first half).
Anytime Touchdown Scorer: DeVonta Smith +150
Smith was much more of a factor against the Giants than he was in the NFC Championship, but Philly didn't need much offense in that one — and they'll need a boatload of offense in this game. I don't see a scenario where Smith doesn't get a handful of end-zone targets, even facing a KC secondary that skews taller than the league average.
Super Bowl MVP: Jalen Hurts +120
The QB of the winning team is always the safest MVP bet, so if you're with me on the Eagles, this one's a no-brainer at plus odds.
NOVELTY PROPS
DeVonta Smith Exact Yardage Amount: 90-99 +1000
This one's obviously a total guess, but I think Smith has a huge impact in this game and 90-99 yards seems like a relatively likely range for his yardage total at +1000.
Any Kicker to Make a 60+ Yard Field Goal: Yes +900
Love this one for the value. Playing for the teams with the No. 1 and No. 3 ranked scoring offenses in 2022, neither kicker was heavily relied on this year, but both are solid. Jake Elliott's long was 56 yards but he was five for six from 50-plus and has hit from 61 in his career, while Harrison Butker hit one from 62 yards earlier this season. This one comes down to opportunity, and with a very close game likely, I think one team at least attempts a long FG, maybe at the end of the first half.
Combined Jersey Number of all TD Scorers: Under 160.5 -115
This one basically comes down to both teams' ability to stop their opponent's top tight ends. From there, the majority of scoring offense in this one should come from guys with low jersey numbers. Both teams' WR groups are heavy on single-digit and teen numbers, and both teams have a player with No. 1 who's a scoring threat. A tight end touchdown by either team could hurt us, but it could still be recovered as long as neither Kelce nor Goedert have a huge scoring game.
Exact Points Scored: 54 +2200
One thing we know for sure is that Vegas knows how to handicap these games. They have the total set at 51, and with the thought that it will go over, it's still a safe bet that it will be really close to what Vegas predicts. All that said, 54 is great value here.
Gatorade Color Dumped on Winning Coach: Orange +350
Depending on where you look, Orange or Yellow/Green are the favorite here. Yellow/Green makes sense since they represent the Eagles' colors, but it doesn't necessarily mean that's what they'll be drinking. Since 2001, only three times has the Gatorade color matched the color scheme of the winning team. Kansas City's last Super Bowl win was punctuated by an orange shower, and orange has historically been a popular choice of NFC winners as well. I like it at whatever odds you find it.
National Anthem Run Time: Over 2:05 -185
Obviously, the odds are leaning heavily to the over here, and for good reason. Country superstar Chris Stapleton performs this year's anthem, and he's known for a somber, slow style of singing in his personal career. I think that style will translate well to the anthem in such a big moment for him, and he'll take his sweet time. Country singers also historically go over, which makes me feel really good about locking it in here.
Halftime First Song: Work +2000
Unfortunately, Vegas and sharp bettors are all over the likely choice on Rihanna's first song. Don't Stop The Music is one of her older hits and one of her biggest songs and has an instantly recognizable beat that halftime show coordinators always love. So, it's gone from an open of around +350 to now sitting around +110. That's the safe bet, but if you're looking for value here, I like Work at +2000. My true choice is actually Disturbia (another older banger of a song with an instantly recognizable beat), but I haven't seen any odds posted for that one — although it is going off at +1200 for the last song.