The most important part of the dynasty season is quickly approaching. With trade deadlines coming up, most contending teams are looking to plug any remaining holes before the playoffs.
If you have tons of spare assets and can afford to pay up for studs, now is a good time to buy them from non-contenders. However, if you need cheaper options, this article is perfect for you.
The options below can be acquired for roughly a contending 2023 second-round pick.
RUNNING BACK: JEFF WILSON (27, MIA)
Conventional dynasty wisdom says to trade away old running backs, but the position has been so volatile lately that targeting old, cheap backs can be a viable strategy. Young players like Najee Harris, D'Andre Swift, Javonte Williams, Cam Akers, Antonio Gibson, and JK Dobbins were all coveted at the start of the season and have been some of the biggest fallers in value. The position is becoming more of a question of what can a player do for you now.
Jeff Wilson is a perfect target if you're short on assets or just want to avoid the next running back value landmine. In his last two games since taking over the Miami backfield, he is averaging 61% of the snaps, 15 carries, and 4 targets per game in a highly efficient offense. That workload has yielded 17.3 points per game in full-PPR leagues, and likely would be slightly higher if Wilson didn't miss time with cramps last week.

I would certainly take Wilson over a rookie who has done nothing like James Cook. Jamaal Williams also fits the cheap, productive running back mold, but Williams hasn't seen a single target in the past four weeks, so I would prefer Wilson due to his passing game involvement and situation in Miami.
You might even be able to get Wilson for a young WR like Wan'Dale Robinson or Romeo Doubs – both are higher on KTC and will likely never amount to much. Wilson has no guarantees of production beyond this year, but most backs don't, and he at least has a chance to start again for the Dolphins or a different team next season.
WIDE RECEIVER: KEENAN ALLEN (30, LAC)
Keenan Allen has disappointed fantasy managers all season, which certainly contributes to his low cost, but he finally appears to be healthy.

Allen has been a target monster throughout his entire career. He averaged 9.8 targets and 18.3 expected fantasy points per game last season, which ranked 6th among all receivers in both categories. His targets have been slightly down this year, averaging 7.5 targets over the previous two games. But he has played just under 80% of the snaps as the Chargers ease him back.
His PFF grades this year have been pretty much the same as last year, so look for the target numbers to go up slightly as he gets re-acclimated into the offense and plays a full snap share.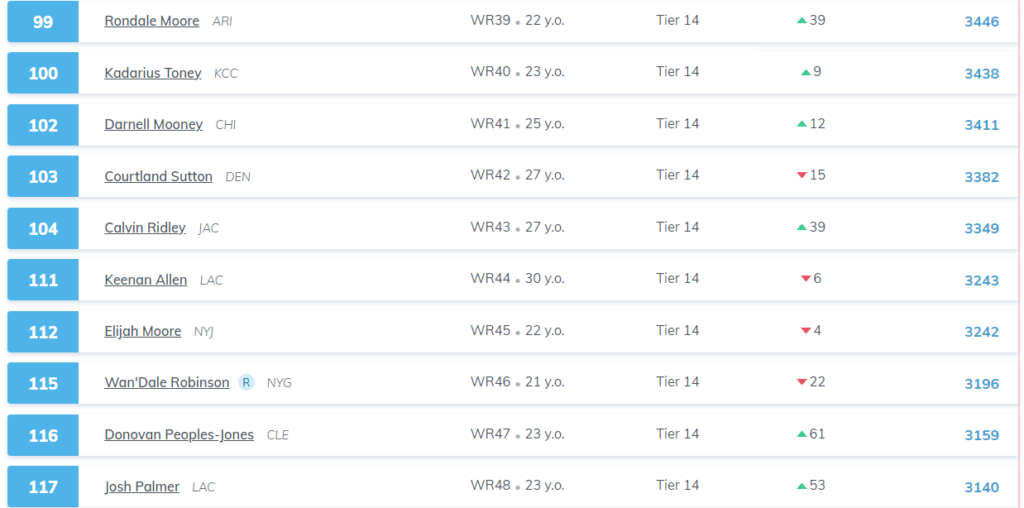 I am pretty comfortable taking Allen over most of the players on this list. Other than Calvin Ridley, nobody comes close to the upside Allen possesses, but Ridley obviously isn't helping you win this season. I could also see an argument for Courtland Sutton if you want to bet on a Russell Wilson bounce-back, but everyone else here is an extreme longshot to ever put up a difference-making season.
I would move any player listed here, other than Ridley, or a contending second-round pick for Allen. He's likely the most expensive player of the three, but also the most likely to provide production beyond this year.
TIGHT END: DARREN WALLER (30, LV)
If you're a contender who needs tight end help, you're in a very tough spot. If you have the assets, I would highly suggest trying to acquire Mark Andrews or Travis Kelce because outside of those two, there are no guarantees at the position. But if you can't afford the top options and need a cheap option with upside, Darren Waller is my choice.

Just last season, Waller had more expected fantasy points, targets, and air yards per game than Kelce. He was inefficient primarily due to drops and lack of touchdowns but still commanded elite volume. The Raiders offense has been quietly very solid over the past four weeks. Quarterback Derek Carr is averaging 36.8 attempts, 277 yards, and 2.3 TDs over this stretch despite having no proven weapons other than Davante Adams.
If Waller can get back on the field in Week 14, he should return to a hot offense with plenty of scoring opportunities.

Waller has more risk than Jeff Wilson or Keenan Allen, and could definitely backfire if he can't get healthy, but he is an easy choice over all of these players. Isaiah Likely has flashed some potential this year, but he still ran a 4.88 40-yard dash. Dawson Knox is averaging 7.8 PPR points per game, and Trey McBride has done next to nothing even after Zach Ertz went to IR.
I would look to move one of the previously listed receivers and a third-round pick for Waller, or a second for Waller and a third if you need TE upside.