Monday Night Football took its toll on the Pittsburgh Steelers.
With a hard-fought 24-17 win over the hapless Indianapolis Colts aka the fighting Jonathan Taylor's, the Steelers lost its workhorse running back to an abdominal injury.
It's unclear how much time if any, Najee Harris will miss with injury. But, with Jaylen Warren's status still unclear as he continues to nurse a nagging hamstring injury, the next-man-up approach makes some less-than-desirable fantasy names intriguing Week 13 waiver wire additions.
Benny Snell seemed to take the lead in the backfield, toting the rock 12 times for 62 yards and a touchdown while also catching one pass for six yards. Anthony McFarland Jr. threw his name into consideration with six rushes for 30 yards and two receptions for 11 yards.
Neither are necessarily sexy additions teams, but if any team has any remaining FAAB left in the budget, then Snell projects to be the back most likely to return touchdown dividends.
When given volume, Snell has been a productive running back.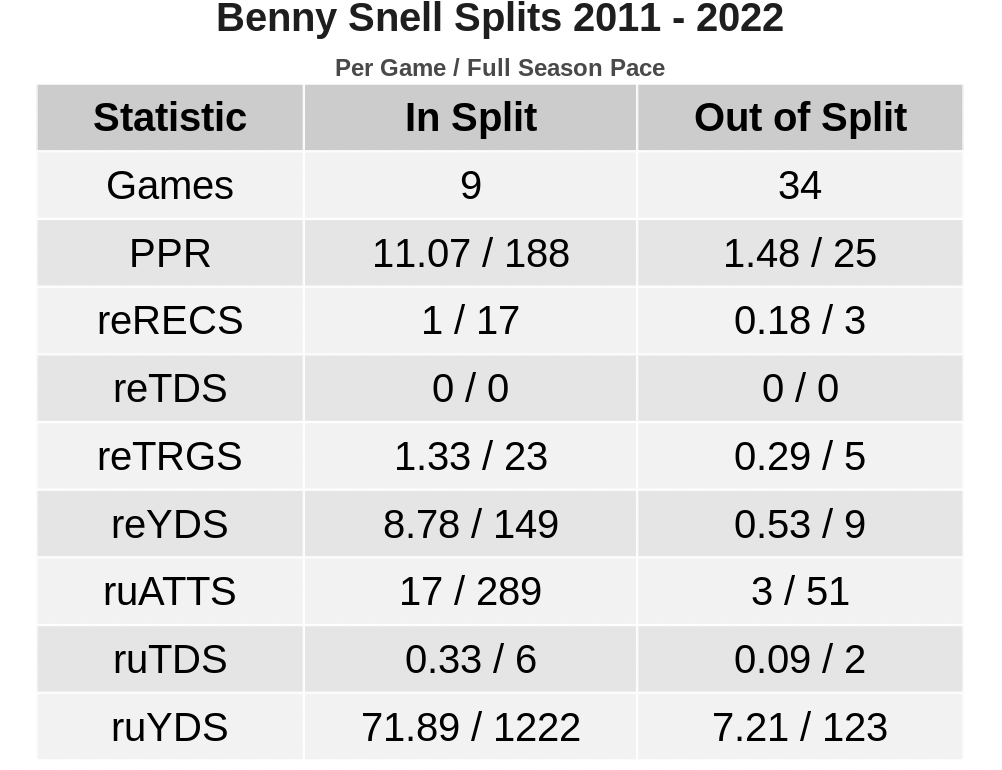 Mike Tomlin was quick to heap his praise on Snell and McFarland after the game on Monday.
"I'm just appreciative of both guys' efforts man. Sometimes you get battlefield promoted. Guy like Benny Snell became a central part of what we're doing offensively and he was still on punt team, he was still on punt return, he was still on kickoff," Tomlin said.
Obviously, most of Snell's value will come from being fed the rock and pounding away at people. Going back to his days at Kentucky, it was clear Snell wasn't going to light the ground on fire with his speed.
Still, Snell has held a 17-game pace of 1,222 yards on the ground when he receives at least 12 attempts.
Harris, in his own right, has been a sizable bust relative to expectations coming into the season.
Harris had seen 19 red zone carries and two red zone targets going into the Colts game. He averaged 0.62 fantasy points per opportunity and averaged -2.54 fantasy points per game relative to opportunity-based expectation.
Snell, while a similar style runner, isn't quite the size-speed specimen Harris is and certainly is less dynamic of a playmaker. He does offer a more decisive running style than Harris but lacks the ability to create much for himself.
Still, Snell projects to be reliant on goal-line work for big fantasy days with McFarland digging into his receiving role.
Neither are running backs fantasy managers would break the bank for halfway through the season, but with the playoffs on the horizon and every game that much more critical, Snell should be the top target but McFarland could make for an interesting couple of week stash if things take an ugly turn.
Take a look at The Wolf's Rest of Season Rankings to see how he ranks the Steelers backfield.