Player Stock Ticker
Top Fantasy Football Defense Streamers For Week 6 (D/ST)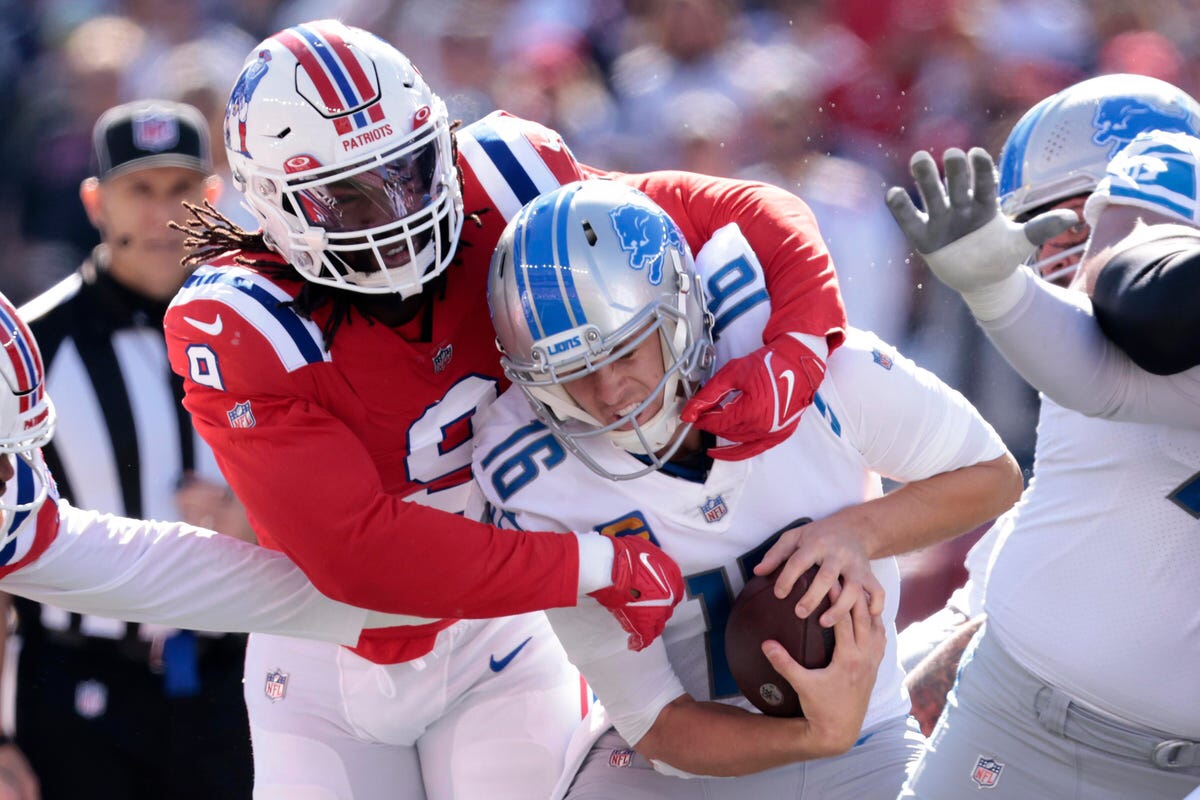 Our Week 5 streaming options performed unremarkably, with an average of four points per unit between Tennessee, Jacksonville, and Seattle. The Titans and Jags crept around the top 10 for the week at six and five points, respectively, but Seattle got Taysom Hill'd and finished with just a one-point showing for Week 5. Our secondary options did ok, including a 14-point showing from Indianapolis on Thursday Night Football.
Week 6 is accompanied by a new twist — bye weeks. Houston, Detroit, Tennessee, and Las Vegas have the NFL's first four byes this week.
Let's see how those bye weeks will impact the DST streaming market.
WASHINGTON COMMANDERS (3% ROSTERED)
CHICAGO BEARS (9%)
Week 6: Washington Commanders vs. Chicago Bears, 8:15 PM (Thursday)
Sometimes, you just look at a game and know it's destined to be a snoozefest. This was the case last week with the Colts vs. Broncos on Thursday night, and it sure looks like TNF is poised to give us back-to-back duds. Thanks, Jeff Bezos.
Neither defense in this game is off to an incredible start to 2022, hence them both being owned in less than 10% of leagues. Chicago is top 10 against the pass but has struggled against the run, while Washington is around the league average in both. Washington is top 10 in sacks while Chicago's near the bottom, but Chicago is top 10 in takeaways while Washington is in last place with just one INT on the year. So far, Chicago is DST17, while Washington is DST31, so clearly, this selection is more due to the teams' offensive shortcomings than their defensive prowess.
Like their defenses, these teams' offenses show potential in different areas — Chicago is a top-five rushing attack while Washington's in the bottom five, but Washington is statistically a top-10 passing offense, while the Bears are dead last in passing yardage. Additionally, these are two of the top five most-sacked teams in the NFL, and both have eight giveaways on the year, which is in the top 10. Knowing all of this, it's no surprise these teams are both in the top eight in terms of fantasy points yielded to opposing defenses.
Combine a short week and the fact that the under is 11-4-1 in primetime this year and I think we'll see a repeat of last week's low-scoring showing on TNF. This disgusting game has the makings of two viable streaming options.
NEW ENGLAND PATRIOTS (41%)
Week 6: @ Cleveland, 1 PM EST
The Patriots have had a lot of question marks surrounding them on both sides of the ball this season. Offensively, most of those question marks remain, but on the other side of the ball, things are looking up as of late. They just shut out the NFL's top offense for a 29-0 win, and have scored a defensive TD in back-to-back games. They've allowed over 28 points only once through five weeks and find themselves in the top 10 in sacks and defensive takeaways. Looking to improve to 3-3, they travel to Cleveland to face the NFL's top rushing attack on the road.
With Nick Chubb and Kareem Hunt on the roster, it's no surprise that Cleveland has rushed for almost 200 yards per game. Chubb has been an absolute monster with over 118 yards per game and he's behind an offensive line that has a 70%+ win rate in both run and pass blocking. To have any chance to slow him down, New England will need to crowd the line of scrimmage and force Jacoby Brissett to take his chances against 1-on-1 matchups outside. Brissett has been adequate filling in for the suspended Deshaun Watson and he has some weapons to work with, but Cleveland has a bottom-tier passing offense, and New England has an INT in four straight games. Not to mention Bill Belichick drafted Brissett and obviously knows a whole lot about him and his tendencies.
Even if not with this specific matchup in mind, scoop New England's defense up this week while they're still in streaming territory, because I promise they won't be for much longer. They're getting to the QB with consistency, their secondary is coming together, and they have three straight plus matchups (vs. CHI, @ NYJ, vs. IND) before their Week 10 bye.
OTHERS TO TARGET:
Carolina Panthers (4% rostered): Fresh off the firing of Matt Rhule, Carolina heads to LA to face the Rams, who are struggling offensively and have scored just 19 points the last two weeks. Interim coach Steve Wilks is defensive-minded, so we'll see how quickly he can make an impact on Carolina's defensive performance — and how the team responds to his leadership.
Cleveland Browns (15% rostered): Doubling up on this matchup as well. Bailey Zappe looked good in Week 5 but faced a bottom-tier Detroit defense, and suffered several in-game injuries in the secondary. The Browns will need to stop New England's rushing attack to keep this one close.
Indianapolis Colts (33% rostered): Fresh off a shutdown of the Broncos, Indy hosts a Jaguars team that fell back to Earth last week against the Texans. Trevor Lawrence and company couldn't find the end zone once last week, and Indy's top-five pass defense won't make his life any easier in Week 6.