As the old saying goes: you won't win your fantasy football league in the first round, but you sure could lose it. Which name will you call on as your 2022 fantasy football anchor? Who should you draft in Round 1 of your 2022 Fantasy Football Draft?
Below, find my Top-12 Picks for 2022 Fantasy Football Drafts, in order & tiers. I will give you my projection and fantasy outlook for all twelve of my 2022 first-rounders, in hopes this guides you to making the right decision.
Note: This is a preview from my 2022 Fantasy Investing Guide – just updated this weekend! If you enjoy this, please consider supporting the site while gaining access to over 100+ pages of my strategy, projections, auction values, and player outlooks! Don't miss out on the guide that will win you your 2022 fantasy league!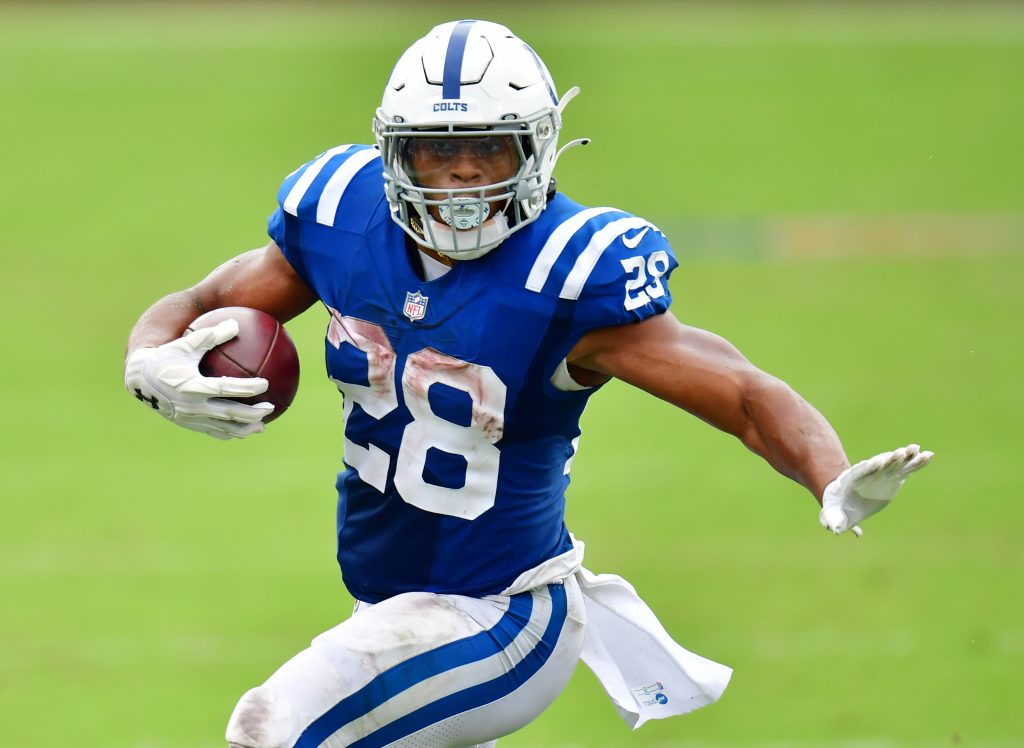 TIER 1
1) Jonathan Taylor (RB-Colts)
2022 Projection: 363 touches (33 rec), 1973 YFS, 16 TDs (309 Half PPR FPs, 326 PPR)
Jonathan Taylor 2022 Fantasy Outlook:
True, Todd Gurley is the only RB since 2007 to go back-to-back as THE RB1. True, Taylor's 360 PPR FPs were the lowest of any RB1 across the last 6 years. I don't care. He's an elite runner, behind a Top-5 run-blocking line, on an offense that should be even better in 2022 with Matt Ryan here.
Taylor also is built like a tank, and has routinely shouldered massive workloads since college without so much of a hiccup. Even if Nyhiem Hines is expected to be more involved as a pass-catcher in 2021, Taylor has hauled in 36 & 40 receptions in 2 seasons– a reasonable baseline. Another 1600+ & 15+ TDs on the ground alone should be the floor – and that safety is what makes Taylor, the RB7 & RB1 in his first 2 seasons, my lock for No.1 overall. 25+ TDs could be the ceiling if Ryan hits like I expect.
And yes – I understand why many recommend Christian McCaffrey here. If CMac plays the majority of the season, he blows every other player away. I have had him two years in a row, however, and I will forego his ceiling for the much safer floor of JT.
2) Cooper Kupp (WR-Rams)
2022 Projection: 132 rec (178 tgt), 1751 YFS, 15 TDs (331 Half PPR FPs, 397 Full)
Cooper Kupp 2022 Fantasy Outlook:
Note: As explained in my 2022 Fantasy Guide, I almost always hammer RB in Round 1 & Round 2. Yet, Kupp and Justin Jefferson project as such "Cheat Code" WRs that I can make an exception.
Chasing outliers is rarely a great practice. But Kupp & his 439.5 PPR FPs, the most by a WR ALL-TIME, is an easy exception for me.
His chemistry with Matthew Stafford is next-level, as is Kupp's ability to dominate from any alignment, at any layer of the field. He simply can't be taken out of a game, which resulted in an uncanny 88% Top-12 performance (14/16), with over 20 FPs in 13/16 of those games. I love Allen Robinson (even projected him for Top-10 WR status!) & still expect Kupp to thrive at similar levels to his record-setting 2021 (48% chance to advance if you had only him! Insane!)
Dangerous thought? Stafford recently suggested he & the Rams could take it to a whole new level:
"At this point in the year last season, I think to myself what I knew about this team and this offense, and it's just so small in comparison to what I know and understand now," Stafford said. "So that gives me great comfort in the fact that we can go above and beyond what we did last year…trying out new stuff as well, we're trying out new tempos, new plays, all that kind of stuff. There's plenty to be gained."
Peyton Manning & Tom Brady recently saw huge jumps in Year 2 with a new team. If Stafford & the Rams are next, Kupp repeating his monstrous 2021 may not be so impossible.
3) Austin Ekeler (RB-Chargers)
2022 Fantasy Projection: 279 touches (81 rec), 1591 YFS, 15 TDs (330 PPR FPs, 289 Half)
Austin Ekeler 2022 Fantasy Outlook:
After Jonathan Taylor, no Round 1-2 RB posted a higher advance than the do-it-all Ekeler (29%). In his first year within new OC Joe Lombardi, previously of the Saints, Ekeler operated as a souped-up Kamara, leading the NFL in RB targets (94) – par for the course for someone who's ranked Top-3 in targets per game for 3 straight. He also led RBs in total TDs (20), finishing as the RB2 in both half & full PPR.
Which is exactly where I have him projected. Minimal competition has been added (Isaiah Spiller hurt, Josh Kelley & Larry Rountree Suck, Sony Michel… whatever). Meanwhile, Justin Herbert and the Chargers should only get better in Year 2 of the offense, especially behind a bolstered line with mauling guard Zion Johnson added in Round 1.
I've seen the TD-regression argument everywhere. I don't expect this offense to score less as a whole (I project the Chargers for more TDs, actually). Ekeler is so elite at punching it in, that in clutch situations, there's no way he's being taken off the field. In this division, shootouts and those clutch situations will be almost weekly. To me, Ekeler's floor & ceiling are both astronomically high.
4) Justin Jefferson (WR-Vikings)
2022 Projection: 119 rec (179 tgt), 1825 YFS, 13 TDs
Justin Jefferson 2022 Fantasy Outlook:
After breaking the rookie-receiving yardage record, Jefferson followed with a smashing debut, as his 3016 yards through 2 years are an NFL record – even though Minnesota has ranked just 27th & 11th in pass attempts in that span. Even so, Jefferson ranked 1st in Air Yards (1996), 4th in targets (167), and 2nd in receiving yards (1616).
Now, under new HC Kevin O'Connell, Jefferson will play the "Cooper Kupp role" in a pass-happier offense, moving around the formation even further (including much more time in the slot). Sharp Football analyzes just how big of an impact this role shift could have on the already uber-productive Jefferson. In short: if any WR besides Kupp will have a Cheat Code season, it's Jefferson– the more talented WR inheriting the Kupp role. He's worth a Top-5 pick as Kupp's top threat for the WR1 crown.
5) Christian McCaffrey (RB-Panthers)
2022 Projection: 354 touches (81 Rec), 1845 YFS, 13 TDs
Christian McCaffrey 2022 Fantasy Outlook:
This is where I stray from the pack the most. It's not easy to do so, as we all know the mouth-watering upside. If McCaffrey plays 14+ games, he's the unquestioned Fantasy MVP, and you've likely won your league.
In his last full season (2019), McCaffrey posted the second-most FPs of all-time (471.2, 160 more than the next closest RB), became the third 1,000 yard rusher / 1,000 yard receiver in NFL history, broke his own RB reception record (116 rec), led the league in TDs as well as scrimmage yards (2,392) by a whopping 615 yards… and he averaged more FPs in his limited 2020 action (30.1) than the above season.
Yet, count me skeptical after injuries have ruined the back-to-back No.1 pick's seasons (and burned me both times in the process). Sure, Baker Mayfield should be a stark upgrade to the last few QBs, but I am still skeptical this offense is anything above subpar, even if we get a full season of CMac. Plus, the bruising D'Onta Foreman has been added & could take on a short-yardage role to relieve McCaffrey of the tough hits.
On the positive end, CMac has scored above 24 FPs in 4 of his 5 full games, worked with Marshall Faulk on durability training, & is again expected to shoulder the majority of touches. His upside is too great to pass if he somehow falls this far, but most likely someone else will end up with CMac in 2022.
Tier 2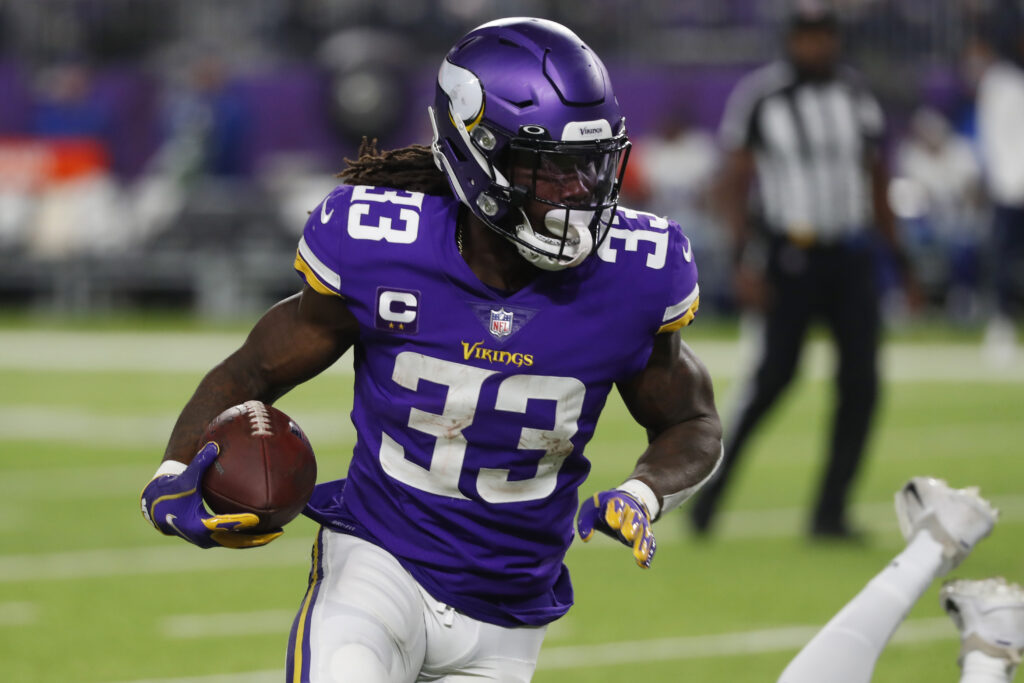 6) Dalvin Cook (RB-Vikings)
2022 Projection: 340 touches (58 rec), 1875 YFS, 16 TDs (312 Half, 341 PPR)
Dalvin Cook 2022 Fantasy Outlook:
Not JT. Not McCaffrey. Not Ekeler. Dalvin Cook was my No.1 projected RB for 2022. Considering he falls to the end of Round 1 on Underdog, this might seem insane. But just last year, Cook was THE LOCK No.2 pick. He enters 2022 in an even better situation within Kevin O'Connell's offense, who comes from the Sean McVay / Kyle Shanahan tree – two of the brightest offensive minds to learn under. When McVay was asked how he'd define the goal of this offense, he boiled it down to "Marrying the run with the Pass."
We saw the impact this had on Todd Gurley, who went from a middling RB2 in 2016 to the RB1 in 2017 & 2018 thanks to a huge target increase: 87 & 81 targets (15% share), and ultimately 25.8 & 26.7 FPPG – which would've topped JT last year by 3.5+ FPs. And Cook might be even better than Gurley! It wasn't just more dump-offs, but tons of screens and time out-wide – which Cook has already been doing in early OTAs. AND: Cook averaged 9.99 Yards After Catch per Reception, which ranks NUMBER ONE AMONG ALL WRS AND RBS!!!!
The risk is obvious: health. I have no argument there: Cook has never played a full season, missing 2+ games every year. For however many games Dalvin is healthy, I expect 20+ FPPG. If you get 14+, he'll be the steal of drafts before Round 1 even ends.
7) Derrick Henry (RB-Titans)
2022 Projection: 384 touches (31 rec), 1822 YFS, 17 TDs
Derrick Henry 2022 Fantasy Outlook:
The No.1 RB in FPPG last year wasn't JT… it was Derrick Henry (24.2 FPPG, +2 on JT!). The unbreakable tank finally broke down in 2021, but was en route to a masterpiece, finishing 9th in rushing yards & 7th in TDs despite missing half the season! (while also posting 3 of the Top-10 RB scores of the season in only 8 games). He may have scored 400+ FPs the way he was rolling, and despite the injury, the Titans have done nothing to suggest Henry's 30+ carries per game will be lightened – letting Foreman walk while adding nearly no one of note (late fourth-rounder). Was 2021 a sign of a downfall? Or will Henry pick up where he left off, stay healthy, and finish as THE RB1? A major & fair concern: Henry averaged almost +9 FPs in wins compared to losses. He's one of the very few RBs who could legitimately finish as THE top dog, making Henry well-worth a midround 1st, despite the low receiving ceiling.
8) Ja'Marr Chase (WR-Bengals)
2022 Projection: 92 rec (138 tgt), 1672 YFS, 14 TDs
Ja'Marr Chase 2022 Fantasy Outlook:
If it's not Kupp or Jefferson, it'll be Ja'Marr Chase as the WR who breaks fantasy in 2021. He already broke ex-teammate Jefferson's rookie receiving yardage record (1455), finishing 4th among all WRs in yards and TDs in his debut, ultimately finishing as the WR5. Chase also posted the highest-scoring single game among ALL positions (55.6 FPs) in the CHAMPIONSHIP WEEK! We all saw how Jefferson's follow-up went, and Chase has already said he's motivated to continue topping his LSU predecessor, while also noting how he's "more comfortable" in the offense in 2022 – a scary thought, especially combined with fellow-WR Tyler Boyd noting they are all so confident "we might not even need to huddle at this point."
Especially dangerous: the Bengals' offensive line improvement:
Joe Burrow ranked No.1 in clean-pocket completion percentage (76.2%) & led all passers in deep-ball accuracy rating. With more time for routes to develop & a cleaner pocket, this offense could be downright unstoppable. Nevermind that Burow won't be recovering from a torn ACL, which sapped him early on: from Week 4 on, Burrow was the QB3 with 24 FPPG.
In short: Chase's astronomical ceiling is only just beginning to be unlocked.
Tier 3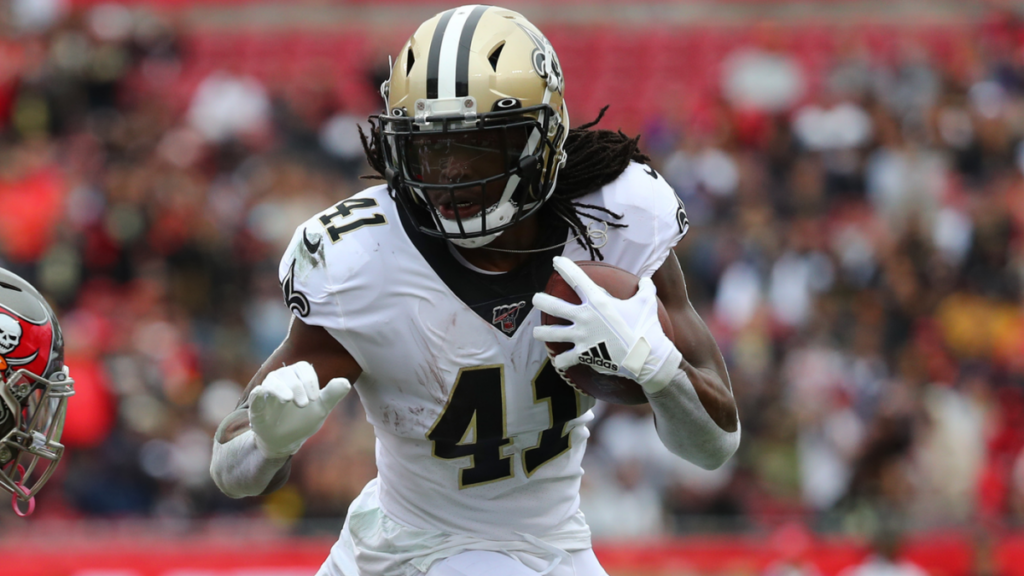 9) Joe Mixon (RB-Bengals)
2022 Projection: 326 touches (36 rec), 1593 YFS, 16 TDs (291 PPR, 273 Half)
Joe Mixon 2022 Fantasy Outlook:
Last year's RB4 now gets a vastly improved line (& best of his career), but often falls to Round 2? I don't know why people want to doubt Mixon, but I won't be one of them. I expect a similar workload to his 3rd most opportunities among RBs, but a major efficiency spike for a very talented runner who too-often was met behind the line of scrimmage in 2021 behind one of the worst offensive lines in football.
Although his receiving usage leaves something to be desired (26th in RB targets, 17% of down-and-distance snaps (for Samaje fuckin' Perine. C'mon!)), Mixon is plenty capable of three-down domination, averaging 7.5 YPR & scoring 3 times on his 42 receptions. Even if he doesn't get there, Mixon should be a great bet to repeat, if not increase, his 16+ TDs behind a better line & in an offense due for an even greater step forward in 2022. I don't see what's not to love – all the negatives (lack of receiving work, semi-game-script dependent) existed last year and he finished Top-5. With a better line & more positive game-scripts expected, he may even better those numbers in 2022.
10) Stefon Diggs (WR-Bills)
2022 Projection: 112 rec (160 tgt), 1344 YFS, 9 TDs (294 PPR, 238 Half)
Stefon Diggs 2022 Fantasy Outlook:
Diggs' WR7 finish to 2021 felt a bit underwhelming – he was a Top-12 WR just 24% of the time in Half-PPR, with only a single spike-week above 20 FPs. But don't forget how damn dominant Diggs was during his first season in Buffalo: the WR3 + 1st in targets, receptions, and receiving yards.
The Bills just vacated 1820 Air Yards (10th most), which could facilitate a return to Cheat Code levels in 2022 for Diggs. The No.1 WR for the No.1 Fantasy QB is a pretty damn safe investment with plenty of ceiling.
11) Alvin Kamara (RB-NO) – September Update
2022 Projections: 270 touches (65 Rec), 1506 YFS, 11 TDs (282 PPR, 249 Half)
Alvin Kamara 2022 Season Outlook:
With his hearing was postponed, Kamara is much less-likely to see a suspension in 2022. Any time you can get the most efficient player in fantasy history at a steep discount, you need to pounce.
While Kamara carries a bit more risk than usual if a video of his assault surfaces or if the hearing (and a suspension) is picked up midseason, Kamara's upside is well worth it.
Even if he does get suspended, Mark Ingram is falling to the final two rounds. He's no Kamara, but he posted 18.6 FPPG in his two healthy fill-ins last year, seeing 15.0 carries & 7.5 targets per contest – a trend among Saints RB2s:
That was while Ingram averaged the lowest FP per touch in all the league, too. Ingram could absolutely approach 20 FPPG if he improves even slightly on his dead-last efficiency. No guarantee for an old back. And maybe UDFA Abram Smith gets in the mix. Still, there's a very cheap, effective band-aid available for those any weeks should Kamara miss time. He'd then return fresh for the stretch run with Top-5 weekly upside.
But let's assume Kamara isn't suspended & you get him all-year long – which seems most likely.
He averaged 19.9 PPR FPPG with Jameis Winston at QB–would've been the RB4 in 2021, even in a trash-can offense that featured Marquez Callaway as the next biggest "threat." Besides last year, Kamara has ranked No.1 in FPs per touch in three-of-four seasons (hurt the other one), and these all rank in the Top-15 ALL TIME; AK41 is basically the most efficient RB ever.
With Michael Thomas cleared & Chris Olave + Jarvis Landry added, this offense should be significantly better in 2022, helping Kamara regain his league-winning efficiency. Sure, this creates more target competition, but those were likely to dip anyway without Sean Payton. The efficiency and TD upside this more explosive offense helps facilitate should outweigh the ~10 or so less targets.
So even in a worse case, you have a spare tire to keep the machine chugging for Weeks 1-6. In the best-case, you have a proven Top-5 RB at a second round price.
12) Travis Kelce (TE-Chiefs)
2022 Projections: 95 rec (139 tgt), 1198 YFS, 10 TDs (275 PPR, 227 Half)
After five straight seasons as the TE1, Kelce finally surrendered the top-spot in 2021 to Mark Andrews. Kelce was still phenomenal, finishing as the TE2 with 224 FPs, finishing #1 in TE TDs & #2 in targets, receptions, yards, and fantasy points.
Still, compared to 2021, Kelce's floor felt a little lower, with four games below five half-PPR FP, with only one such dud in 2021 & nearly four half-PPR points less per game: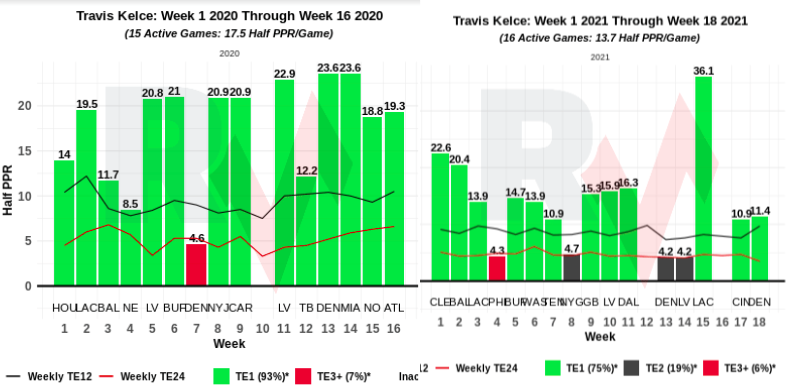 So why is Kelce still a first-rounder & my TE1 above Andrews? The target exodus in Kansas City.
Headlined by Tyreek Hill's departure, the Chiefs vacated the 2nd-most targets (340), 4th-most Air Yards (2748), & 2nd-most targets inside-the-10 (20). They've added some bodies, but none have the rapport and talent of Kelce. He should absolutely be the main vein of this passing attack, which could go one of two ways:
Kelce returns to unstoppable, Top-3 WR level of production from your TE spot & is the ultimate ege in fantasy.
A year older & now the defensive focal point, Kelce can be taken out of the game & experiences a massive downturn.
Considering my Round 1 grade, I obviously think Kelce's final output lies closer to the ceiling narrative. Still, despite the elevated ceiling, you need to consider the lower floor of Kelce & this overall attack as well.
First Round Fade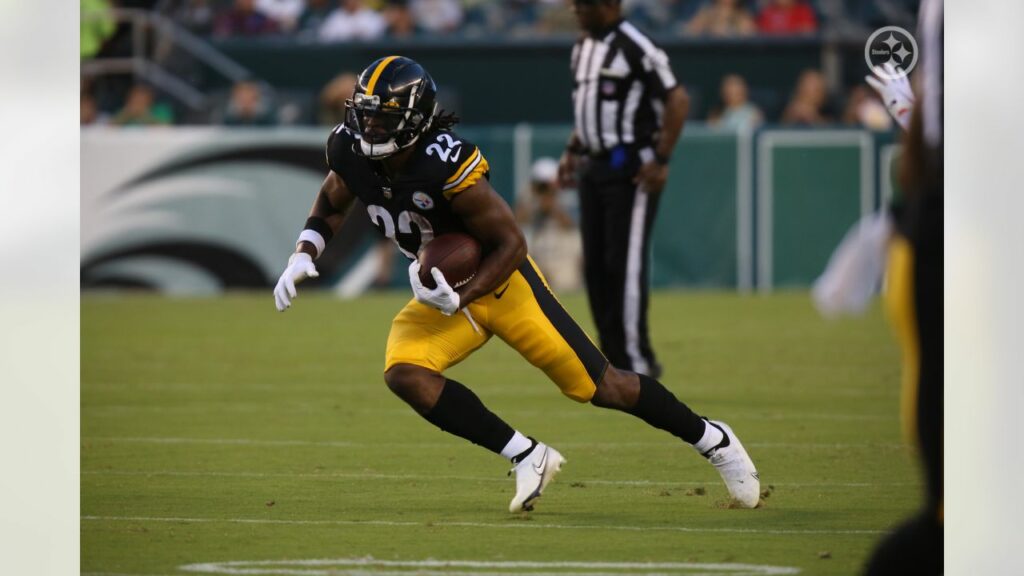 Note: Listing any common first-rounder as overpriced / a fad is inherently difficult. They are first-rounders for a reason, and none of these guys are "busts." I just like them less than the 12 names before them, for the following reasons.
Najee Harris
This is a tough one, because the RB Position is driven by opportunity, and no one saw more of it than Najee Harris. He finished 1st among RBs in snaps, snap share (84.5%) and opportunities with a whopping 401 combined rushes (307), targets (97), and routes (424, 1st among RBs). Another force-feeding should be expected with Tomlin's history of bellcow usage: prior to 2021, Tomlin's lead RBs averaged 24.7 opps (att + tgts) from 2014-2018 – before injuries sapped the HC of a clear horse.
Behind a paltry line, Najee wasn't overly efficient with the work, tallying just 3.9 YPC & ranking towards the bottom of the league in "Fantasy Points Over Expectation" (127th). Ultimately, though, the mammoth workload facilitated a PPR-RB3 finish. He's already said, "I'll get 500 (touches) God Damnit… if this is the way we're winning, I can carry the load. I train to carry loads."
Still, there's some downside here. While the line received some reinforcement–Mason Cole (center) & James Daniels (RG) project as decent free agent signings–this still is a bottom-10 unit. They've been getting devoured all preseason.
Harris himself wasn't very explosive, and just simply a volume-bet. The Steelers keep saying they want to reduce Harris' workload, and they may have to with this recent Lisfranc injury. Granted, Najee played in the final preseason game, so the injury must not be a huge concern. Even still, any red flag for a first-rounder must be noted, and this could flare up at any time. Give me Dalvin Cook, Joe Mixon, or even Saquon Barkley ahead of Harris.
Davante Adams
Since 2020, Adams has averaged 23.5 FPPG & ranked as a Top-12 WR in well-over half of his contests, falling below 10 PPR FPs just one single-time and scoring above 30 PPR FPs 12 times. He's been the WR1 & WR2 in these seasons & the pinnacle of consistency.
So why a fade? Well, the obvious: he's not in Green Bay anymore. Here, Adams was fed an insane 10.6 targets a game due to minimal competition, while also benefiting from insane telekinetic chemistry with Aaron Rodgers, the back-to-back MVP. Perhaps Adams & his former college-QB Derek Carr will display comparable levels of synchronicity, but nothing will top the Rodgers-Adams duo from a fantasy lens.
Moreover, target competition will be stiffer in new OC Josh McDaniels spread-the-wealth scheme. Darren Waller is a Top-5 TE Talent, while Hunter Renfrow is a premiere slot-weapon, a role that's commanded 20%+ target share in all 12 of McDaniels' seasons in New England.
In OTAs, Adams "almost exclusively lined up outside," a year after seeing 106 targets from the slot. He can surely win outside, but removing these mismatch opportunities can't help.
So while Adams remains maybe the best WR talent in the NFL, I expect the downgrade in QB-play and overall target share to bump him out of the Top-5 Fantasy WRs.
Thank you for reading – I hope this breakdown of my Top-12 Picks for your First Round of 2022 Fantasy Football Drafts helps you dominate. You can find me @RotoStreetWolf & my 2022 Fantasy Big Board here for all your drafts! If you found this helpful, I promise you'll find my 2022 Draft Guide even better — your support would mean the world!