Player Stock Ticker
Does Daniel Jones Have 2022 Fantasy Football Sleeper Upside Under Brian Daboll?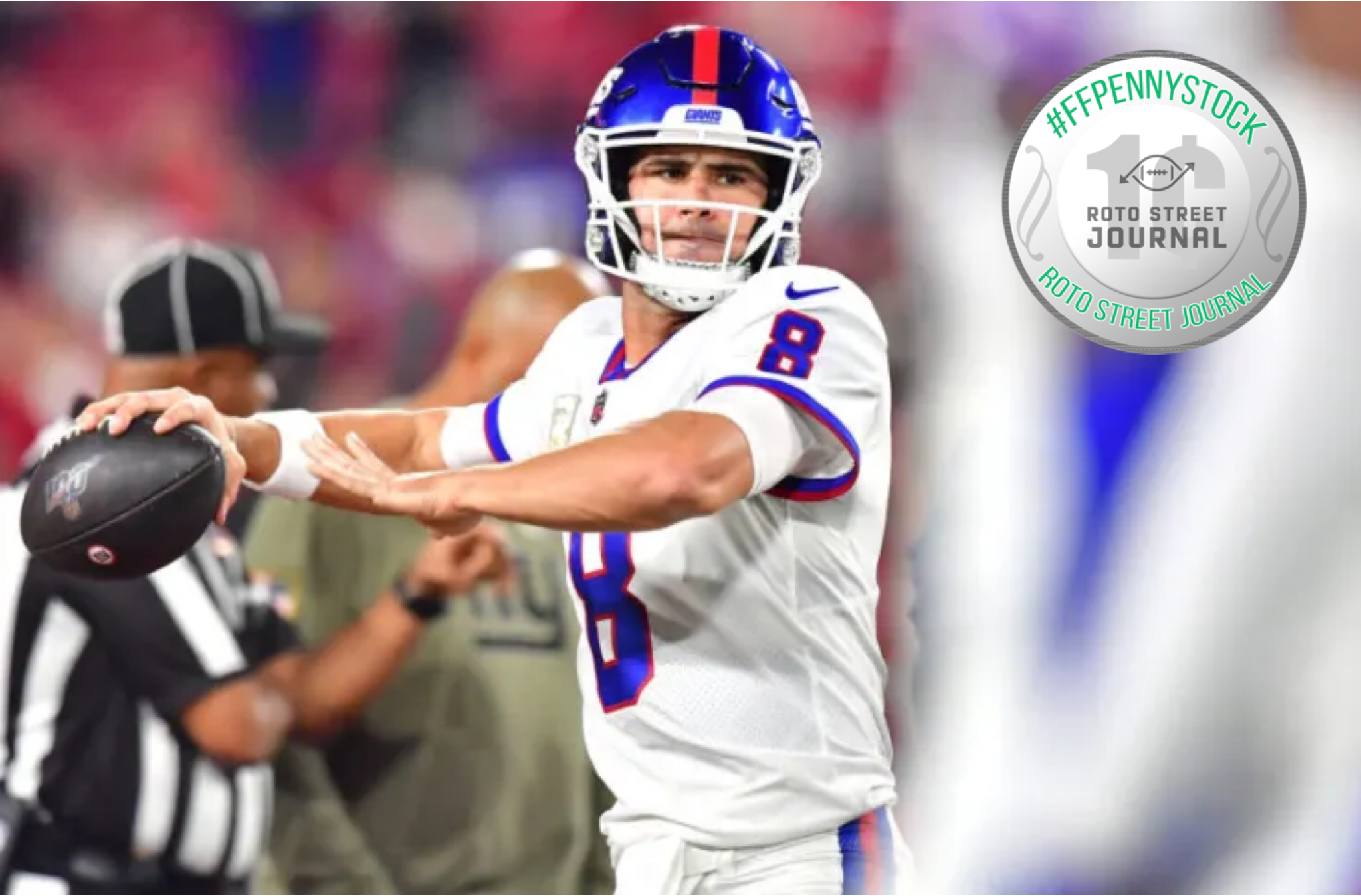 The NFL vision for rookie quarterbacks is pretty simple: draft based on potential, and carefully foster the prospect through consistent coaching and slow, steady improvement. Ideally, this quarterback will shadow a veteran for one or two seasons before taking the lead role as the face of the franchise. Some examples of this system — Aaron Rodgers , Tom Brady, and Patrick Mahomes — all highlight the virtues of patience and consistency when developing the future centerpiece of an organization.
Daniel Jones, however, wasn't as fortunate.
A DIFFICULT START
The sixth pick in the 2019 NFL Draft, Jones was considered a long-term investment to eventually fill in the (very large) shoes worn by 2x Super Bowl MVP, Eli Manning. It took three weeks for Jones' number to be called, as he unexpectedly orchestrated an 18-point comeback in the second half against the Buccaneers.
In that heroic display, he totaled 364 yards and four touchdowns. Under the aggressive Pat Shurmur-led offensive attack, Jones threw for over 300 yards five times. Glimmers of hope throughout that season were overshadowed by a young, inexperienced Jones who fell prone to turnovers and poor play from his surrounding talent.    
Since 2019, the Giants have the 5th lowest winning percentage (.286) and underwent two offensive coordinator changes in three years, which led to Jones being the second-fastest quarterback ever to commit 40 turnovers. In an injury-riddled 2021 campaign, Jones only managed to finish 10 games, with an aDot of 7.3 — the fifth lowest of starting QBs.
In an ironic, symbolic fashion, the Giants infamously ran a QB sneak on 3rd and 9 from their 4-yard line in Week 18 It was a sad, hopeless play call that embodied the petty, lifeless nature of the once feared Giants offense.
MARA WANTS RESULTS
In an effort to push the team up from the basement, owner John Mara made significant off-season moves to change the sentiment around this team — with the ultimate goal of giving Jones the best possible chance to succeed since he entered the league.
Mara hired Brian Daboll, ex-offensive coordinator for Josh Allen in Buffalo, as its new head coach. Tagging along, Joe Schoen was hired as the general manager after his stint as the Bills' assistant general manager. The decisions sent a clear message: Mara wanted a coach to free Jones from the shackles of Jason Garrett's west-coast offense and take the blueprint of one of the NFL's ascending franchises.
Daboll has spent no time beating around the bush. When asked about Jones' expectations this coming season, he responded: "You can't go out there and play afraid. Be smart, not reckless, if you will. If he's got a shot on the right read, let it go… We're going to have to do a good job of taking care of the football, but I want him to turn it loose".
Jones echoed the sentiment, saying, "I think as a quarterback you have to be able to do both. You have to be aggressive, take shots, but also protect the ball."
Danny Dimes finally has his chance with a coach who's ready to launch the ball downfield. Daboll has the secret nuclear codes and is ready to teach them to Jones, as he did to Josh Allen. A hopeful statistic: Allen recorded 51 pass attempts of 20+ yards compared to Jones' 23. In 2020, Jones had the highest passer rating of throws over 20 yards (134.3) including five TDs and no INTs. Garrett and Judge's inability to formulate an offensive attack based on Jones' biggest strength in 2021 highlights the awful coaching that Jones dealt with. 
Mara also unequivocally supported Jones this offseason: "You tell me what quarterback could have thrived over these last couple years with what we had out there on offense?". He continued, "So let's give him a chance with a new staff and a better offensive line and we think he'll be very successful."
JONES FINALLY GETS HIS CHANCE TO PROVE HIS WORTH
With Daboll at the wheel, fantasy owners should expect Jones to put on his best performance yet. Daboll's explicit expectation is for Jones to rope the ball and Mara's backing is music to the ears of fantasy wolves everywhere searching for this year's late-round QB. 
Jones' wheels also make him a commendable fantasy choice towards the end of drafts. Last year, Jones eclipsed 25 rushing yards in 6 of the 12 games he started, giving a cushion to his weekly floor. Not to mention, his rushing total was a weekly RSJ PrizePicks lock.
Schoen's moves have been specifically aimed at maximizing Jones' potential. In addition to drafting arguably the best OL prospect in Evan Neal, he also took out the Giants' wallet to give Jones the protection he needs. The Giants invested $7.2M in Mark Glowinski (Colts), Jon Feliciano (Bills), and Max Garcia (Cardinals). Additionally, Jones enters the season with a healthy supporting cast of Kenny Golladay, Kadarius Toney, and Saquon Barkley, and the team added playmaker WanDale Robinson in the draft.
SNAG JONES FOR NEXT TO NOTHING
A final promising statistic – Jones is lined up for the easiest fantasy schedule this coming season based on average fantasy points allowed to QBs in 2021 (18.4 FPG). This macro factor in addition to many internal moves by the Giants this offseason creates ripe opportunities for Jones to "turn it loose" in his crucial contract year.
The pieces are finally lining up for Jones to take off. In Underdog Fantasy Best Ball tournaments, Jones' availability at the end of drafts (QB21, 158 overall) makes him a sneaky upside pick. Until now, his inconsistent play and too-common injuries along with underwhelming coaching have limited Jones' upside, but that may now change for the better. For all fantasy formats, Jones offers a low-level QB2 floor with low-end QB1 upside if Daboll can unlock his potential, and Jones stays healthy.
The Wolf moved up two slots up to QB24 on his 2022 Fantasy Rankings after projecting to finish QB21.
Take a flier on Jones' best ball ADP as a QB2 dart throw. Download the Underdog Fantasy app, use promo code RSJ or click the link, get a 100% first deposit match up to $100, and dominate their season-long best ball tournaments.