Player Stock Ticker
How to Pick a Funny Fantasy Football Team Name in 2022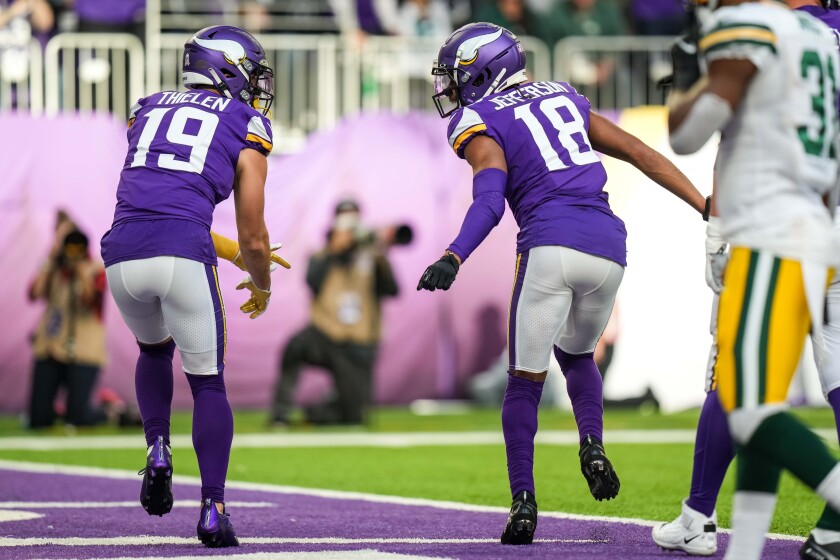 Memorizing The Wolf's 2022 Fantasy Rankings and tracking the daily stock watches are only part of the formula for fantasy football success.  Some would say selecting a name for your squad is just as important.  These are your ride-or-die guys for this season.  They'll be flying this team flag through December like they're about to storm into the Battle of the Bastards.  It's critical that your team name lets your opponent know you mean business. 
Here are a few models for equipping your banner-men appropriately:
Player Name Puns
Proper etiquette and karma indicate you may only utilize this strategy of one of your squad members.  Using a pun of a player on another owner's team is inviting bad juju onto your team. 
Here are some examples:
Breece's Pieces
Return of the Mac(10)
Can't Fight this Thielen
More Than a Thielen
Bad JuJu 
Kyler the Creator
The More You Joe
50 Shades of Trey (Lance)
Hot Chubb Time Machine
What can AJ Brown do for you?
Mild Stafford Infection
Olave Garden
A Rashaad Penny for your Thoughts
Mo Alie Mo Problems
Run CMC
My Kupp Runneth Over
Kittle N Bits
Fresh Prince of Helaire
Brady's Bunch
Hurts so Good
Dalvin & the Chipmunks
Hide and Zeke
Baskin' Dobbins
A Gronk to Remember (for you dynasty players that lost him this upcoming season to retirement)
Nostalgia/Leaguemate Insults
One of the other major categories is the inside joke or insult to a fellow owner, especially if you're in a league with close or lifelong friends and family.  Nothing is off-limits in this scenario, and all is fair game.  Moms, ex-girlfriends, drunken debauchery incidents.  It's all on the table.
School Girl Patty– For you seasoned readers, you'll know this one off the bat.  A story that I will relive on my deathbed.  One of my friends accidentally had an encounter with another's other half before their night of role play.  Let's just say she was ready to hand out detentions like she was in The Breakfast Club, and use that ruler like she was Chucky in Child's Play 2.
Kay's Jewels– Growing up, everyone had that one friend in the group with the hot mom.  We made no effort to hide who that was for us and put her in our 12-year-old mental cable black boxes.  All these years later, I still nostalgically am riding my GT Dyno to his house to be the one ringing the doorbell in hopes she would answer in her at-home VHS program workout gear.
Jizzard Conditions– There were whiteout conditions back in the day, but it was spring, not winter.  Let's say there was an incident where someone went to junior prom with a loaded weapon and emptied the clip before it was time.  Thankfully they were able to get the security deposit back for the tuxedo for incidentals.  Friends never forget gentlemen.  Make sure the magazine is emptied before entering the battlefield to avoid your own blizzard before it's time.
Pop Culture References
Pop culture references often make their way into fantasy football team names as well.  This is a good way to break the ice with some fellow league mates you're just meeting for the first time or to flaunt your fandom of certain shows (Axe Capital is mine).
Hellfire Club (Stranger Things)
Gotham Rogues (The Dark Knight Rises)
Rockford Peaches (A League of their Own)
Average Joe's (Dodgeball)
Silly Nannies (deep cut for you Simpsons fans)
Aside from deciding your draft order (which we'll give you some ideas for as well!) naming your team is one of the most fun parts of the fantasy season. Have some fun with it and let it express your personality, or re-live your buddies' most embarrassing moment. Either way, fantasy football is supposed to be fun, and the team naming process serves as one of its' main components, and lets you enjoy the season a bit before half your roster gets injured by week 6