Hello, I'm Shmel Shmiper the Sixth, Jr, and today I've been mediocrely compensated to provide mediocre analysis of ALL your favorite mediocre teams in Roto Street's Dynasty League for their first rookie draft.
A 12-team dynasty league gives us twelve unique roles and twelve unique storylines. Let's dive in.
THE WOLF
Current Role: Middler

2021 finish: 7-7 record, 7th in the regular season standings
Prospects were promising after last July's startup draft. Unfortunately, the team was an Aaron Rodgers retirement (hey, it's A-Roj, it was possible) away from becoming a fire sale.
That's because the hopes for a Saquon Barkley revival are just as prevalent in 2022 as they were before last season. Javonte Williams is still stuck with Melvin Gordon, and a head coach who loves committee backfields.
Tyreek Hill's value took a hit after his trade to Miami and stands to decrease Mike Gesicki's piece of the aerial pie there. Odell Beckham Jr. likely won't be back until November, and what team he'll play for is unknown. Chase Claypool gets target competition from George Pickens, after an uninspiring WR37 finish in 2021, half-PPR.
Most notably, it looks like Trey Lance isn't locking up the starting job in San Francisco.
The hits have to stop at some point. But even if they do, The Wolf's team is a prime candidate to be in the dreaded dynasty purgatory that is a middling middle-of-the-road franchise.
And as the only team in the league who's made no trades, getting out of dynasty purgatory could prove more difficult if that tendency remains.
Notable Losses: none
Notable Additions: D'Onta Foreman
2022 draft picks: 1.06, 2.06, 3.06, 4.06
Need By Priority: TE, RB, WR, QB
CJAY (THE SILENT ASSASSIN)
Current Role: Middler

2021 Finish: 7-7, 6th seed, lost to Xenos in the wild card round
After a second consecutive injury-riddled season, the silent assassin made a loud statement by ousting Christian McCaffrey, trading him for less value than the industry standard.
In a similar fashion as The Wolf, C-Jay's team has also taken multiple hits, but this time, in the form of changes his players experienced after he traded them.
Tua Tagovailoa wasn't teamed up with Tyreek Hill before C-Jay traded him for this year's 1.12, and he traded Amari Cooper before Amari was teamed up with Deshaun Watson.
C-Jay comes in with better draft capital over the next three years than Wolf, making him a bit lesser of a candidate to remain in dynasty's middling purgatory.
Notable Losses: Tua Tagovailoa, Matthew Stafford, Christian McCaffrey, Rashaad Penny, Amari Cooper, Sterling Shepard, David Njoku
Notable Additions: Trevor Lawrence, Sony Michel, Parris Campbell, Donovan Peoples-Jones
2022 Draft Picks: 1.12, 2.08, 3.04, 3.07, 4.07
Need By Priority(Positional Ranking): QB, RB, WR, TE
JACKSON BARRETT
Current Role: Contender

2021 Finish: 9-5, 5th seed, lost to The Duck in wild card round
The early favorite to win the 2022 championship, Jackson was the beneficiary of the CMC trade. That wasn't the only trade that landed him some big names: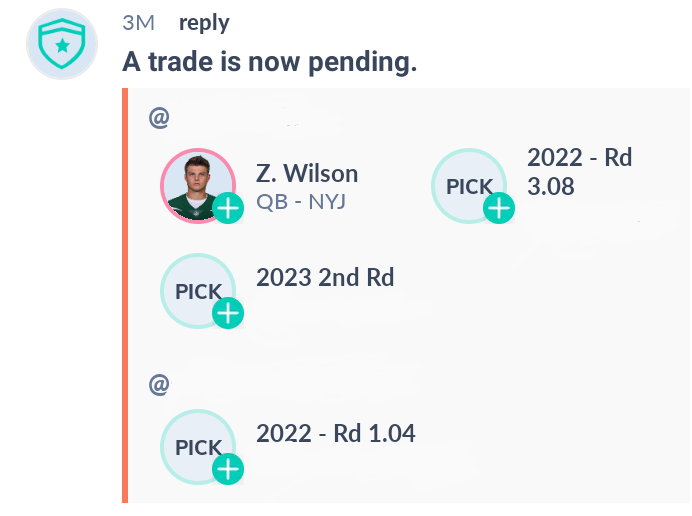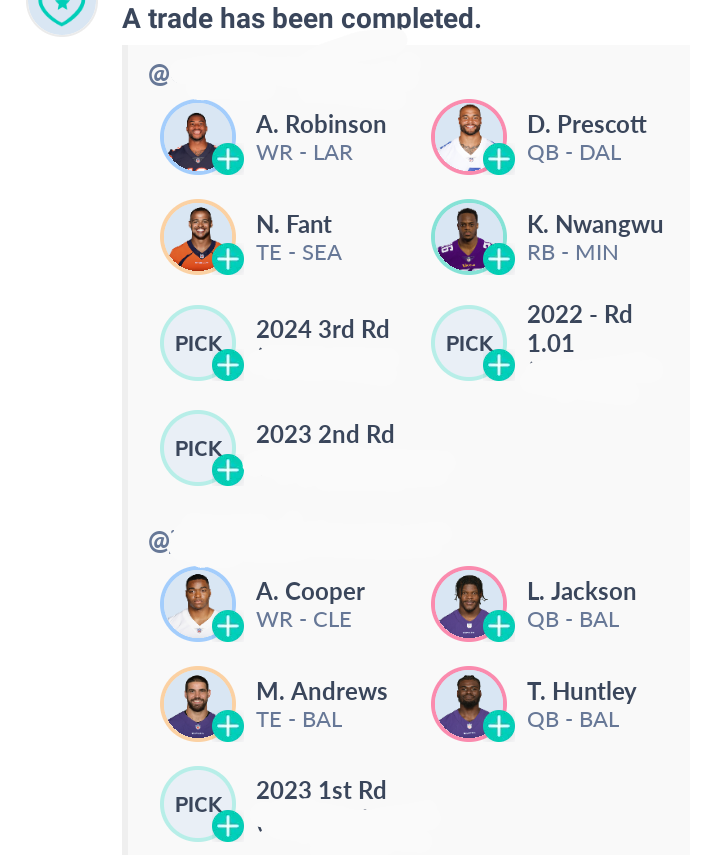 The assets Jackson received are in the bottom half of each of these trades, starting with the blockbuster deal with Kendall Brown to get Davante Adams.
You can see the chain reaction from the 1.04, which helped turn into Allen Robinson/Noah Fant/1.01, which helped turn into the final trade here with Chase M-G, a lot to unpack.
The recent arrival of Darrel Williams in Arizona could keep depth concerns at RB from rearing its head, concerning the total void of '22 draft capital.
I wouldn't think that anyone in Jackson's position would regret the lack of '22 capital, including just five picks in '23 and '24, with such a realistic shot to roll the league this season.
Notable Losses: Zach Wilson, Dak Prescott, Sony Michel, Kenneth Gainwell, Courtland Sutton, Albert Okwuegbunam, Pat Freiermuth
Notable Additions: Lamar Jackson, Christian McCaffrey, Davante Adams, Amari Cooper, Mark Andrews
2022 Draft Picks: none
Need By Priority: RB, TE (that's correct, he has Mark Andrews and TE is still his 2nd priority), WR, QB
THE DUCK
Current Role: Contender
2021 finish:
The mighty Duck didn't take his championship and retire and move to Florida. Roster flexibility was added, with a trade for Tua, and this blockbuster with Kendall Brown, which took place during Deebo Samuel's Instagram radio silence: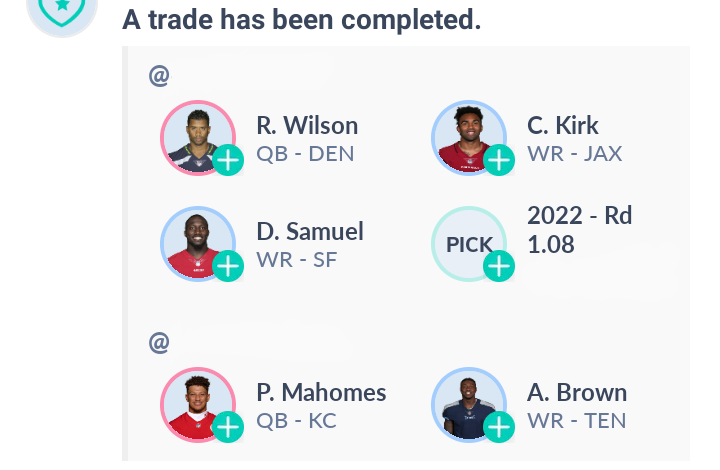 The loss of two cornerstone dynasty pieces saw sufficient value return, and Tom Brady's unretirement keeps Leonard Fournette's value high and leaves Duck as a legit repeat candidate for the 'ship.
Notable Losses: Patrick Mahomes, AJ Brown
Notable Additions: Russell Wilson, Tua Tagovailoa, Deebo Samuel, Christian Kirk
2022 Draft Picks: 1.08, 4.12
Need By Priority: TE, WR, RB, QB
CHASE MARQUETTE-GAINES
Current Role: Contender

2021 finish: 5-9, 8th in regular season rankings
For the decade-and-a-half I…I mean…Chase, a totally different person…has been playing fantasy redraft, a common storyline emerged.
The team that I… damn it, I mean he… drafted would look nothing like the team he had at the end of the year.
So why would his…okay…my…team be any different during my first offseason in dynasty?
Over the offseason, four 2023 1sts and three 2023 2nds turned into just one 2023 2nd. Time will tell if that was the wrong move in the long run, as one of RSJ Dynasty League's primary storylines moving forward.
Objectively, I'm guessing it was.
Subjectively? I really dig this team, dig the prospect of adding Breece Hall to this (still underrated) backfield, and I don't think I sold my future to get here.
You've already seen how my last '23 1st turned into a 2nd in my trade with Jackson which landed me the 1.01. The rest of the deets are here.
Notable Losses: Lamar Jackson, Trevor Lawrence, Michael Carter, Devonta Smith, Brandon Aiyuk, Mark Andrews, Cole Kmet
Notable Additions: Matthew Stafford, Dak Prescott, Dalvin Cook, Josh Jacobs, Rashaad Penny, Mike Evans, Allen Robinson, Sterling Shepard, Travis Kelce, David Njoku, Noah Fant
2022 Draft Picks: 1.01
Need By Priority: WR, QB, TE, RB
PAPA TUNES
Current Role: Rebuilder

2021 finish: 4-10, 10th in regular season standings
Tunes got hit with the bad luck bug as early as it gets. Cam Akers tore his Achilles one day after the RSJ startup draft, and a tough decision was ultimately made to trade him.
That set in motion a chain of events leading to Tunes becoming the second team in RSJ Dynasty to enter full rebuild mode.
With nine picks in the first two rounds of rookie drafts the next two years, RSJ's first possible multi-year rebuild will be one to watch, in a real-time example of arguably dynasty's most valuable virtue…patience.
Notable Losses: Dalvin Cook, Cordarrelle Patterson, Mike Evans
Notable Additions: DeVonta Smith, Brandon Aiyuk, DeVante Parker
2022 Draft Picks: 1.03, 2.02, 2.03, 2.07, 2.12, 4.03, 4.04
Need By Priority: RB, QB, WR, TE
KENDALL BROWN
Current Role: Middler With Benefits

2021 finish: 10-4, 2nd seed, lost to the Duck in the championship
Kendall's offseason has been nothing short of interesting. Including his blockbusters with Duck and Jackson Barrett, Terry McLaurin, and Cole Kmet were added: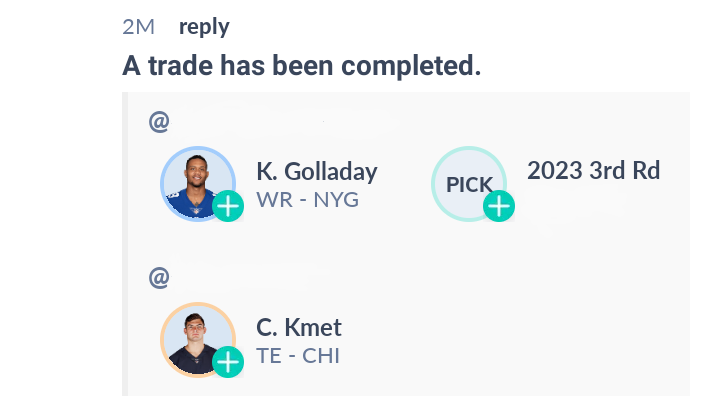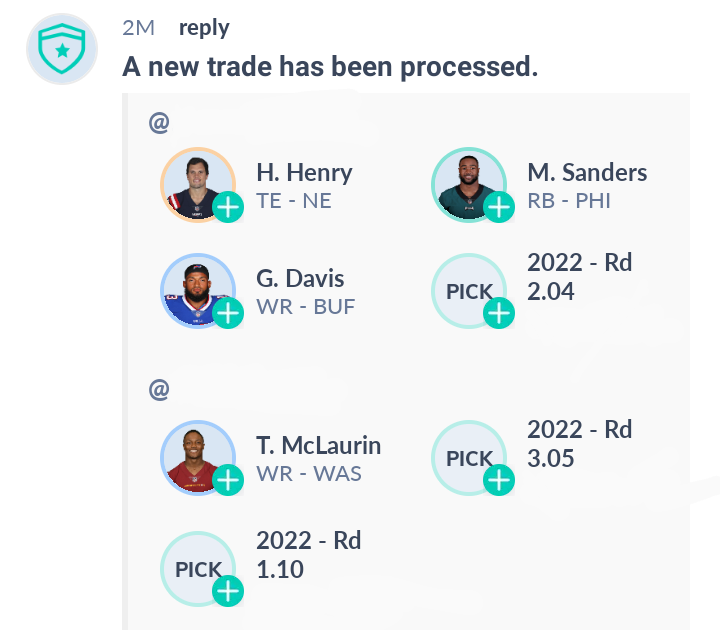 Mahomes and Herbert are a special tandem that could dominate the RSJ Dynasty league at the position for a decade-plus.
Depth concerns threaten this team's ability to put out solid starters at each position for the entire season. Uncertain scenarios fuel that concern, including more recently, with Darrel Williams threatening James Conner's previously unquestioned workhorse role in Arizona.
But with a Mahomes/Herbert tandem, this team is the most likely to escape the danger of dynasty purgatory.
Notable Losses: Russell Wilson, Miles Sanders, Davante Adams, Gabriel Davis, Kenny Golladay
Notable Additions: Patrick Mahomes, Kenneth Gainwell, Courtland Sutton, Cole Kmet
2022 Draft Picks: 1.10, 2.11, 3.02, 3.05, 4.11
Need By Priority: RB, TE, WR, QB
ANTHONY DELORENZO
Current Role: Rebuilder

2021 finish: 1-13, 12th in regular season standings
Anthony acquired this team from The Truth over the offseason, and, inherited a project that arguably started being a project as soon as the startup draft was over.
With the vast majority of leagues, you're bound to have that one team that just doesn't start off on the right foot.
And so, DeLorenzo takes on the task of nullifying that circumstance, opting for two first-round picks this season in a trade with Jackson Barrett, rather the 1.01(Breece Hall), bringing in two starting prospects instead of one.
Patience, like with Papa Tunes, is a loud theme in this team's current state.
Notable Losses: Alexander Mattison, Allen Robinson
Notable Additions: Trey Sermon, Pat Freiermuth
2022 Draft Picks: 1.04, 1.07, 2.01, 3.01, 4.01
Need By Priority: RB, TE, WR, QB
JIMBO SLICE
Current Role: In Flux

2021 finish: 6-8, 8th in regular season standings
Jimbo headed into the offseason with a major RB problem, with Devin Singletary the top back of the group before Nick Chubb and Miles Sanders were added to add some balance to a team strong at QB1, and WR.
The team has a lot of moving parts to give it its "in flux" status. Will Brian Daboll bring out the best in Daniel Jones? Will Rob Gronkowski return? How much will Gabe Davis' role increase? Will Miles Sanders rebound from a disappointing 2022?
Also, with four picks in the first two rounds, this rookie draft will say a lot about this team moving forward. And don't forget the extra second-rounder in '23 and '24.
Jimbo looks like he's in a great spot to draft the best player available, and trade accordingly if those '22 picks are WR-heavy.
Notable Losses: Drew Lock, Chris Carson, Terry McLaurin, Tee Higgins, Dallas Goedert
Notable Additions: Davis Mills, Nick Chubb, Miles Sanders, Gabriel Davis, Hunter Henry
2022 Draft Picks: 1.05, 1.09, 2.04, 2.05, 3.10, 4.05
Need By Priority: TE, QB, RB, WR
EMERY DINSMORE/IAN SNOWDEAL
Current Role: Contender
2021 finish: 12-2, 1st seed, lost to the Duck in the semifinal
Emery threw his hat in the ring as a 2021 favorite after week 1 last season after trading Trevor Lawrence/Jaylen Waddle/22 1st/23 1st/23 2nd to Chase M-G for Jalen Hurts/Joe Mixon/Adam Thielen.
It initiated Chase's rebuild and set Emery and Ian in the familiar and difficult-to-avoid dynasty situation of sacrificing draft capital for contendership.
Of course, Jonathan Taylor and Cooper Kupp are enough to put a team in the conversation as competitors, and with less help than co-managers, Emery and Ian need here, even considering the draft capital.
As what's often the case, running back depth has little cushion for injury here. Joe Mixon is handcuffed, but not JT.
Notable Losses: Corey Davis
Notable Additions: Drew Lock
2022 Draft Picks: 2.10, 3.09, 4.02, 4.09
Need By Priority: QB, RB, WR, TE
TAILBACK TINO
Current Role: Depth-healthy Contender

2021 Finish: 4-10, 11th in regular season standings
With seven picks in 2022, Tino has the flexibility to address needs.
After a trade package with Jimbo Slice that resulted in sending Nick Chubb and receiving Chris Carson: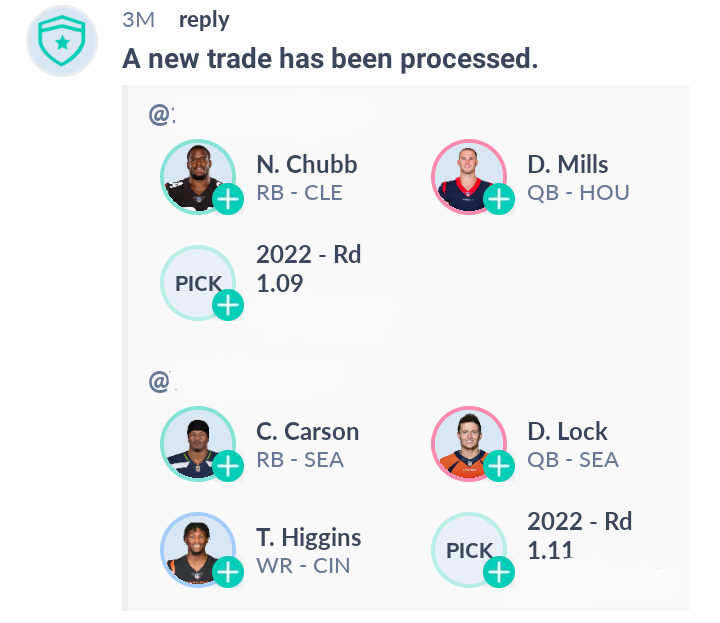 If Carson's lingering neck issue prevents him from returning to the game, the drop in value from Chubb, to nothing, isn't filled completely after the addition of Tee Higgins.
Tino is in one of the best spots to draft the best player available, though, so even if adding to an already solid depth at quarterback and wide receiver, that added depth means available roster fluidity moving forward, which keeps the future bright.
Notable Losses: Davis Mills, Nick Chubb
Notable Additions: Zach Wilson, Chris Carson, Tee Higgins, Tyler Boyd, Corey Davis, Dallas Goedert
2022 Draft Picks: 1.02, 1.11, 2.09, 3.08, 3.11, 4.08, 4.10
Need By Priority: RB, TE, WR, QB
XENOS
Current Role: Late-stage Contender

2021 Finish: 10-4, 3rd seed, won 3rd place game vs Emery/Ian
Xenos is anchored by two Eternal-Deviant warlords in Derrick Henry and Alvin Kamara, but the two iron men make up the oldest 1-2 punch at RB in the RSJ Dynasty League.
And with only two third-round selections in '22, Xenos may have to wait a year, with two 2023 1sts, to see suitable future replacements, at which point I'm sure I'll have more Thanos references ready.
Putting Derrick Henry on the trade block during the offseason did not return a suitable trade partner, in which case, as long as Henry and Kamara stay healthy, this team has just enough depth to be a solid contender.
Long-term concerns about career stability at QB make this team one to watch as the next potential rebuilder.
Notable Losses: Travis Kelce
Notable Additions: Michael Carter, Albert Okwuegbunam
2022 Draft Picks: 3.03, 3.12
Need By Priority: QB, WR, TE, RB
See how things shake up Tuesday night at 8pm for the rookie draft Livestream.