Player Stock Ticker
Hollywood Brown 2022 Fantasy Outlook Soars After Kyler Murray Reunion, Hopkins Suspension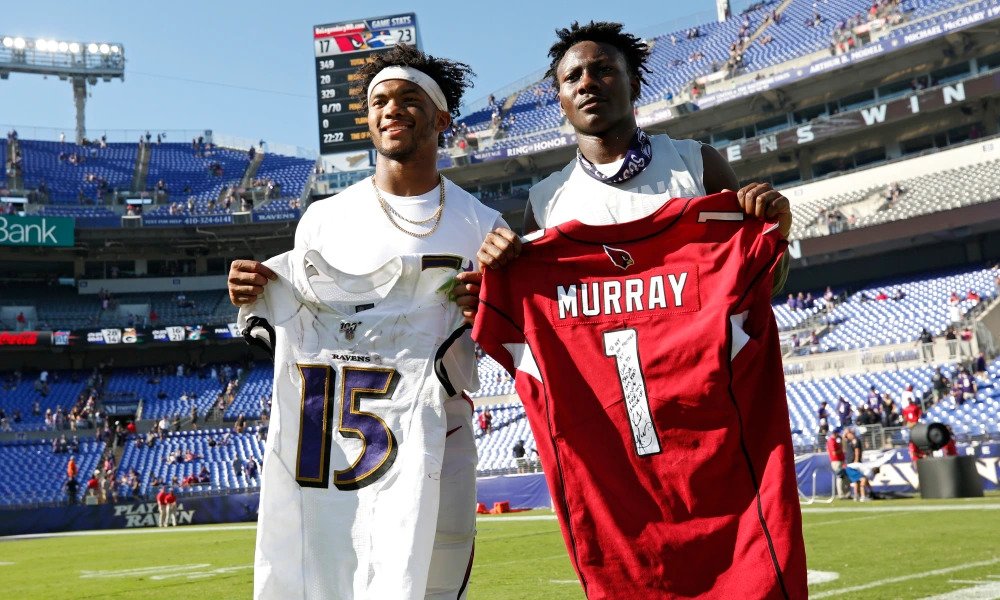 The Cardinals added to the list of off-season surprises when they acquired Marquise Brown, aka "Hollywood," from the Ravens for the No. 23 overall pick and a third-rounder. While #NFLTwitter thought the pick package was too much for the speedy receiver, a bomb dropped on Monday afternoon that the team would be without DeAndre Hopkins for the first six games of the season due to a PED suspension. Reunited with his college QB as the new focal point of a faster-pace, pass-happy attack (at least to start the year), Hollywood Brown's 2022 Fantasy Outlook is soaring.
"He's dynamic, 91 catches, and the style of offense that Baltimore plays where they're going to be run-first, heavy, two tight ends, two receivers at most, we just felt like the perfect fit," Kliff Kingsbury said. "He plays inside, outside and can really take the top off."
The usage was fine in Baltimore: 145 targets ranked 9th, 26.7% target share ranked 12th, and his 1518 Air Yards were 11th. Quantity? Check.
The quality of those looks, however, is another story. Brown ranked 67th in target accuracy, 59th in catchable target rate, and 65th in QB Rating per target.
Enter: Kyler Murray.
Since entering the league, Murray consistently ranks among the league's top downfield passers. Per Pro Football Focus, Murray ranked third in passer rating (117.2), yards per attempt (15.8), and finished first in both completion rate (49.3%) and PFF's passing grade (99.3) on deep throws.
Not only that, but this is another example of a team pairing a former electric QB-WR collegiate duo together in the NFL, which continues translating to big numbers. During Murray's 2018 Heisman season, Brown led the Sooners with 75 receptions and 1,318 receiving yards — a team that also featured CeeDee Lamb.
In short: any concerns over rapport should immediately be erased, and this duo should hit the ground running, especially with Hopkins out of the picture.
Additionally, Brown's skill-set will be utilized better in Kingsbury's aerial attack than Baltimore's conservative, run-heavy offense. Even though Brown amassed over 1,000 yards and 90 receptions last season, he wanted to play in a more pass-happy scheme.
"He didn't want to be in Baltimore anymore," wrote Peter King. "He didn't like the offense—too conservative; not enough big-strike opportunities—and he welcomes a reunion with his college quarterback Kyler Murray."
Hollywood will fill Christian Kirk's deep role and he was poised to play alongside Hopkins, Rondale Moore, Zach Ertz, and AJ Green. But with Hopkins suspended, Brown will be Kyler's WR1 through the first six weeks until Hopkins returns to the lineup.
Expect Brown to mostly play on the outside and reap the benefits from a fantasy perspective until Week 7. It will be tough for Hollywood to replicate his 2021 breakout season, but Hopkins' suspension will help him get off to a fast start.
Kyler's fantasy outlook will get a definite boost. However, once the weapon arsenal is together in Week 7, Murray's target totem pole will even out across the board. Murray and James Conner could be the real winners of this trade when it's all said and done.
LAMAR AND RAVENS WITHOUT HOLLYWOOD
It's never easy for a quarterback to lose his No. 1 receiver. It's especially tough when the passing game was lackluster with the receiver on the depth chart. But on Thursday night, Lamar Jackson lost Hollywood and the team did not replace his skill-set in the draft.
Jackson will always have his legs, but he will no longer have his lid-lifter who accounted for nearly a 25% target share and over 1,000 yards receiving.
Mark Andrews got a boost and will most likely lead the team in targets again. Meanwhile, Rashod Bateman will be in for a monumental fantasy leap as the team's WR1. Bateman saw 68 targets in 12 games last year and should hit 100-plus targets in year two. Bateman is the obvious winner here.
As for other pass-catchers on the roster, Devin Duvernay could finally get a chance to shine. The 2020 third-round pick has 4.39 speed and is coming off an All-Pro season as a returner. Duvernay snagged 33 receptions for 272 yards and two scores last season and should be the team's WR2. James Proche and Tylan Wallace will also be given a chance to step up and steal some targets.
2022 BIG BOARD IMPACT
As expected, Holloywood Brown's more favorable 2022 Fantasy Outook has him soaring on The Wolf's 2022 Fantasy Football Rankings & Big Board. He rockets up over 15 spots to WR19 (+11 ECR) and 46 Overall (+33 ECR). Look to him in the 5th-6th Round as a huge-upside swing.