Player Stock Ticker
Raiders Acquire Davante Adams: 2022 Fantasy Outlook of Raiders' New-Look Offense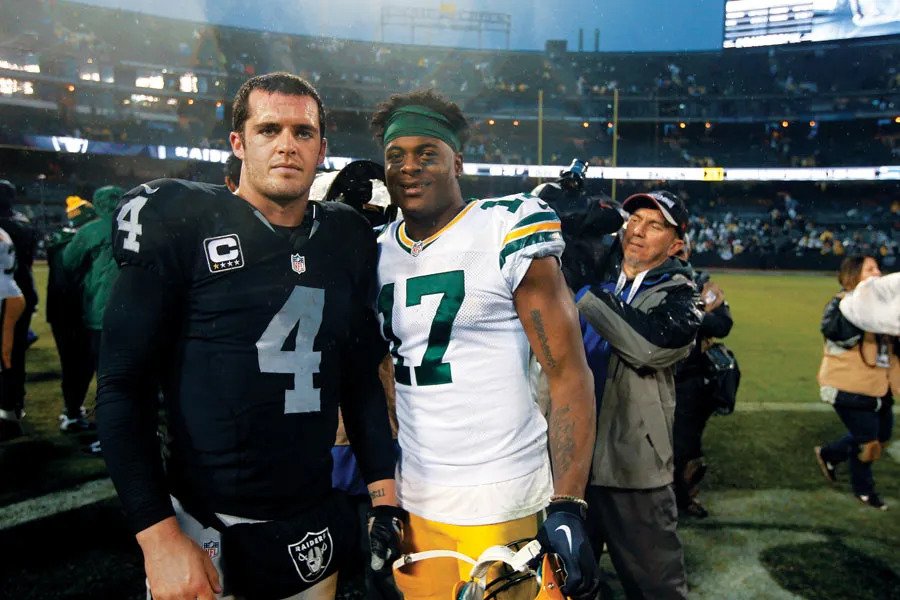 When Aaron Rodgers signed his 3-year, $150 million contract to stay with the Packers, the next logical move seemed to be a contract for the recently franchise-tagged Davante Adams.
Maybe one day, we can all actually live like Vulcans, instead of just cosplaying as them. But that day is not today, as we struggled to grasp the logic after Adams was sent to the Las Vegas Raiders for a 2022 first and second-round pick.
Rodgers wouldn't have re-signed with Green Bay if he knew he wasn't going to have one of the best receivers in the game back too, right?
The trade in no way caught Adams by surprise, either:
Now, Davante gets to live long and prosper with a new 5-year, $141.25 million deal in Vegas, and ultimately, he and Rodgers are where they want to be. No question, Davante is emotionally invested in his new team. It was his dream to be a Raider, and he's ready to hit the ground running.
A year ago the possibility of a Carr and Adams tandem, who played in college together at Fresno State, gained some steam. But logic dictates that Davante's walked into an undeniable QB downgrade.
But how much of a downgrade, exactly?
IS THIS THE BEST SURROUNDING CAST DEREK CARR HAS EVER HAD?
Carr may have had a formidable receiving duo early in his career with Amari Cooper and Michael Crabtree, but neither compares to Adams, and no tight end during the Cooper/Crabtree years compares to Darren Waller.
Add in Hunter Renfrow, who's made a name for himself by exceeding expectations, then factor in Vegas' new head coach Josh McDaniels.
McDaniels is somewhat of a wild card. He stands to be the best offensive mind Carr's worked with if he can stay out of his own way and prevent his ego from poisoning things the way it did during his time as head coach of the Broncos.
Early signs point to hope that he can, and if so, Carr's game could reach new heights.
His 282 passing yards-per-game in 2021 is the highest of his career, and that's with only having Waller for 11 games, and tragically losing Henry Ruggs III after only seven games.
KEEPING UP WITH THE JONESES IN THE DIVISION
The AFC West might be the most offensively potent the NFL's ever seen. Factor in out of conference games against the Rams and Cardinals, and there's ripe potential for shootouts throughout the season for Vegas.
But shootout or not, Davante has the talent to be the Raiders' top option, and according to Around The NFL's Nick Shook, Adams is still well aware of the chemistry he and Carr had a decade ago:
"The receiver also recalled how Carr would check to different plays or routes while playing for the Bulldogs, and Adams would already know exactly what Carr was about to do just before he did it."
It led to some insane numbers:
BUT HOW WELL CAN THAT CHEMISTRY TRANSLATE TO THE NFL?
Davante put up WR1 numbers in 53% of games the past two seasons, with only one game under 10 PPR points in his last thirty games, on his way to finishing as the WR1 and WR2 the past two years. Adams is the definition of a fantasy anchor.
But with the Packers, Rodgers arguably only had Davante as a real perimeter threat.
Coach McDaniels is already expected to get the running backs more involved by substantially boosting the Raiders' screen game.
And while we're talking Vegas, let's not forget McDaniels' love for playing the slots:
But considering Wes Welker's success was still going strong without McDaniels from 2009 to 2011, how much is McDaniels really committed to the slot position?
At the combine, McDaniels hinted that talent dictated scheme, not vice-versa when talking about the prospects of coaching Renfrow:
"I have been really blessed to be around some really good slot receivers in my time, and I think coaching him is going to be one of those endeavors where you look back on it and go, 'This guy was one of those guys,'"
If Renfrow is "one of those guys," it's going to be hard for all three of Davante, Renfrow, and Waller to eat:
It is doable, however. If the Raiders' offense can see its full potential, it's going to be electric.
STAY UP TO DATE ON THE RAIDERS' FANTASY STOCK
The Wolf's current 2022 Fantasy Football Rankings have:
Derek Carr as the QB13 (+3 vs ECR)
Davante Adams as the WR4 (0 vs ECR)
Hunter Renfrow as the WR27 (+4 vs ECR)
Darren Waller as the TE5 (0 vs ECR)
Keep up with our 2022 Fantasy Rankings and Big Board as the season nears and player stocks become more defined.