Player Stock Ticker
Amon-Ra St. Brown Flashes High Fantasy Football Upside With Championship Week on the Horizon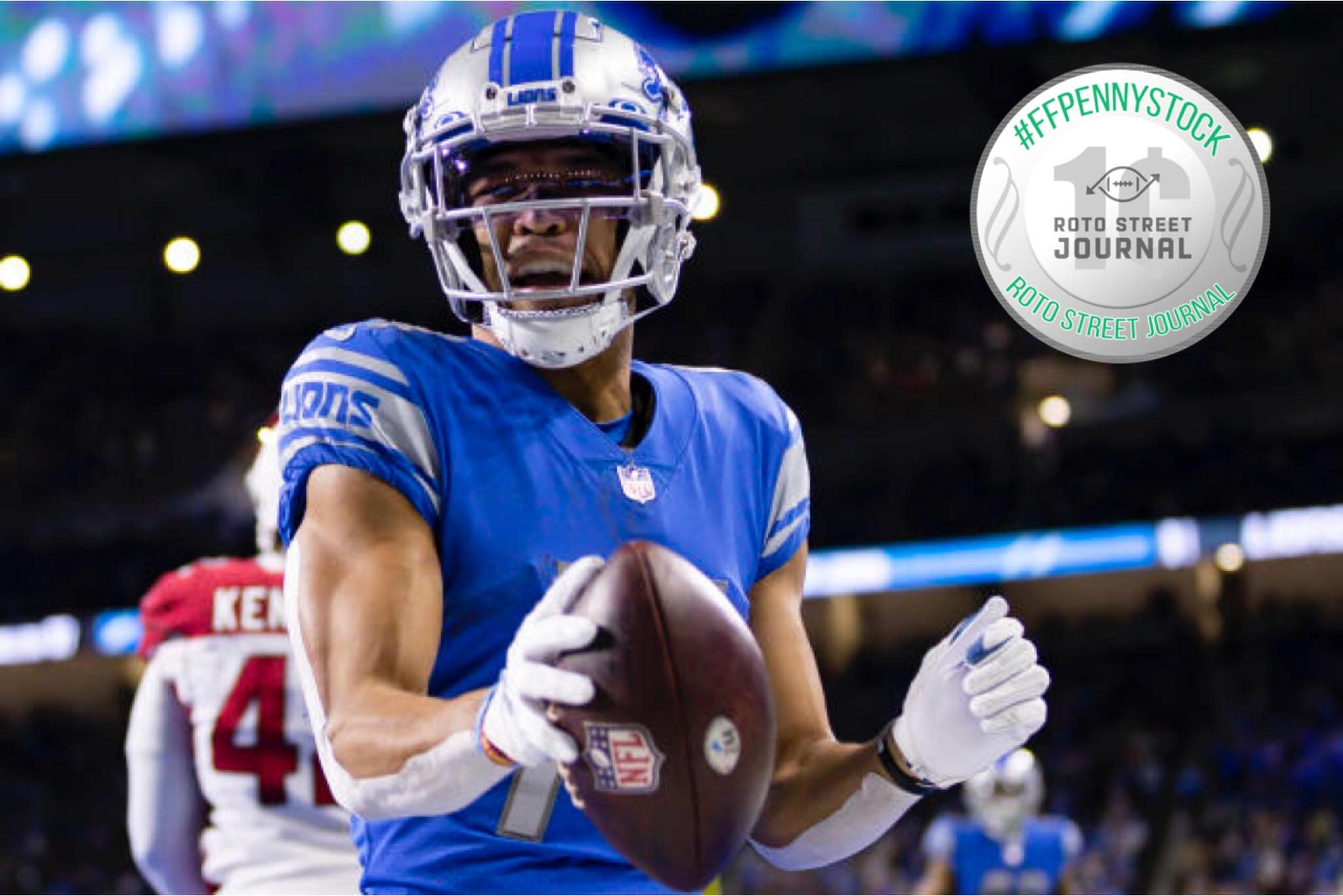 Let's pretend for a moment you haven't already read the headline of this article.
What if I told you there was a dirt-cheap wide receiver that has caught 26 of 35 targets for 249 yards and two touchdowns over the last three weeks?
A name that really flows off the tongue with three-week fantasy production that really makes your tongue dance behind its lips — Amon-Ra St. Brown.
Let's take a look at St. Brown's credentials, shall we?
ST. BROWN BY THE NUMBERS
Beyond dynasty, St. Brown needs to be rostered EVERYWHERE. In a world where a virus is depleting rosters left and right, a champion is rising from the ashes to help carry fantasy wolves to the promised land.
Currently, St. Brown ranks second among all rookies with 65 receptions and fifth with 601 receiving yards. More impressively though, St. Brown stands on a pedestal with Jaylen Waddle as the only two rookies with four games of at least seven receptions.
While St. Brown's season numbers aren't jumping off the page, 65 receptions for 601 yards and two touchdowns, his ascension certainly does.
During his first 10 games, St. Brown was averaging a measly 7.6 fantasy points per game (PPR). During those same weeks, St. Brown was seeing only 16.4% of the team's targets and a 16.1% market share of the team's air yards.
Flip the switch.
Over the last three weeks, St. Brown is seeing 35.3% of the Lions' targets and a 30.7% market share of their air yards. More impressively, St. Brown has scored 63.6 fantasy points (PPR). Just for fun let's compare the game splits for St. Brown's first 10 games vs his last three.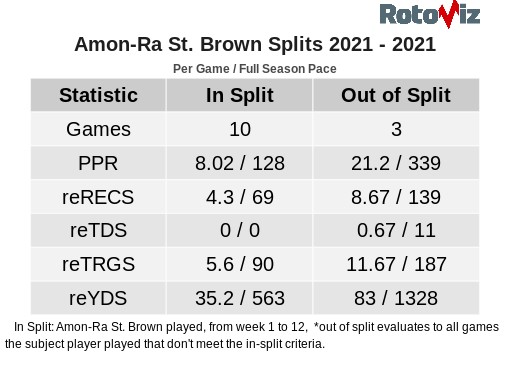 So, what changed?
T.J Hockenson, the emerging star tight end for the Lions, injured his thumb in week 13 and had to go on IR after undergoing thumb surgery.
Since then, St. Brown has been the focal point of the passing offense.
ALL EYES ON GOFF
Unfortunately, after such an impressive throttling of the reeling Arizona Cardinals, Jared Goff has found himself on the COVID-19/reserve list and isn't looking likely to play in week 16.
With the possible return of star running back D'Andre Swift, it's possible that backup David Blough locks on to Swift. St. Brown's ceiling likely takes a hit as his quality of target is expected to regress with Blough at the helm.
Still, St. Brown should see more than enough targets to keep relevant, especially against a matchup as soft as the Atlanta Falcons. He remains the WR22 on The Wolf's Week 16 Rankings.
With a juicy matchup against Seattle championship week and Goff likely to return by next week, St. Brown is a strong candidate to play at the flex both weeks.
In dynasty and deeper keeper leagues, St. Brown is making a strong case for a bright future. With or without Goff, St. Brown's stock is skyrocketing.