Player Stock Ticker
Elijah Moore Hotter than Jet Fuel, Skyrocketing Up Weekly Fantasy Football Rankings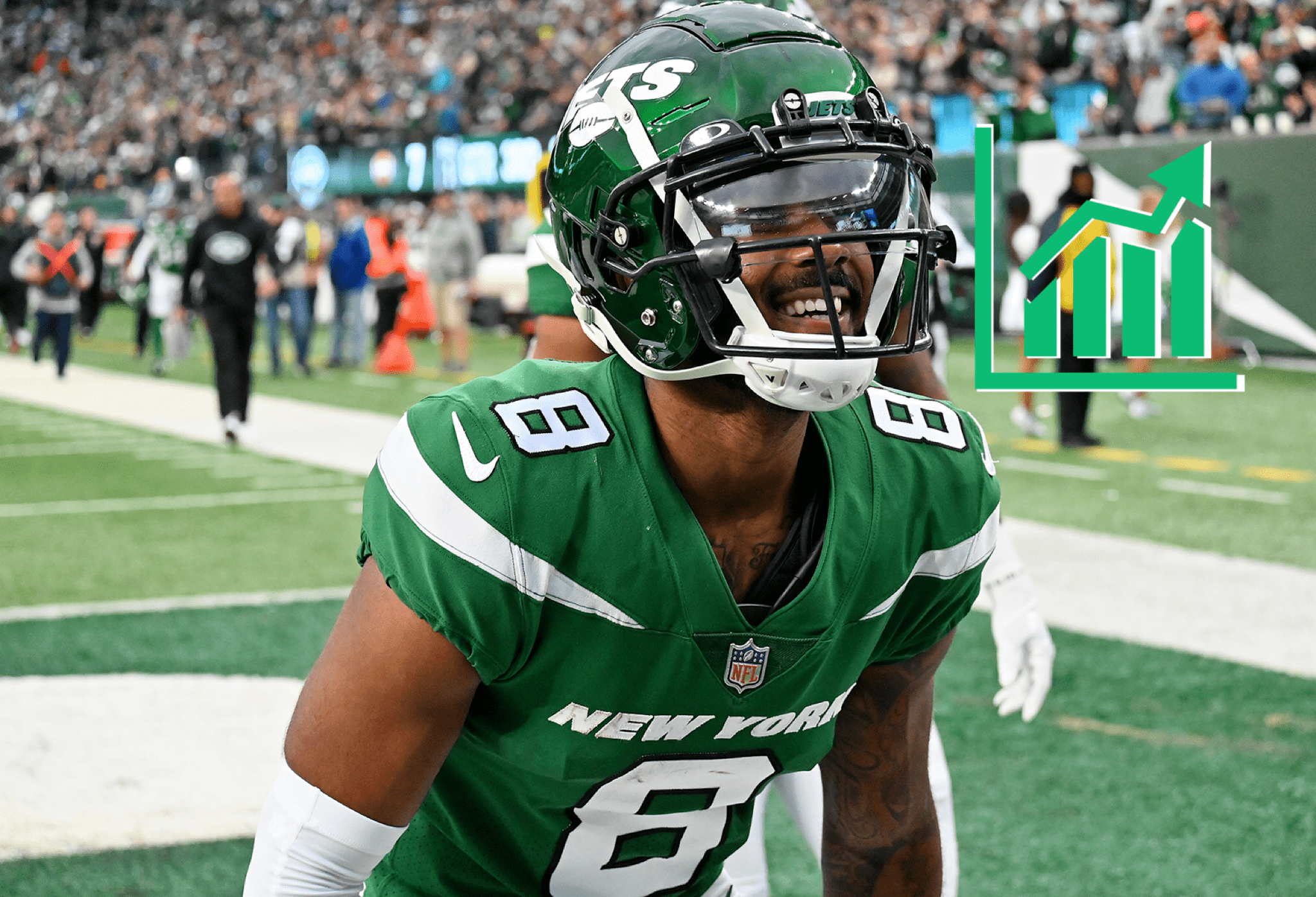 Oh, snap! What was that?!
Do you mean you didn't hear that? That boom? That was the sound of Elijah Moore breaking the sound barrier.
Many fantasy analysts and managers alike, myself included, have been ripping our hair out in chunks over Moore's maddening usage. Prior to this week's explosion, Moore was seeing less than 60 percent of the team's snaps and was sharing snaps with Keelan Cole.
Now, that isn't a knock against Cole. Cole is a reliable receiver that specializes in contested catches and collecting oohs and ahhs from spectators everywhere. Still, Cole isn't a miniaturized Deebo Samuel with the speed of the Flash.
Moore is an absolute dynamo with the ball in his hands and he drips in league-winning fantasy upside when the opportunity comes his way.
Moore caught eight of his 11 (yes, 11!) targets for 141 yards and a trip to pay-dirt. More importantly, Moore was on the field for 85 percent of the team's routes.
With uncertainty surrounding when exactly Zach Wilson will return, there might be some apprehension to go out and buy Moore.
"He who hesitates is lost." — Marcus Porcius Cato
Just take a look at the signals. Weeks 8 through 10, Moore saw 200 air yards, caught 16 of 20 targets for 195 yards, and registered three touchdowns. On the season, Moore has seen 21.7 percent of the team's air yards (for reference, Corey Davis has a team-leading 26%).
During that same stretch, Moore has seen a whopping 23.8 percent of targets per route run. In short, capitalizing on the soft matchup against the hapless Dolphins shouldn't be surprising. The question we should be asking is… is Davis the No. 2 WR for the men in green?
It might be way too early to go quite that far. New York did pay Davis handsomely to come and presumably be the alpha of this receiving core.
Looking at just last weeks targets per snap rate:
– Moore: 11 targets on 48 offensive snaps (80% of the offensive snaps).
– Davis: Seven targets on 56 offensive snaps (93% of the offensive snaps).
The controversy could be bubbling.
The Jets square up with the Texans and Eagles the next two weeks. Those are two juicy matchups for Moore to potentially go nuclear in and he should continue to ascend. With the trade deadline lingering in most fantasy leagues, Moore should be a trade target.
Keep an eye on The Wolf's Rest of Season Big Board, as the rookie should be one of the week's top risers.