Player Stock Ticker
2021 Fantasy Football Week 10 Waiver Wire: Pat Freiermuth, Elijah Moore Highlight Pickups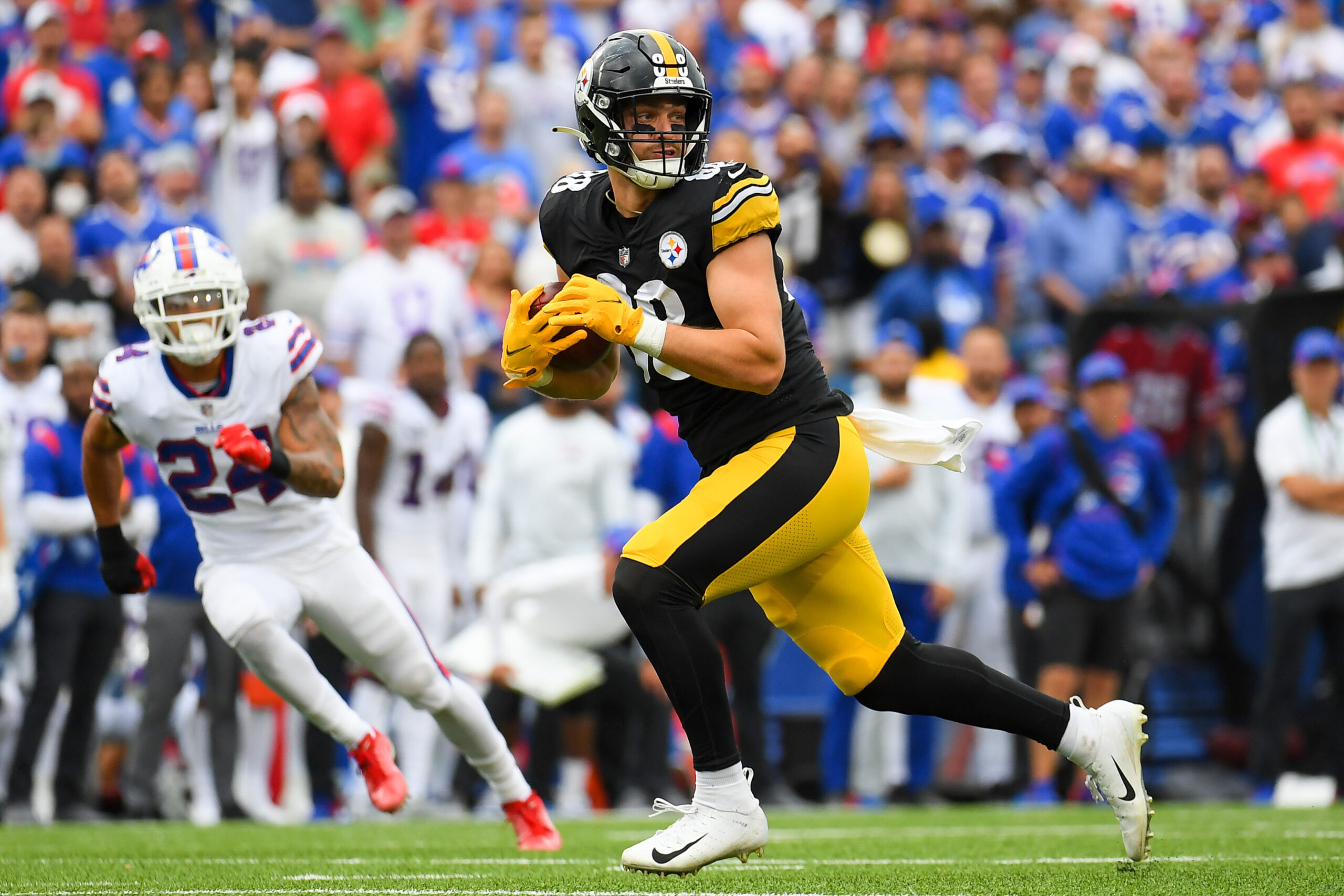 Welcome to the Fantasy Football Week 10 Waiver Wire: Start, Stash, Stream, where we break down the fantasy football free-agent landscape and give you the best picks for the short and long haul.
Let's look back at Week 9 and see our future prospects for the fantasy football Week 10 waiver wire.
Note: Roster % based on Yahoo and should hover around 50% or less
WEEK 10 WAIVER WIRE PICKUPS
START
Elijah Moore, WR New York Jets (27% rostered)
Russell Gage, WR Atlanta Falcons (16%)
Pat Freiermuth, TE Pittsburgh Steelers (40%)
One of our preseason darlings, Elijah Moore, took a lot longer to break out than anticipated, but nonetheless, he has arrived. Moore went 7-84-2 on eight targets against the Colts and benefitted from the absence of Corey Davis. Davis will return next week, but Moore showed his true potential in an offense that absolutely craves playmakers. Moore should be a big part of this offense moving forward.
In a wild turn of events, Calvin Ridley has stepped away from the Falcons team due to personal reasons and will miss a handful of games. The absence of Ridley has opened the door for Russell Gage to assume WR1 responsibilities alongside Pitts and Patterson as its key playmakers. Gage caught seven balls for 64 yards on eight targets this week and get the Cowboys next week.
Rookie tight end Pat Freiermuth has scored three touchdowns during his last two games and is becoming a reliable red zone option for Ben Roethlisberger. Big Ben has always loved his tight ends, and as this connection grows stronger, Freiermuth's stock will only continue to climb.
STASH
Rashod Bateman, WR Baltimore Ravens (36% rostered)
Deonte Harris, WR New Orleans Saints (15%)
Dan Arnold, TE Jacksonville Jaguars (27%)
Mark Ingram, RB New Orleans Saints (38%)
Devonta Freeman, RB Baltimore Ravens (20%)
Ty Johnson, RB New York Jets (10%)
Eno Benjamin, RB Arizona Cardinals (0%)
Jeff Wilson Jr., RB San Francisco 49ers (30%)
DeSean Jackson, WR Las Vegas Raiders (5%)
It's been a slow start, but Rashod Bateman is working his way towards a more significant role in Baltimore's offense. Bateman saw eight targets this week, as the rookie and Hollywood Brown were the clear perimeter target hogs for Lamar Jackson. The volume is increasing and the production will catch up soon enough.
The Saints have a need for receivers and Deonte Harris has really stepped up over his last two games. The speedster has seen 15 targets over that span and he should be a consistent threat with Michael Thomas done for the season. No one is really stepping up in New Orleans, so Harris looks like the best bet for weekly receiver production.
Another week, another productive game from Jags TE Dan Arnold who caught four balls for 60 yards. Arnold and Lawrence have this strange chemistry as he's consistently been a top target for Jacksonville's offense. With 17 targets over his last two games, Arnold should remain a focal point moving forward.
Getting out of the hell hole that is Houston, Mark Ingram is back home with the Saints and getting a decent number of touches. Ingram ran the ball nine times for 43 yards while catching another five balls for 21 yards. Like we mentioned with Harris, the Saints need more playmakers to step up and Ingram has looked pretty spry in his return.
Make it three straight games now for Devonta Freeman with double-digit points in the absence of Latavius Murray. The Ravens have always been run-heavy, while the offense, in general, has been putting up numbers at a high pace and often find themselves in the red zone. Freeman has taken full advantage of being the RB1 these few weeks.
A true receiving threat, Ty Johnson has consistently gotten work in the passing game as he scored a touchdown this week against the Colts. Johnson and Michael Carter have both carved out roles in the Jets offense with Carter having a larger portion of the pie. Johnson still has value thanks to PPR and the Jets game script generally is playing catchup.
The injury to Chase Edmonds will likely keep him out multiple weeks. While James Conner will receive a huge bump to his stock, Eno Benjamin should also see a slight uptick as the new RB2. Arizona has used multiple backs all year, meaning Benjamin should get several touches per game.
We've been telling the Wolfpack to stash Jeff Wilson Jr. after Kyle Shanahan continued to pump up the physical running back. However, Wilson did not see a single snap on Sunday after he was activated to the 53-man roster. Elijah Mitchell remained the team's workhorse, while Wilson looked on. We still believe in Wilson, but he should only be stashed in deeper leagues right now.
DeSean Jackson was released by the Rams and signed by the Raiders after clearing through waivers. Following the horrific Henry Ruggs situation, the team needed a lid-lifter on the perimeter. D-Jax can still run and he could make some noise on the outside.
STREAM
D'Ernest Johnson, RB Cleveland Browns (40%)
Jordan Howard, RB Philadelphia Eagles (13% rostered)
Tennessee Titans D/ST (10%)
Teddy Bridgewater, QB Denver Broncos (26%)
The Browns running back room was hit by the COVID-19 bug and D'Ernest Johnson is the only one who did not test positive. With Nick Chubb and the rest likely out for Sunday, Johnson could be in for some major work against the Patriots. Keep an eye on the status of Chubb and Demetric Felton for the rest of the week.
Jordan Howard led all Eagles' running backs in carries (17) this week while rushing for 71 yards and a score. This should be Miles Sanders' last week on IR so it could be Howard's swan song for the Eagles offense.
The Titans just shut down the Rams in their own stadium this week, and now welcome the Saints who have been rolling with Trevor Siemian.
Teddy "Two Gloves" Bridgewater put on an offensive clinic against the Cowboys in Dallas, going for 21.86 fantasy points thanks to the return of Jerry Jeudy. The Broncos get the Eagles next which should be another favorable matchup for Bridgewater and Denver.