Player Stock Ticker
The Anatomy of a $1M DFS Lineup: Dissecting the NFL Week 9 DraftKings Millionaire Maker Winning Lineup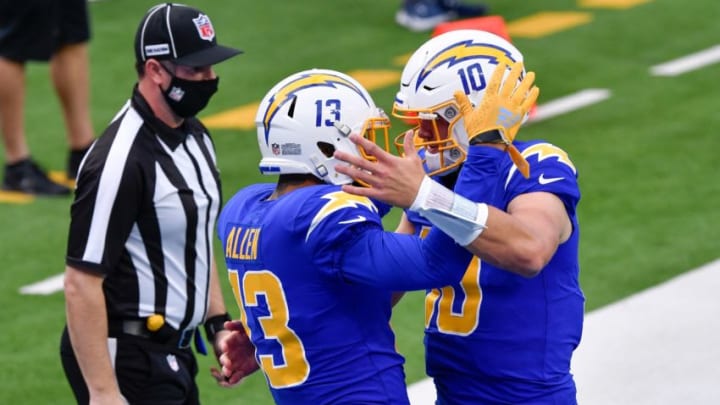 Each week, I'll be expanding on the DraftKings Millionaire Maker analysis provided by Adam Levitan here and The Wolf here. I encourage you to look at those articles first, if you haven't already.
Breakdowns of trends in lineup structure for particular weeks can be found on the subreddit r/dfsports, and every week linestarapp.com gives you the highest possible scoring Millionaire lineup. Visit the latter to remind you how absurd this game can be, like how you should've stacked the Lions in Week 1, how Maxx Williams was apparently the tight end to roll out in Week 2, and Mike ThaGawd White at QB in week 8.
In this series, I'll be looking at trends that DFS players track, diving into the skill/luck dichotomy, and more.
WINNING STRATEGY
Congrats to rbradley23! They won a milly with a single entry.@DraftKings NFL $3.5M FANTASY FOOTBALL MILLIONAIRE
Winning Lineup vs Perfect Lineup:
Point Differential: 45.8
Similar Players: 4
Winning Lineup Stack: QB-WR
Perfect Lineup Stack: No stacks pic.twitter.com/CczOdoZ6k0

— LINESTAR (@LineStarApp) November 8, 2021
Justin Herbert — $7000, 34.64 pts, 3.5% ownership
Nick Chubb — $6700, 33.3, 21.1%
Zach Moss — $5300, 4.4, 8.1%
Keenan Allen — $6700, 25.4, 7%
Marquise Brown — $6000, 23.6, 28.3%
Jaylen Waddle — $5600, 16.3, 14.2%
Mike Gesicki — $4900, 9.4, 15.7%
James Conner — $5300, 40.3, 2%
Browns DEF — $2500, 18, 3%
Total Points — 205.34
Stack: Single, no runback. Our fourth single stack this season, second of the single stacks to have no runback
Salary cap: Used all $50G, the sixth time this season that's happened. The stack used $13700 of the cap (27.4%, $6850-per-player)
RB in the flex. The second time a RB has been there and only the third time a non-WR has been there
Stack used from Vegas' 3rd-highest projected total points game out of 11.
Herbert's appearance in the winning Milly lineup makes it the sixth time a QB has been at least $6700
Another week down, and guess what. Derrick Henry (week 2, $8300) is now the only RB out of twenty to be in winning lineups at over $6700
Total ownership percentage: 102.9. Right in the middle of the recommended 75-125 range, and contains the "barbell" construction noted in the Adam Levitan piece linked here
The lowest Milly winning score so far, as well as the lowest Linestar perfect lineup score so far
The second biggest point difference between the winning lineup and Linestar's perfect lineup (45.8), and the biggest gap in terms of percentage (45.8 being 18.2% of the perfect lineup's 251.14 pts)
obtained or achieved more by chance than skill
This week's lineup was a doozy
THE SKILL
Keenan Allen has been due for some big production, and in week 9 it came to fruition.
I'm still not sure why you can get Marquise Brown for this cheap, the way he's been balling out this year. He entered week 9 as the WR7 on a per-game basis.
A QB-less Waddle-Gesicki stack might look weird at first glance, but Jacoby Brissett has looked their way quite often while filling in for Tua Tagovailoa.
So why not make Brissett your QB at only $4500? Well, he only mustered 11.6 points per game when he's played full games. Couple that with Waddle getting peppered with targets but at a putrid per-yard rate, and this QB-less stack has the kind of outlying factors to justify being in lineups.
THE LUCK
The Browns had reason to play fired up after their past week of OBJ drama coming off of a loss to the Steelers that marked their third game in a row not scoring over 17 points. But after a weird loss to the Jets, the Bengals had reason to play fired up too.
Instead, after being held to 3.8 yards-per-carry vs the Steelers, the Browns ran all over the Bengals as Chubb garnered 5.2 yards-per-carry, not counting his 70-yard TD run.
A Chubb-Browns DEF stack wasn't a crazy play, you can probably take a shot on it every week and wait til it pops. But the Browns have faced plenty of worse run-D's so far that would have been prime candidates for Chubb to get a big game, considering the only game he received less carries than in week 9 was against the Texans in week 2.
Nevertheless, RB-DEF can be fun. Just ask my Zach Moss-Bills DEF lineups this week.
Or don't.
In weeks 6-8, the winning Milly lineup has had at least the 4th-best scoring RB for the week in their lineup (1st and 2nd-best in weeks 6 & 7, 1st and 4th-best in week 8).
This week, the 41st-best RB in week 9 was good enough win you seven figures. Blegh.
Add to this that Chase Edmonds lasted one play before exiting the game versus the 49ers, let alone James Conner's continued ridiculous TD-per-touch rate. It was nice to fall into his 40-burger in the absence of Zach Moss.
Week 9 had four NFL games on the main slate score 30 points or less. No other week had more than two. Any other week, 205 Draftkings points will win you some dough in the triple-digits but isn't winning you big money. Consider this week mighty fluky.
Now if you'll excuse me, I'm off to waste more money in week 10.