Player Stock Ticker
2021 Fantasy Football Week 9 Waiver Wire: How Much FAAB to Spend on Adrian Peterson, Jeremy McNichols?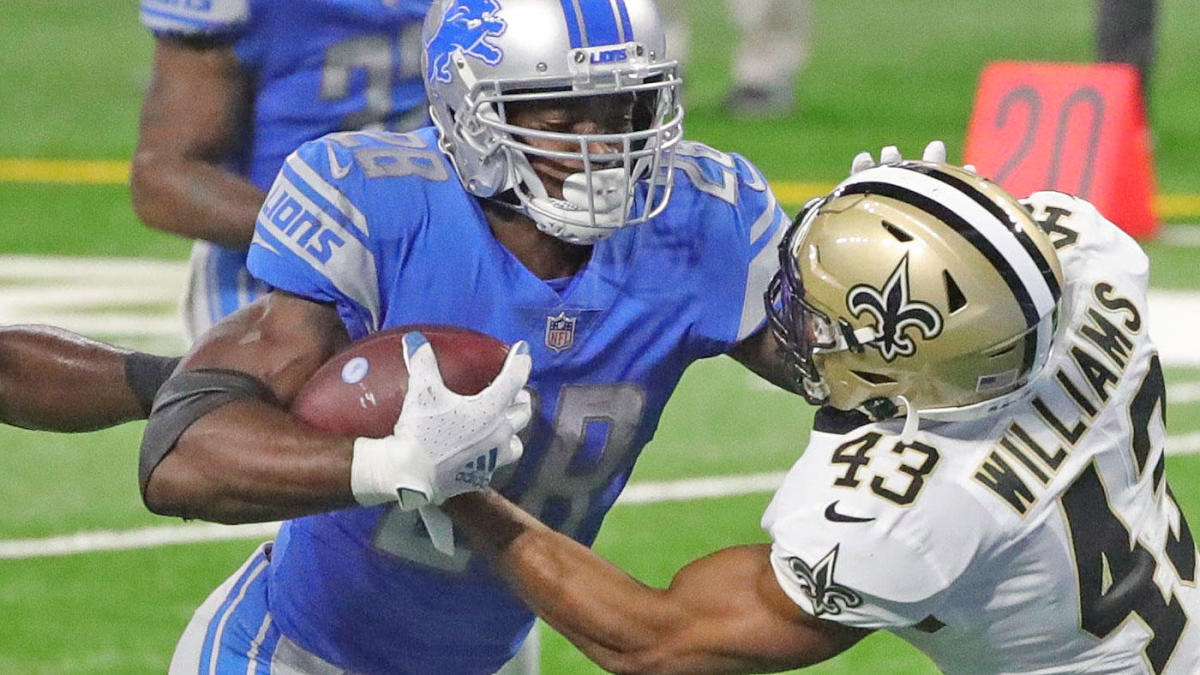 Welcome to the Fantasy Football Week 9 Waiver Wire: Start, Stash, Stream, where we break down the fantasy football free-agent landscape and give you the best picks for the short and long haul.
Let's look back at Week 8 and see our future prospects for the fantasy football Week 9 waiver wire.
Note: Roster % based on Yahoo and should hover around 50% or less
WEEK 9 WAIVER WIRE PICKUPS
START
Adrian Peterson, RB Tennessee Titans (5% rostered)
DeVante Parker, WR Miami Dolphins (35%)
Pat Freiermuth, TE Pittsburgh Steelers (11%)
Dan Arnold, TE Jacksonville Jaguars (5%)
In the wake of Derrick Henry's season-ending injury, the Titans have signed Adrian Peterson to be their lead back going forward. Darrynton Evans is done for the year, and Jeremy McNichols hasn't shown any capability of being anything more than a third-down specialist. Peterson should come right into this offense and expect to get the bulk of the carries, along with goal-line work. Click here for the full Peterson vs McNichols fantasy breakdown.
After a three-week absence, DeVante Parker returned to the Dolphins offense and had eight receptions for 85 yards on 11 targets. Jaylen Waddle had a similarly high target share, but Parker's return took a big slice out of Mike Gesicki's workload. The Dolphins' ground game has been very limited, as Miami has been playing from behind often and throwing more.
Make it two games in a row that tight end Pat Freiermuth has seen high volume in the Steelers passing game. He took advantage of a banged-up Eric Ebron and is now battling with Chase Claypool for Big Ben's No. 3 pass-catching option behind Diontae Johnson and Najee Harris. Freiermuth's 4-44-1 line on seven targets shows his stock rising as the season progresses.
In a bizarre year for the Jaguars, what's most puzzling is the distribution of targets Trevor Lawrence is dishing out. Newly acquired tight end Dan Arnold led the Jaguars this week with eight catches for 68 yards on 10 targets. Arnold has 23 targets over his last three games and was one of the team's top pass-catchers behind only Jamal Agnew this week.
STASH
Jaret Patterson, RB Washington Football Team (2% rostered)
Jeremy McNichols, RB Tennessee Titans (8%)
Justin Fields, QB Chicago Bears (22%)
Taysom Hill, QB New Orleans Saints (2%)
Brandon Aiyuk, WR San Francisco 49ers (51%)
Mark Ingram, RB New Orleans Saints (37%)
Rashod Bateman, WR Baltimore Ravens (31%)
Van Jefferson Jr., WR LA Rams (13%)
Darnell Mooney, WR Chicago Bears (42%)
Jamal Agnew, WR Jacksonville Jaguars (2%)
Ty Johnson, RB New York Jets (5%)
Derrick Gore, RB Kansas City Chiefs (2%)
Randall Cobb, WR Green Bay Packers (36%)
Deshaun Watson, QB Houston Texans (21%)*
Rookie Jaret Patterson somehow led Washington in carries this week over a "healthy" Antonio Gibson and JD McKissic. Gibson has been pretty underwhelming this year while dealing with a shin injury. Patterson actually looked pretty good and should these injuries catch up to Gibson and force him to the sideline, the rookie could have a huge opportunity in front of him.
The Titans pass-catching back, Jeremy McNichols, is in line for increased usage following the Derrick Henry injury. The AP signing should make him the lead back going forward, but McNichols is almost assured to see more receiving work. If Peterson proves to be too old and inefficient, then perhaps McNichols could get a shot at workhorse duties.
All it took was a positive COVID-19 test for Matt Nagy for Justin Fields to have the best game of his rookie season. This was the Fields we all expected to see entering this year, racking up over 100 yards on the ground and making plays through the air. He's a dynamic playmaker and hopefully, the Bears front office realizes that Fields and the team are much better off without Nagy.
The loss of Jameis Winston for the year opens the door for the coach's pet, Taysom Hill, to re-enter the spotlight under center. Trevor Siemian doesn't really offer much upside, whereas Hill has the dynamic ability to be a gifted runner, especially around the goal line. Even if Siemian starts, you'd have to think Hill would get mixed in heavily for this offense.
Since Brandon Aiyuk was drafted so high in nearly every league, there's a good chance people have hung onto him, but his ownership was low enough to be included. Aiyuk saw his season-high in snaps, routes run, and target share last week. Finally, the second-year stud provided a glimpse of a possible rise to relevancy behind Deebo Samuel.
Mark Ingram returned home to New Orleans and looked comfortable alongside his old running mate, Alvin Kamara. Ingram is one of the top "handcuff with benefits," but he should also steal some touchdowns at the goal line. With Jameis Winston done for the season, expect a heightened emphasis on the run game with Ingram getting double-digit touches from here on out.
WR-needy owners might have dropped Rashod Bateman during his Week 8 bye week, which reflects his 31 percent rostership. Bateman has seen 12 targets over his first/last two games and it looks like Lamar Jackson already trusts the rookie to move the chains. He brings a different aspect to the Ravens' offense and could be in for a monster second half.
With all signs pointing to DeSean Jackson packing his bags, Van Jefferson Jr. appears to be Matthew Stafford's clear No. 3 perimeter target. The second-year wideout has seen over five targets per game over the last five games. While he is boom-or-bust, he gets the Titans defense that's allowed the second-most fantasy points to wideouts this season. He also has a favorable schedule moving forward with the 49ers, Packers, Jaguars, Cardinals, and Seahawks on deck.
The passing game for the Bears hasn't been spectacular, but Fields looked noticeably better this week and Darnell Mooney is still (somehow) the Bears WR1. Nine targets is a pretty healthy number for only 27 passing attempts.
If you had Jamal Agnew as the Jaguars' Week 8 leader in targets (12) and touchdown receptions (1), then you might just be a time traveler. Agnew is a talented athlete and seems to have the eye of Trevor Lawrence as he's been a factor for multiple weeks now. He could very well be a PPR option in dire situations.
While Michael Carter went nuclear this week, don't sleep on Ty Johnson. Johnson was the original pass-catching RB in the Jets offense and while Carter has seen a noticeable uptick in both snaps and targets, this rate seems unsustainable.
A creature named Derrick Gore turned heads during the Chiefs' Monday Night matchup against the Giants. The undrafted running back received his first carries of the season and rushed for 48 yards and a score on 11 carries. Darrel Williams dominated snaps (52-16) and targets (7-0), but Gore proved his worth as an NFL back. With Clyde Edwards-Helaire set to return next week, Gore will revert to third-string duties. Still, he's worth the stash in deeper leagues.
On Thursday, the Packers dealt with a handful of missing receivers, leaving Randall Cobb as the lone reliable pass catcher. Aaron Jones actually benefitted the most, but Cobb is still one of Aaron Rodgers' 'guys' and that showed with two touchdowns. He'll take a backseat to Davante Adams and Marquez Valdes-Scantling, but there are worse options out there.
* Deshaun Watson should only be stashed if we know for sure that he's moved during Tuesday's trade deadline. It'll pass at 4 PM EST today, so you'll know before putting your claims in if he's headed out of Houston, or if he's cashing checks while sitting out the remainder of the season. If he ends up in Miami or somewhere else, be prepared to dump your FAAB on what could be a top-five rest-of-season fantasy quarterback.
STREAM
Boston Scott, RB Philadelphia Eagles (20% rostered)
Jordan Howard, RB Philadelphia Eagles (2%)
Carlos Hyde, RB Jacksonville Jaguars (7%)
New Orleans Saints DST (46%)
Tua Tagovailoa, QB Miami Dolphins (36%)
Daniel Jones, QB New York Giants (51%)
Jamison Crowder, WR New York Jets (19%)
While Miles Sanders is out, Boston Scott appears to be the RB1 for the Eagles. Scott carried the ball 12 times for 60 yards and hit pay-dirt twice while Kenneth Gainwell looked on. Ride the hot hand while Sanders is on IR for at least another two games.
The game script played a huge role in his production this week, but Jordan Howard has always had a knack for the end zone. With Sanders out multiple weeks and Gainwell being a non-factor, Howard split work with Scott. Howard is the much bigger and physical back, so there's real short-yardage and goal-line appeal here.
James Robinson hurt his ankle early last week and did not return, which left Carlos Hyde as the lead back for Jacksonville. Reports suggested J-Rob avoided serious injury, but Hyde would get RB1 usage if Robinson sits out Week 9.
The Saints DST did their best to limit Tom Brady by wreaking havoc and creating turnovers. Up next, the Saints get Matt Ryan and the Falcons who looked awful against the Panthers and will be without Calvin Ridley until further notice.
One of our favorite matchup-based quarterback streamers is Tua Tagovailoa. The former Crimson Tide signal-caller has destroyed porous defenses, and he gets the Houston Texans this week. Tua has scored 18, 25, 35, and 14 fantasy points during his four complete games this season.
The results aren't showing in the real-life standings but Daniel Jones is putting up solid fantasy numbers on a weekly basis. It helps when his rushing ability pads his stats, but you could do worse for a streamer than Jones against the Raiders.
With Corey Davis sidelined, Jamison Crowder was Mike White's top wide receiver last week. With a tight Thursday Night turnaround, Davis could be in trouble of missing another game, making Crowder a streaming option against the Colts.