Player Stock Ticker
David Johnson Fantasy Outlook Gets a Significant Boost Following the Mark Ingram Trade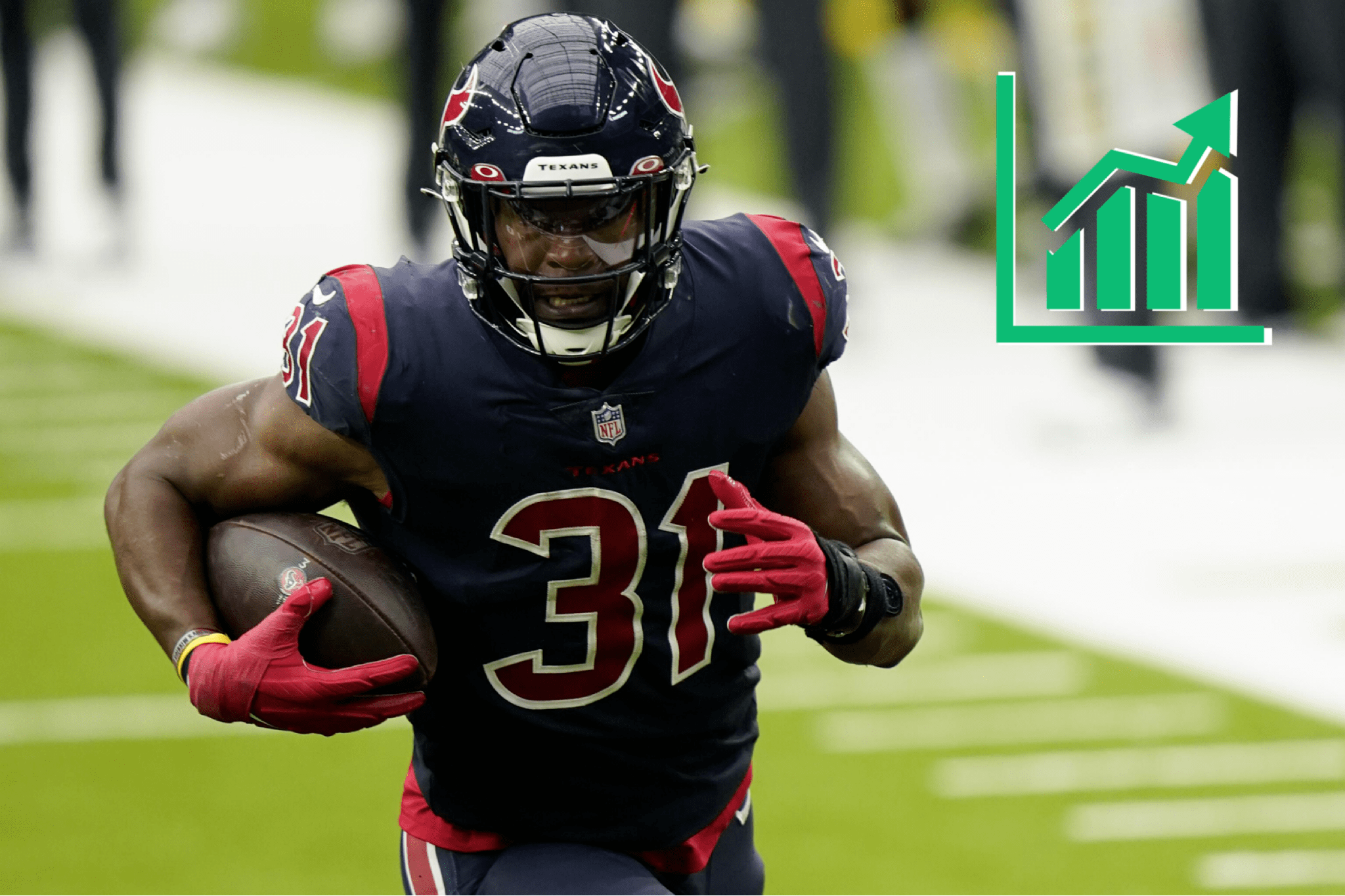 Former 2016 Fantasy MVP and fantasy sensation David Johnson has fallen on hard times since his season-ending wrist injury in Week 1 of the 2017 season. Now, on arguably the worst roster in football, fantasy owners are looking for any glimpse of the old Johnson following the trade of former Heisman winner Mark Ingram.
Johnson looks to be the 1A in the Texans backfield that's left with Phillip Lindsey, Rex Burkhead, and 24-year-old rookie Scottie Phillips. Johnson has progressively seen an uptick in snap percentage and usage since Week 1, where he saw only 28 percent of snaps compared to 53 percent in Week 7. Ingram leaves behind a massive 16.8 touches per game that will need to be distributed, and a significant chunk should go to Johnson.
David Johnson is currently #2 in team targets so the ppr upside was already present, he already led the RB's in snaps & the Texans are tied at 17th with the packers in rushing attempts per game (24). David Johnson has a 30% roster exp. You know what to do next. @MyFantasyLeague pic.twitter.com/A7ltqP1Y8y

— LaQuan Jones 🐺🏆 (@RealDealFantasy) October 27, 2021
Although the Texans are a bottom feeder in the NFL and have only averaged 18.1 PPR points per game this season, Johnson's pass-catching ability along with his third-down usage should give him low-end RB2 consideration for the rest of the season.
Don't expect Johnson's points to come on the ground, as Johnson has only eclipsed five carries one time this season. He'll continue to rack up points as a pass-catcher, where he's already recorded 19 receptions and has the second-most targets on the team (24) behind Brandin Cooks (64). 
"He's a guy that obviously he's a really good runner and he's got a different skill set when it comes to the pass game," Texans offensive coordinator Tim Kelly said of Johnson. He provides us opportunities to take advantage of different matchups and he did a good job of winning those the other day.
"He's done a great job earning the quarterbacks' trust since the beginning of training camp. With that, paired with his ability, to run the football it provides us opportunities to get him the football."
With Tyrod Taylor's return on the horizon, the Texans should see a boost in their offensive production. In the one full game Taylor played this season, the Texans boasted 37 points against the Jaguars and another 14 points while Taylor was on the field against the Browns. Since his injury, the Texans have combined to score 46 points in 22 quarters with Davis Mills under center.
Still available in nearly 70 percent of leagues, look to add Johnson to your bench with hopes of increased usage in the run game and even more pass-catching opportunities. He can be a low-end flex option at worst rest of season. Expect DJ to rise up The Wolf's Rest of Season Fantasy Rankings on his next update.