Player Stock Ticker
Elijah Mitchell Rest of Season Fantasy Outlook as 49ers Clear Workhorse RB1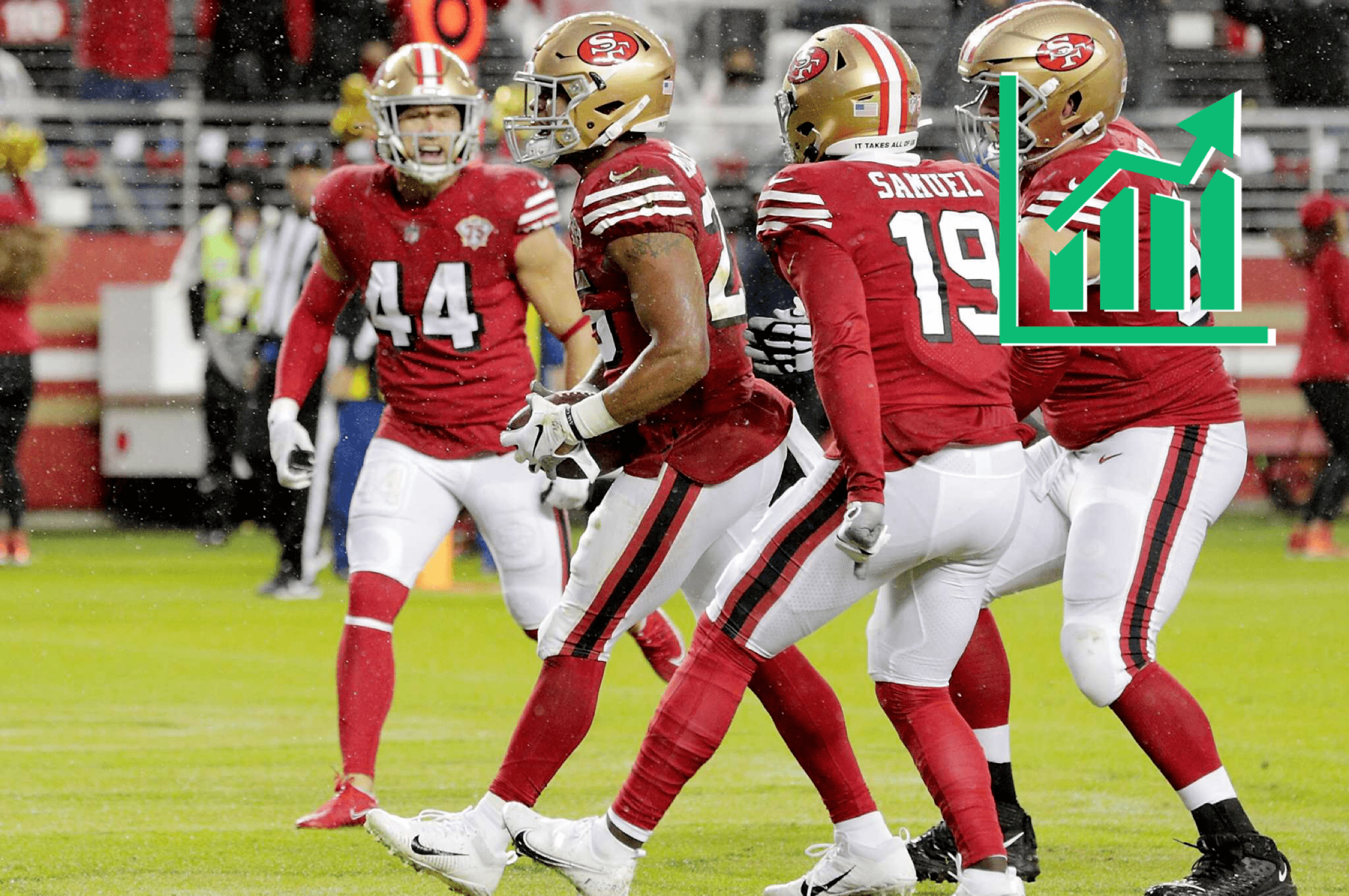 The Shanahanigans might be over for the 2021 49ers backfield. It appears as though rookie Elijah Mitchell has taken the reins (when healthy) and will be Kyle Shanahan's RB1 moving forward.
On a disgusting, rain-soaked Sunday night, Mitchell played 37 of the 49ers' 56 offensive snaps. The remaining 19 went to newly activated third-down back JaMycal Hasty, while rookie Trey Sermon did not see an offensive snap. Mitchell put up 107 yards and a score on 18 carries, while Hasty only toted the rock three times. It looks like Mitchell could be a rock-solid RB2 while he's healthy.
It's tough to complain about that type of fantasy output. However, it could have been much more.
What's frustrating about Mitchell's breakout was Shanahan's run game abandonment after the first drive. Mitchell had runs of 20, 14, and 14 yards, and the team had all the momentum. But after gaining another 12 yards on his first carry of the team's second drive, the head coach dialed up three straight passes that stalled the drive and ultimately changed the game.
"They did a great job, especially in the first quarter about misdirection runs and putting us in bad positions to make plays," Colts LB Darius Leonard said, via 49ers communications. "So, they did a great job there, and I was glad they kind of went away from that."
Mitchell proved he can carry the early-down load even though he makes little impact in the passing game. We'll have to keep an eye out for the pending return of the bruising Jeff Wilson, who may still be a few weeks away, but until then, Mitchell should be the guy.
Thus far, Mitchell has popped in two games and has already returned a solid ROI, which is something Sermon drafters can't say. Following his Week 7 explosion, The Wolf has raised Mitchell up to RB18 (+1 vs ECR) on his Rest of Season Fantasy Rankings.