Player Stock Ticker
Trey Lance Fantasy Outlook Oozes in League-Winning Upside as 49ers Starting QB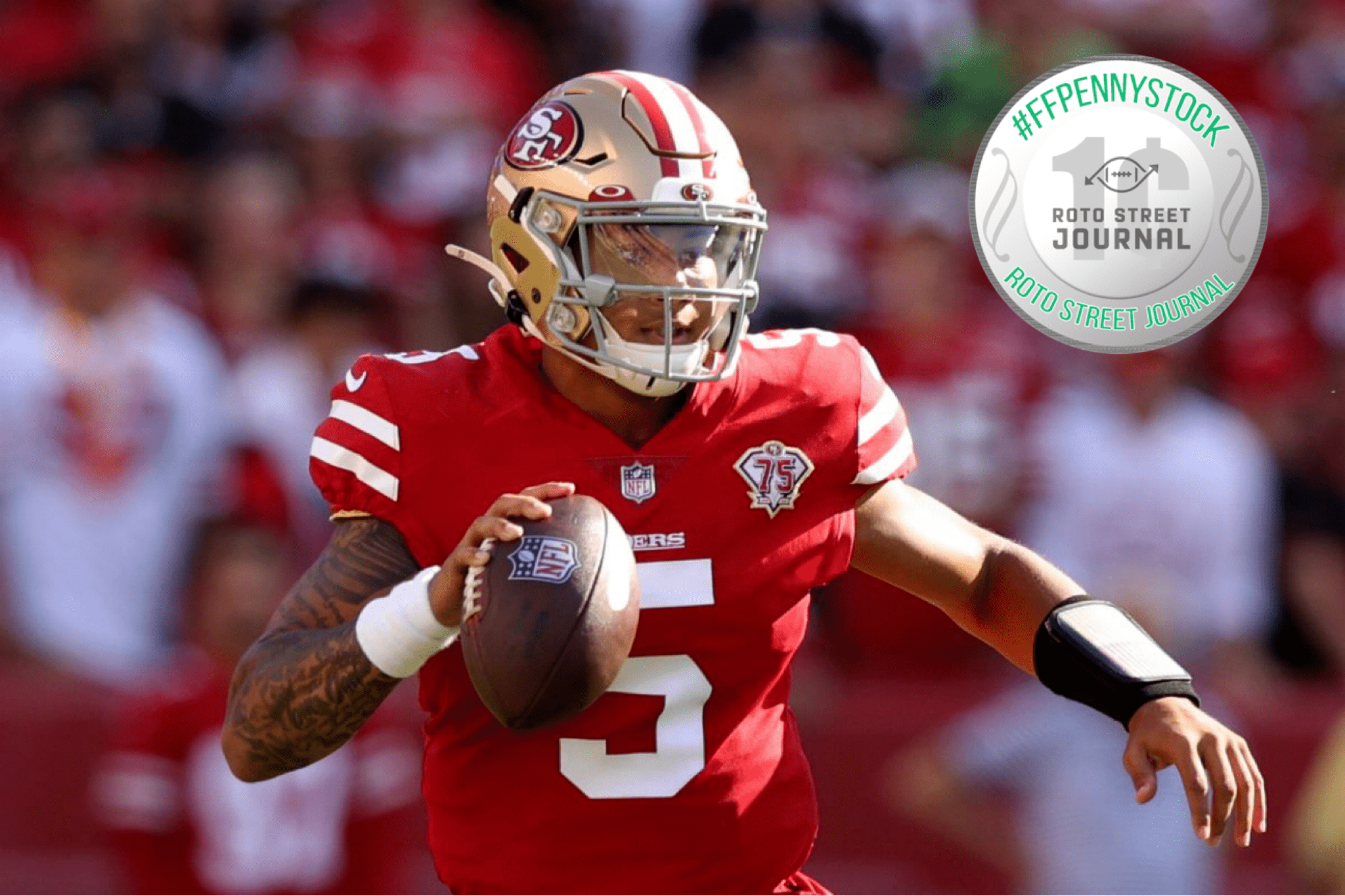 It took a little over three weeks for Trey Lance to see a significant snap share and it only happened because Jimmy Garoppolo went down with a calf injury. Prior to Week 4, Lance only saw four snaps across two games but was involved in two touchdown plays. Kyle Shanahan noted the team had very few packages designed for Lance and he had to "make moves on the fly" to cater the offense to his skill-set with the starter out of the game.
It's safe to say with Lance under center that Shanahan has been working overtime to optimize his offense to the rookie's dynamic skill-set to take this offense to the next level. Thus, Lance drips in incredible fantasy upside moving forward and could be a season-winner if he maintains a hold on the starting role.
KONAMI CHEAT CODE
While it's true a rookie quarterback does not always succeed in fantasy football, the same cannot be said for rookie quarterbacks with dynamic rushing upside, aka those who possess the coveted Konami Code.
Since 2000, 41 quarterbacks have played over 12 games and averaged over 5.5 rush attempts per game. Of them, 34 finished as top-12 quarterbacks (83%), and 24 finished top-six (59%) in FPPG.
Rushing yards are worth 2.5 times as much as passing yards, and rushing touchdowns are worth 1.5 times as much as passing touchdowns. Thus, quarterbacks with Konami upside become infinitely more valuable than typical pocket statues.
Debunking the "rookie QBs aren't good fantasy assets" myth for guys that accumulate points on the ground

(PPG finishes, full games)

1) Josh Allen ('18) – QB9
2) Lamar Jackson ('18) – QB12
3) Kyler Murray ('19) – QB12
4) Jalen Hurts ('20) – QB4

All had below average Comp Pct

— Adam Koffler (@AdamKoffler) August 28, 2021
Lance, one of the most athletic quarterbacks in the league, rushed for 41 yards on seven carries during last week's game and added a beautiful one-yard rushing touchdown in Week 3. Pair Lance's god-given athleticism with a customized Shanahan playbook and we might have league-winning upside here.
The rookie's ability to rack up fantasy points on the ground makes him a locked-in weekly starter if he's under center. For example, Jalen Hurts is a below-average passer who has put up over 20 fantasy points per game in each of his complete-game starts.
Not to toot our own horn, but we told you to pair Hurts or one of the other bridge quarterbacks with either Lance or Fields.
PUMP THE LONG-TERM BRAKES?
Similar to Matt Nagy during the Andy Dalton–Justin Fields saga, Shanahan made it clear the rookie is not ready to be a full-time starter yet and Lance would remain behind Garoppolo if not for injury.
"Some good, some bad. I thought he went in there, for the most part, got thrown in not expecting to go in there," Shanahan said. "Ran the ball well. Hit some passes, obviously missed some passes. Was in a tough situation there when we were down two scores. Did a good job moving the chains a couple times with his legs. But it looked like a typical first game."
He wasn't impressive from a real-life standpoint, but that is expected from a rookie who's been thrown into the fire. Lance finished the game completing only 50 percent of his throws for 157 yards and two touchdowns — one to the most wide-open receiver of all time. Still, we only care about the final stat line in fantasy.
"He went in there unexpected and he competed," Shanahan continued. "Trey's a football player. You guys can see that at times throughout that game, regardless of what's happening. He's always got a chance to make a play and that's why I think he did. It was good for him to take us down on that scoring drive there at the end. But it takes some time to play in this league as you guys have seen throughout.
"It's about knowing where to get rid of the ball, when to try and make those plays, when to check a down and have other guys do it for you, when to hang in the pocket, when to escape the pocket and he got a lot of real NFL game experience with that today and hopefully he'll get better from it."
SUMMARY
While Garoppolo's injury timeline is still unknown, it could be a few more weeks until he returns to full health. Will Lance be able to win games and prove he can be Shanahan's QB1 for the remainder of the season? It remains to be seen.
"If that's the case, it's next man up, whether it's at his position or another position," Shanahan said. "We've been playing with rookie running backs since the second play of the first game. We've got our rookie quarterback right now.
"Hopefully Jimmy's better and (the injury is) not as bad as we think, but Trey is here for a reason. We want to give him a little time. We want him to be fully ready, but you don't always have that luxury."
#49ers Jimmy Garoppolo gets emotional saying "it's old" getting injured again.
Anticipates being out couple weeks with calf issue, doesn't think it's a ruptured Achilles pic.twitter.com/ktyKqeo42t

— Cam Inman (@CamInman) October 4, 2021