Player Stock Ticker
Michael Carter Rest of Season Fantasy Outlook Booming as Jets RB1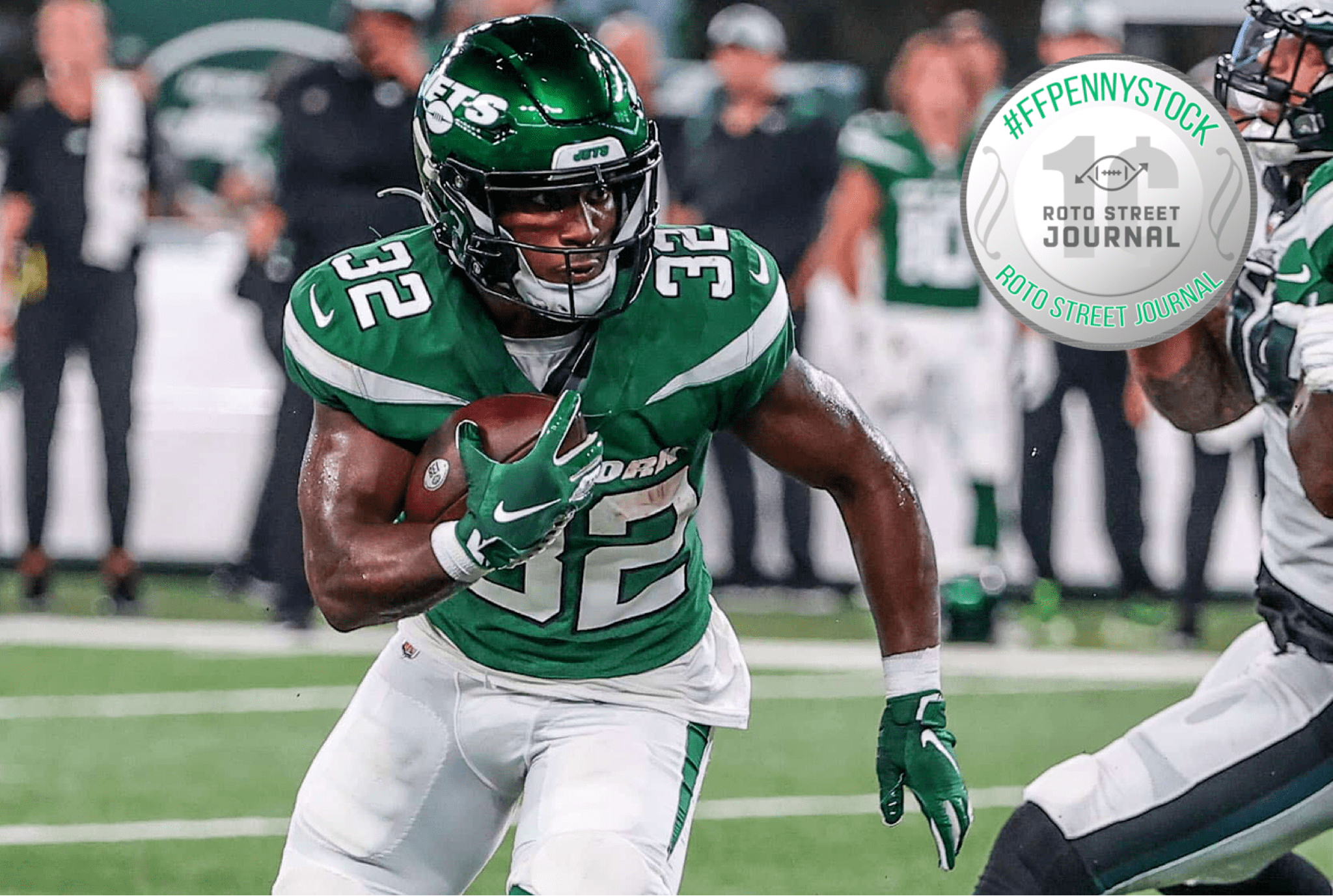 Michael Carter looks to be rounding into exactly what many fantasy analysts predicted over the summer: The Jets' committee leader.
I know what you're probably thinking, "who the hell wants to own a Jets RB, even if they are leading the committee?" 
It might feel gross, but let's dive into why Carter is shaping up to be a valuable asset to have throughout the heart of the fantasy season:
GROWING SNAP SHARE
Carter owners expected to see competition from Tevin Coleman but were left panicked after a committee-leading 54% Ty Johnson snap share in Week 1. Carter was dropped in leagues all across the world when he appeared to be the "1C" option in a three-headed committee.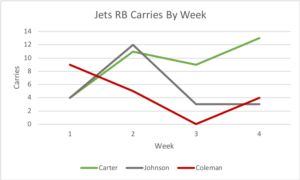 What fantasy managers didn't realize is that would turn out to be a one-week mirage. Things changed drastically for Carter in Week 2, as he saw his carry count jump from four to 11. After being the clear leader of the committee for the past two weeks, fantasy managers should feel comfortable trusting Carter as a viable option for over 50% of the snaps, 10-plus carries, and 2-plus catches a week.
OOZING EXPLOSIVENESS
After keeping the training wheels on for Week 1, Robert Saleh and Mike LaFleur decided to see what they had in the early 4th round rookie.  They loved what they saw in Week 2.
"Big credit, really, goes to Michael Carter, he was running his tail off yesterday," said Saleh after their Week 2 loss to the Patriots.  
As a die-hard Jets fan with no true allegiance to any of the running backs on their roster, it has been pretty clear that Carter has been far and away from the most explosive running back on the Jets roster.  
See for yourself below. The video shows all 13 of his touches in the Jets week 2 beatdown at the hands of the Patriots. My favorite play starts at 1:04. It shows the elite lower body balance and versatility in the passing game that Carter possesses.
PASSING GAME UPSIDE
Not many running backs sitting on the Week 5 waiver wire are going to offer you over 10 carries a week with above-average receiving ability.  Carter is one of these players, and he has the upside to be even more involved in the passing game.
Carter has 10 targets in 4 games, with at least two in every game thus far.  He was still very much entrenched in a committee for the first two weeks of the season, and I believe that his emergence as the committee leader will lead to more work in the passing game.
LaFleur would be wise to take some pressure off of the turnover-prone Zach Wilson and his clown show of an offensive line, and what better way than to put the ball quickly into the hands of playmakers like Carter? In the overwhelmingly negative game scripts that the Jets offense will be facing, it's all but guaranteed that Wilson will continue to be under heavy pressure for the duration of the season.  Checking it down underneath to his capable receiving back seems like it would be a logical option to help the Mormon Mahomes avoid his catastrophic turnovers.
If you see an uptick in receiving game work, you could be looking at a weekly RB2 given the beyond murky injury situation for running backs around the league. Take a stab at the most talented running back on the Jets roster and grab Carter before it's too late. 
Carter checks in at RB35 (+7 vs ECR) on The Wolf's Rest of Season Rankings.