Player Stock Ticker
Kadarius Toney Fantasy Outlook Sets Sail as the Giants Human Joystick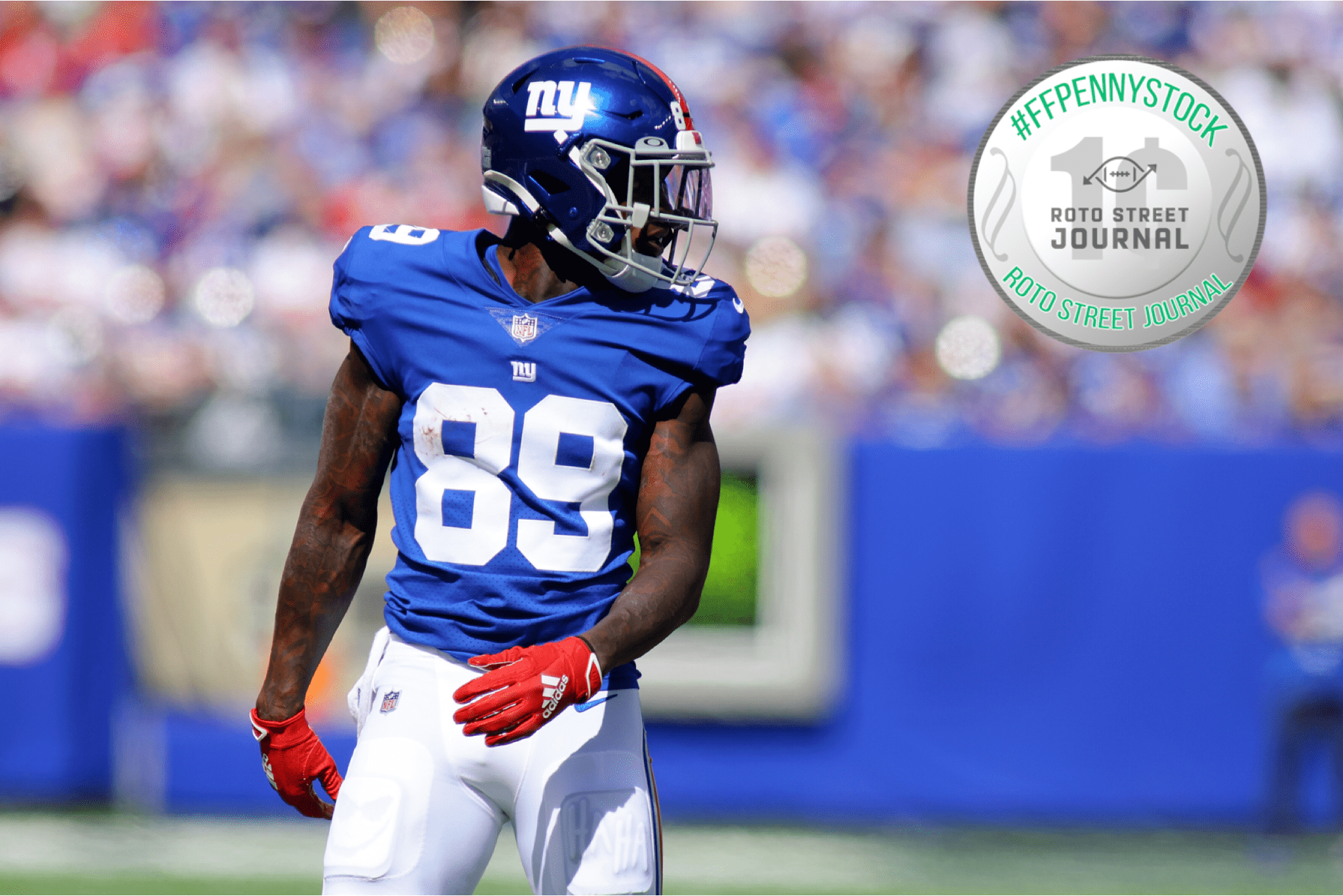 Now officially a quarter of the way through the 2021 season, fantasy owners are beginning to see trends that are more than just flukey weekly explosions.  If you're anything like me, Week 5 is about the time that my trade-finder brain is in hyperdrive (shoutout Adam Gase) and I'm looking to bolster my starting lineup.  Starters and bench depth alike.  One buy-low candidate I'm targeting is NY Giants rookie Kadarius Toney.
With a grand total of five targets before Week 4, Toney is a player that really was only on the radar in dynasty formats.  That outlook changed for the former Gator last Sunday, however.  Toney hauled in six receptions on nine targets for 78 yards and even toted the rock on a sweep.  Usually, these types of outputs don't herald much attention, but there are a handful of reasons to target the rookie on either the waiver wire or trade market.
This Kadarius Toney guy is fun pic.twitter.com/BGNi4YcrUM

— Talkin' Giants (@TalkinGiants) October 3, 2021
GIANTS WR INJURY ISSUES
New York's top of the depth chart at wideout, Kenny Golladay, Sterling Shepard, and Darius Slayton, are no strangers to the injury list.  Last year alone, Golladay and Shepard missed a combined 15 games and over the past three years, the trio missed 23 games in total.  That's a tremendous portion of both routes and targets that are historically up for grabs.  Nabbing Toney off the Week 5 waiver wire or via trade should prove to be one of the better handcuffs if nothing else.
A CONFIDENT DANIEL JONES?
Did I really just write that? Daniel Jones, turf monster/sniper/insert falling down chirp here, Daniel Jones? Yes.  Last week against a historically stout New Orleans defense, Jones quietly had a career-best type of day.  He went 28 of 40 passing with two touchdowns for a passer rating of 108.5.  Throw in 27 yards on the ground (his lowest total so far this year) and you've got the seventh-highest Week 4 QB performance.  Jones is QB7 on the season, a massive improvement from his first two years in the league (QB24 in 2020 and 2019).
Daniel Jones got the ball down 11 with 7 minutes left in the game.

He went 11/15 165 yards & 1 TD on the 3 following drives for 17 points.

— Bobby Skinner (@BobbySkinner_) October 3, 2021
The Giants' 1-3 record notwithstanding, Jones is becoming a multi-faceted quarterback surrounded by a cast of legit talent.  This all bodes well for a player like Toney.
MOVING FORWARD
Don't be fooled, Toney won't be a WR1 by any means.  He can, however, be a reliable option on bye weeks and is definitely a top stash in dynasty formats.  Joe Judge seems confident in Toney, as his game script involvement has gone up every week of the season.  In Week 4, Toney had a 22.5% target share, higher than DeAndre Hopkins, Tyler Lockett, and even Travis Kelce.
"I think that's just a result of him being ready to play being used within the offense and when the ball came his way, he made plays," Judge said.
"He's a guy that we know has talent, he's a very competitive guy, and a guy that has the ability to make big plays. I think you are starting to see a lot of that on the field in the games. We see it at practice on a pretty regular basis. It is not a surprise to us that he makes those plays. It was not something we had to diagram and gadget. He's a part of this offense every week. We're calling plays and he's out there making them."
The Wolf's Rest of Season Big Board has Toney ranked WR82 (+7 ECR) and I'd expect that number to climb again next week.  Take a flier on the shifty youngster, and I can't believe I'm even uttering this, but believe in Daniel Jones.