Player Stock Ticker
Robert Woods' 2021 Fantasy Outlook Suffers After Missing Out On The Matthew Stafford Breakfast Club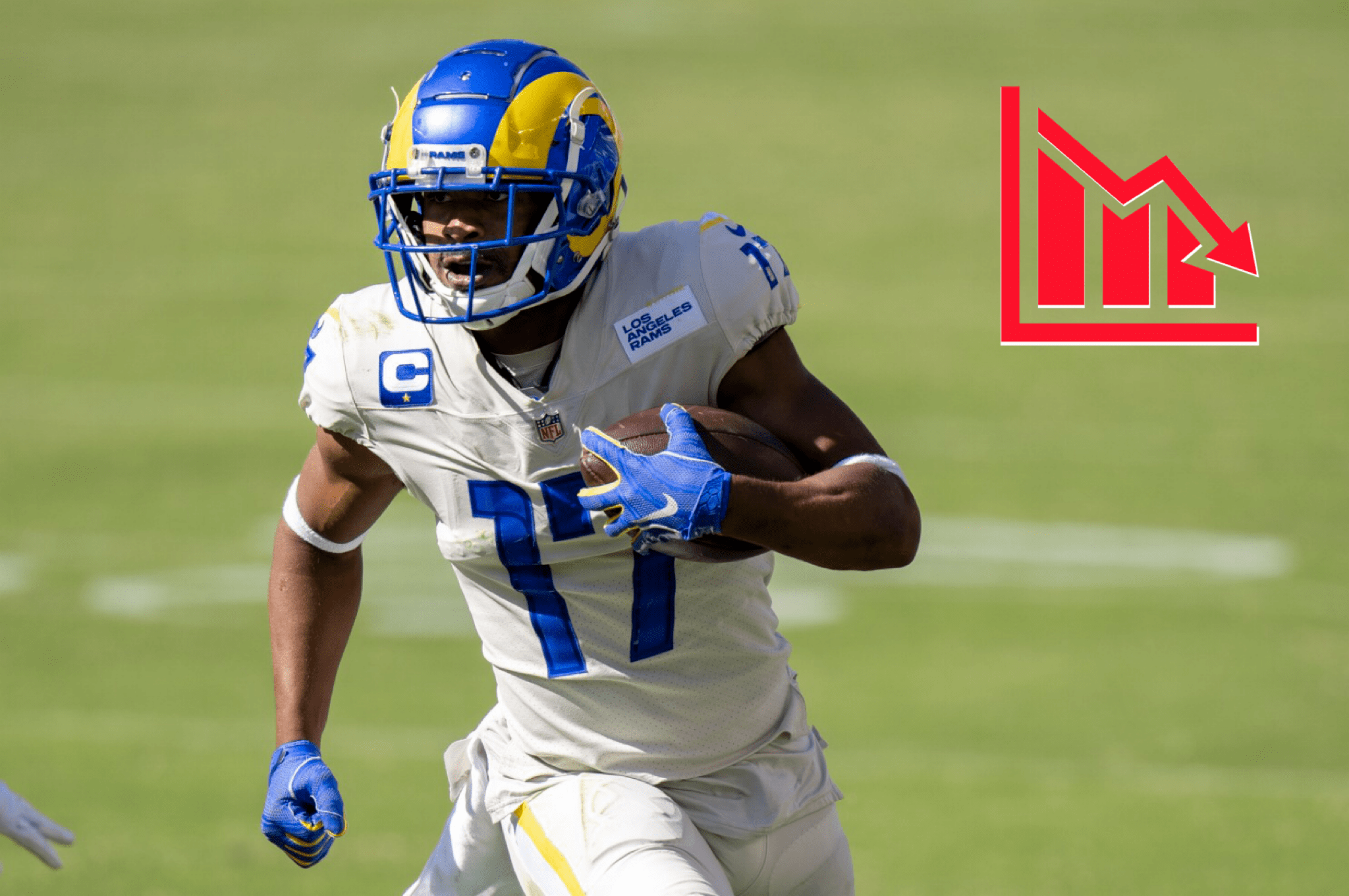 It all made sense during Monday Night Football when Matthew Stafford told the MNF crew that he and Cooper Kupp ate breakfast together every morning during training camp. Since then, Kupp has been the apple of Stafford's eye, seeing a 35 percent team target share.
The Breakfast Club movie poster but with the faces of Matthew Stafford and Cooper Kupp.

— JJ Zachariason (@LateRoundQB) September 26, 2021
It's a real shame Robert Woods was never invited to the Stafford Breakfast Club. Although Woods still has a legitimate chance to be fantasy-relevant, it is time to smash the panic button on the Rams' WR2.
On the season, Woods has caught 11 of his 18 targets for 124 yards and one touchdown.
Is there any hope for Woods deep in the data?
Routes Run – 82
Targets – 18
T/RR – 22.0%
Y/RR – 1.51
Average Depth of Target (aDot) – 9.4
Air Yards – 169.2
Long story short, there is nothing there that screams definitive positive regression. However, this is a shed of optimism for Woods owners — especially if he sits down to breakfast with the dynamic duo.
Woods has seen three red-zone targets to Kupp's four. He just hasn't been as efficient with red zone opportunities as Kupp has been. Woods has caught only one of his three targets in the red zone while Kupp has caught three of his four.
Woods' 1.51 Y/RR is the lowest of his career with the Rams as is his 3.2 yards after the catch per reception (YAC/R). In 2019, Woods had an aDot of 8.4, similar to this year. Woods finished that season off with a respectable 1.88 Y/RR. Last season, Woods saw the lowest aDot of his Rams career and still managed 5.7 YAC/R.
The tape doesn't show that Woods has lost a step and Sean McVay hasn't forgotten how to utilize Woods in his offense. Stafford and Woods will continue to develop their chemistry and brighter days should be ahead for the veteran as defenses will key on Kupp.
Regardless, Kupp is the undisputed leader of this receiving core.
The Wolf has no faith in Woods. He ranks the wideout WR35 overall (-11 vs ECR) on his Rest of Season Fantasy Football Rankings.
Why was I not told Matthew Stafford and Cooper Kupp eat breakfast together before I drafted Robert Woods over him?

— Nick Lepri (@NotoriousFNTSY) September 13, 2021
CAN KUPP KEEP IT UP?
WR19. That was Cooper Kupp's ADP according to Sleeper this season. Currently, Kupp is sitting pretty as the WR1 overall in 2021 fantasy football half-PPR formats. Whether he finishes there remains to be seen. Regardless, investing that kind of draft capital in Kupp and getting such a huge early return feels pretty good.
Let's just take a moment to put Kupp's season into context.
On the season, Kupp has 25 receptions for 367 yards and five touchdowns. That is a ridiculous three-game stretch for any player.
Looking further at Kupp's opportunity and efficiency metrics (via PFF), we can get a clearer picture of how sustainable this run truly is:
Routes run – 95
Targets – 32
Targets per route run (T/RR) – 33.7%
Yards per route run (Y/RR) – 3.86
aDot – 8.8
Air Yards – 281.6 (93.9 AY/G)
Red zone targets – 4
Kupp's efficiency with the football will come down. A 3.86 Y/RR is completely unsustainable even with an early-season MVP candidate at quarterback. Kupp is averaging just under 11 targets per game and there is no reason to believe that number has any meaningful decrease as the season progresses.
Currently, the Rams rank 24th in pass attempts on the season. This might seem like a shock, except that Stafford has been hyper-efficient with his passing through three games. If anything, as the season progresses, that number should increase as Stafford's efficiency comes back down to earth.
Looking at Kupp's air yards data, it is abundantly clear that there is nothing unsustainable about his opportunity. With Stafford routinely looking to press the ball downfield, Kupp's game-by-game share of the air yards should remain consistent.
Kupp sits at WR3 overall (+3 vs ECR) on The Wolf's Rest of Season Fantasy Football Rankings & Big Board.