Player Stock Ticker
Panthers vs Texans: Player Prop Bets to Hammer for NFL Week 3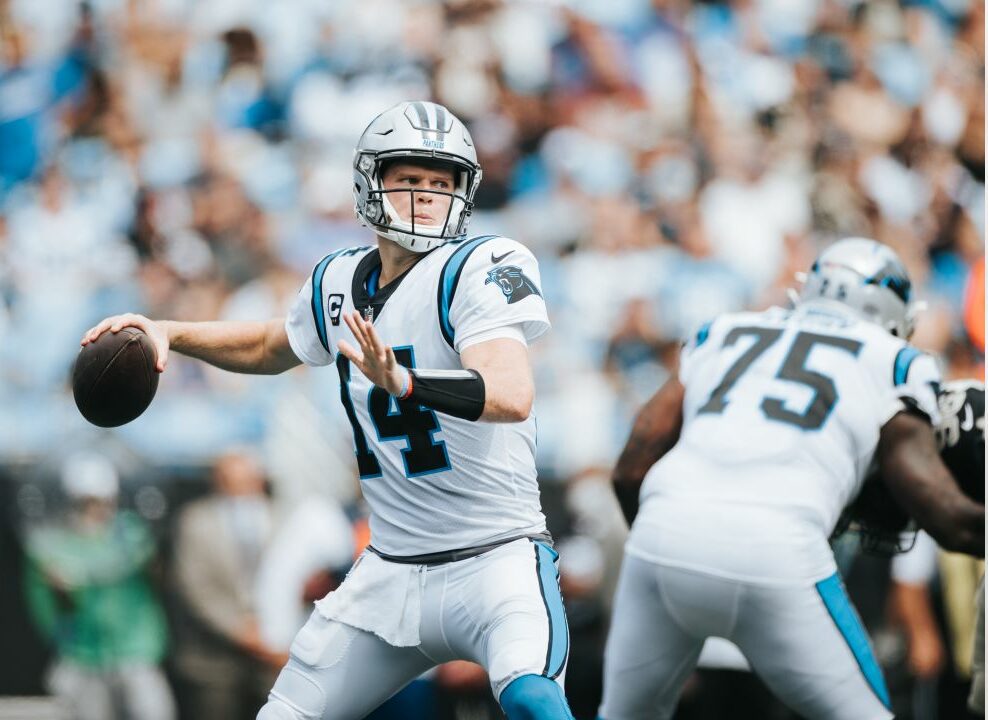 (Chanelle Smith-Walker/ Carolina Panthers)
Week 2 is officially in the books and as crazy as it sounds, we are already on to Week 3. But before we do I would like to extend a very warm "fuck you" to Aaron Jones for stealing touchdowns away from Davante Adams. I'm glad he found his dad's ashes in the end zone, but let's try and talk Aaron Rodgers into a little more ball distribution next time there, AJ.
With that being said, we're focused on Week 3. We've got another awesome primetime game this Thursday Night as the ….record scratch…. Carolina Panthers travel west to take on the Houston Texans. Yikes! It's not the worst Thursday Night matchup I've ever seen, but I just don't care that much about this one. It's sort of just there… doing nothing for me. Regardless, I actually have a player prop that I absolutely love.
DOM'S BEST BET
For my first pick of Week 3, I will be taking a prop that I usually don't touch. But I've seen the success CJay has been having with these and I wanted to give it a try. I never thought I would say this, but I will be taking Sam Darnold over 23.5 completed passes (+100). Dan Orlovsky and all the talking heads at ESPN always defended Darnold during his time in New York. So far this season, it looks like they've been vindicated as Darnold has looked like an actual starting NFL quarterback. In his Panthers debut, Darnold completed 24 of his 35 passes for 279 yards and a touchdown as he got the win against his former team. In a matchup of two former failed QB experiments, Darnold outperformed Jameis Winston as he completed 26 of his 38 passes for 305 yards and two touchdowns.
This game will either be an utter disaster or it's going to be Sam Darnold's coming out party in primetime. Everyone remembers when Darnold threw a pick-six against the Lion in his very first NFL drive on Monday Night Football. And of course, there is the infamous "Seeing ghosts" game on MNF against the Patriots in 2019 when he threw four interceptions in a 33-0 loss to the Patriots.
I'm not sure why, but I have a really good feeling that this boring Thursday Night Football game is going to be remembered as the game that Sam Darnold became THE Sam Darnold the Jets wish they had drafted.  I know I didn't mention the Texans' defense whatsoever, but it doesn't really matter. They're still the same old shitty defense. Sam Darnold over 23.5 completions (+100) is the play. I will absolutely be hammering the over on this one.
After two weeks, I'm sitting at 4-2(+2.03 units) when it comes to my posted plays. Tail at your own risk! You can find all these odds at DraftKings Sportsbook. Good luck everybody. Let's win some money. And, as always, bet responsibly! Feel free to shoot me a follow over on Twitter and Instagram: @dvivolo6
RYAN'S BEST BETS
This is the first Thursday Night Football installment of my Monday Night/Thursday Night prop bet series. I like to consider one pick from each team, as well as a "long shot" pick. Last Monday, my player prop picks went 2-1, which is also my overall record for the season.
Christian McCaffery Over 6 Receptions (-115)
Christian McCaffery is clearly the focal point of this offense. He had six targets (and six receptions) against a stout New Orleans Saints defense and nine receptions on nine targets against the New York Jets. I expect this to be a game where the Carolina Panthers feed their best player and try to get him open in space against some poor coverage linebackers.
Davis Mills Over 213 Passing Yards (-110)
I expect Mills to throw the ball 30-35 times this game. As clear underdogs, Houston should play from behind this game, and I very well think that could be the case. Tyrod threw the ball 33 times for 291 yards in Houston's Week 1 win over Jacksonville. Mills threw for over 100 yards when he was put in the game against Cleveland, and I expect this Houston coaching staff to scheme up some easy completions for their rookie to move the ball downfield.
Defense/Special Teams TD is Scored (+200)
As noted, Mills is making his first career start against a very underrated Carolina Panthers defense. Expect the Panthers to bring the pressure Thursday night, with Brian Burns and Derrick Brown leading the charge. If you're feeling risky, I think the nearly 2/1 upside here is worth taking. You would have to rely on a rookie QB to make a mistake and the Panthers to capitalize, which they certainly could. Whether it be a forced fumble recovery or an interception caused by pressure, I wouldn't put it past the Panthers' defense to take one to the house.
Be sure to follow us on Instagram for more player prop bets before kick off.