Player Stock Ticker
NFL DFS: DraftKings Week 3 Picks & Value Plays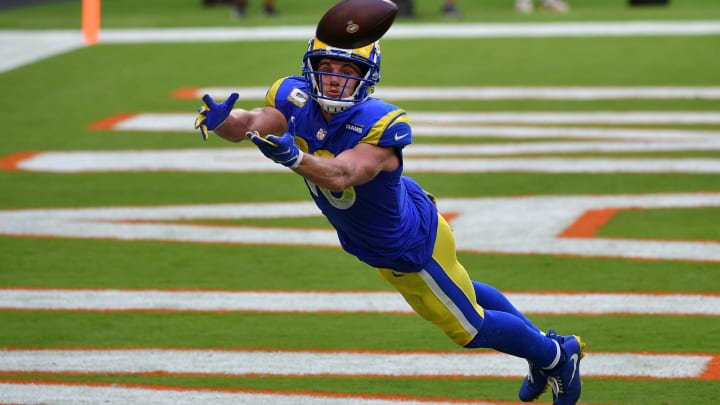 We had ourselves a solid Week 2 with a handful of hits and good plays, but unfortunately missed on the Derrick Henry explosion that occurred in Seattle. Hit on a handful of receivers, but just cannot pick the right Seahawks or Jaguars receivers to save my life. But alas, we move on to bigger and better performances for Week 3 as the picture starts to become more and more clear.
So, let's get started and continue to print out that money.
QUARTERBACKS
Kyler Murray ($8,300)

Playing at an MVP caliber right now, Murray is simply doing it all. With no resemblance of a true running game, Murray's ability to run and score in back-to-back games has elevated his game to an elite level on top of already solid passing numbers. A matchup with the Jags this week is a plus matchup to Kyler.

Tom Brady ($6,800)

TB12 has put up back-to-back 30 point weeks in 2021 and his Week 3 salary is sandwiched between his previous two weeks' amounts. A bit perplexing which the Rams defense might have something to do with, but Brady is playing at an elite level right now with no signs of slowing down. Antonio Brown landed on the COVID-19 list this week which might hurt a bit, but Brady continues to put up points left and right.

Justin Fields ($5,200)

The time has come. Andy Dalton is hurt and ruled out this week, so Justin Fields will get his first NFL start against the Browns. Fields' rushing upside has been on display in his short NFL stint as he rushed in for a score in Week 1 and rushed 10 times in Week 2. He kind of struggled to throw against the Bengals which is a bit surprising, but with a full week of first-team reps and an offense designed for Fields' abilities, he should fare much better in his first start.
Other intriguing QB salaries: Lamar Jackson $7,800 (vs Ravens), Kirk Cousins $6,300 (vs Seahawks), Daniel Jones $5,800 (vs Falcons), Teddy Bridgewater $5,800 (vs Jets)
RUNNING BACKS
Dalvin Cook ($8,400)

This of course hinges on Cook's health heading into Sunday, but if he's active, Cook finds himself in a fantastic spot for Week 3. He's received over 20 carries in both games while adding in some receiving work. Cook gets a Seahawks defense that was just punished by Derrick Henry.

Austin Ekeler ($7,200)

After a Week 1 where Ekeler had zero receiving work (not even a target!), he got right back on track with nine catches and looked like a true three-down workhorse. The Chargers will have the Chiefs coming off a loss, but the offenses should be humming here. Plenty of points should occur, meaning Ekeler should be targeted heavily again.

Saquon Barkley ($6,500)

It's been an extremely underwhelming start to the season for Barkley, but he's also been working back from his ACL injury so it was expected to take a bit of time. He's been dominating RB snaps out of the Giants backfield, and the offense itself is starting to look much better. This week, the Falcons should be a welcomed matchup for Barkley and the Giants.

Javonte Williams ($4,900)

The rookie out of UNC has put up modest numbers thus far, but nothing spectacular to jump off the page yet. Albeit in a committee, Williams' stock is slowly rising, and a game against the Jets might just be the springboard to launch his 2021 stock to new levels.
Other intriguing RB salaries: JD McKissic $5,200 (vs Bills), James White $4,900 (vs Patriots), Cordarrelle Patterson $4,600 (vs Giants)
WIDE RECEIVERS
DeAndre Hopkins ($8,200)

Nuk was held mostly in check by Patrick Peterson last week, but don't think he can be caged for two consecutive weeks. Especially with the Jaguars up next on the schedule, Hopkins looks like a prime bounce-back candidate against an awful defense.

Cooper Kupp ($6,800)

Cooper Kupp has been flying up The Wolf's rest of season big board, and rightfully so. Kupp is the clear target hog in LA with Matthew Stafford under center and his numbers are very impressive, registering double-digit targets, 100+ yards, and a touchdown in both games this season. Operating out of the slot, Kupp should avoid Carlton Davis and continue to produce in a high-scoring affair against the Bucs.

Mike Evans ($6,300)

After a terrible Week 1, Evans bounced back wonderfully in Week 2 for 5-75-2 good for 24.5 DK points. This week, Evans gets a positive bump likely avoiding Jalen Ramsey, who'll likely cover Chris Godwin, and Antonio Brown potentially out of the lineup.

Chase Claypool ($5,800)

Somewhat similar to Mike Evans, Chase Claypool should see some increased targets and is looking for a near 100% snap rate should Diontae Johnson be ruled out with his knee injury. Claypool is super talented and the only thing holding him back has been the abundance of pass-catchers eating up other targets. Diontae, being the alpha, garners a large portion of those targets so his absence would be a huge boost to Claypool against the Bengals.

Darnell Mooney ($4,300)

Justin Fields should unlock Darnell Mooney's ceiling. He's had solid target numbers in both games and would be the favorite to convert a long ball into a big score. Fields will bring some kind of magic to the offense this week, and Mooney should benefit.
Other intriguing WR salaries: Stefon Diggs $7,600 (vs Washington), Tyler Lockett $7,400 (vs Vikings), Adam Thielen $6,700 (vs Seahawks), AJ Brown $6,500 (vs Colts), Sterling Shepard $5,900 (vs Falcons), Marquise Brown $5,600 (vs Lions), Odell Beckham Jr $5,300 (vs Bears), Rondale Moore $5,000 (vs Jaguars), Marvin Jones $4,900 (vs Cardinals), Quintez Cephus $3,900 (vs Ravens), KJ Osborn $3,500 (vs Seahawks)
TIGHT ENDS
TJ Hockenson ($5,200)

The preseason hype for TJ Hockenson has lived up to the expectations. Operating as the clear No.1 option in the passing game, Goff has been going Hockenson's way early and often. 20-plus point performances in back-to-back games now, there's no slowing down this train — especially against this Ravens defense.

Kyle Pitts ($4,900)

It's been a slow start for the rookie TE phenom, but Kyle Pitts' target numbers have been solid and he's been running a high number of routes on Matt Ryan dropbacks. His average yards per catch is climbing, and it's only a matter of time before he starts finding the end zone and closing in on 100-yard games. He gets a juicy matchup with the Giants.
Other intriguing TE salaries: Rob Gronkowski $5,500 (vs Rams), Austin Hooper $3,600 (vs Bears), Maxx Williams $3,200 (vs Jaguars)
DST
Denver Broncos ($4,300)

I'm a big fan of the Broncos' defense and what they do at all three levels. They are playing very well right now, and welcome in the Jets and rookie Zach Wilson who just looked awful against the Patriots last week. It could go from bad to worse for the Jets real quick.

Tennessee Titans ($2,400)

The Titans' defense has been bad, allowing 30+ points in each game, BUT Carson Wentz is dealing with two (!) sprained ankles and could be ruled out for Sunday's game. If that's the case and Jacob Eason is under center, then the Titans look like much better value this week.
Other intriguing DST salaries: Las Vegas Raiders $3,400 (vs Dolphins)
Do you have any early leans? Questions about which guy you should go with this week? Want to yell at me for missing an obvious play? Sound off below or hit me up on Twitter where you can follow for daily news or advice on players.