Player Stock Ticker
Tony Pollard Possesses Standalone 2021 Fantasy Football Value Alongside Ezekiel Elliott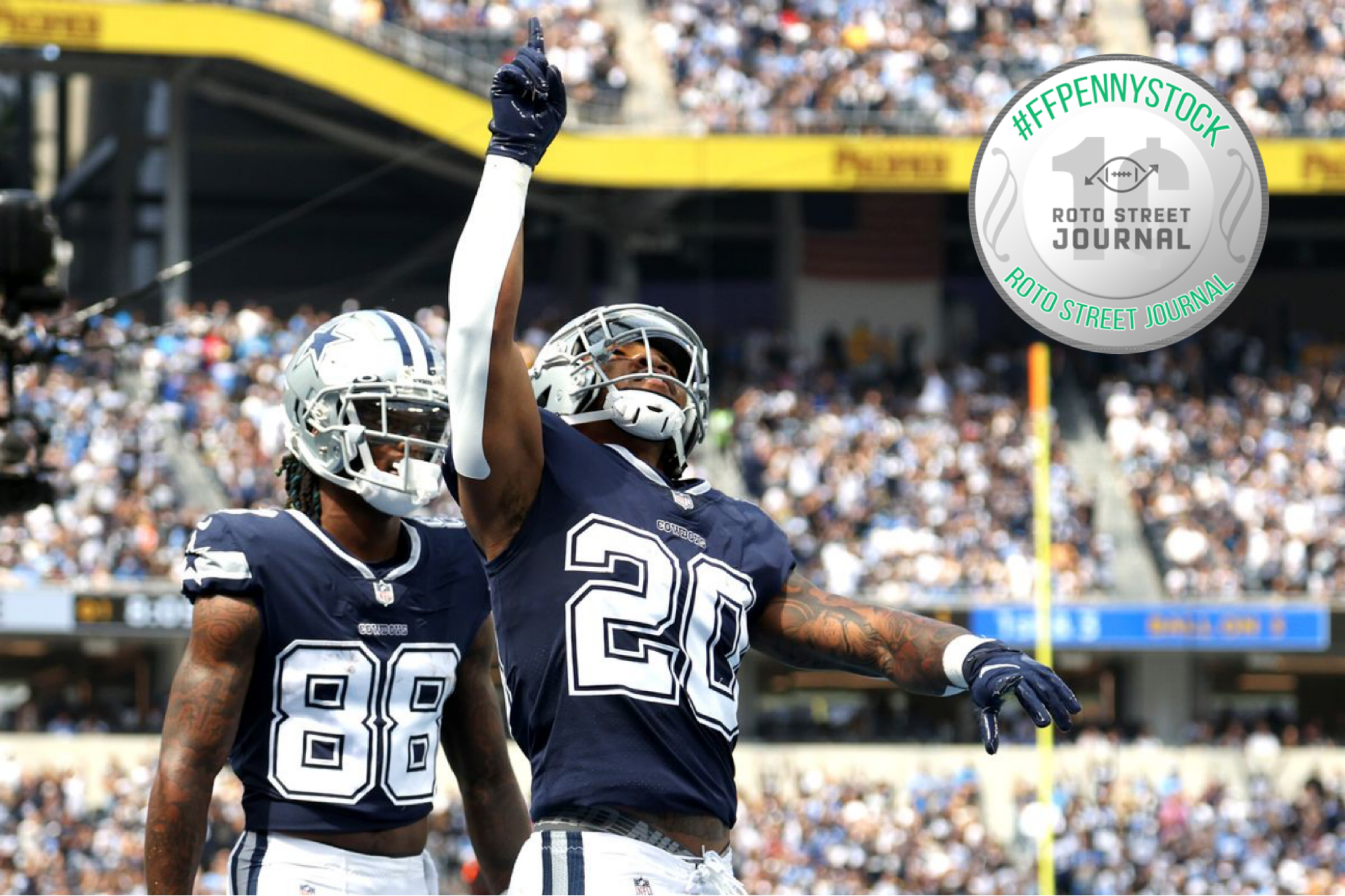 Last week I told Ezekiel Elliott fantasy owners to #relax and everything would be just fine. But after Tony Pollard outshined Elliott in Week 2, we could be on the brink of a full-blown committee in Dallas.
Pollard racked up 140 total yards and a score on 16 touches, making him not only the best handcuff in the league but a handcuff with benefits, aka one with standalone value. Pollard's 16 touches made him a significant part of Kellen Moore's offense and both the snaps and number of touches are inching closer and closer by each passing week.
Ezekiel Elliott out-snapped Tony Pollard 45-21 yesterday. But Zeke only handled:

* 55% of the RB carries
* 40% of the RB targets

Pollard has turned 23 touches this season into 183 yards plus one TD.

— Adam Levitan (@adamlevitan) September 20, 2021
I excused Elliott's lackluster Week 1 performance due to the Bucs' strong run defense and game script. Moore dialed up 58 passes against the Buccaneers. But with the Chargers geared up to stop the pass, the young OC leaned on the run, rushing 31 times and finishing with 198 yards on the ground. While Elliott averaged a solid 4.4 yards per carry on 16 carries, Pollard looked like the more dynamic runner on his 13 carries.
"I see it as a great asset to this team. You don't have an issue. We can have more carries or more touches by the running back, and in my opinion, will. Because both the players are outstanding out of the backfield as receivers, and quite a threat," Jerry Jones said during a radio interview on 105.3 The Fan. "When you see (Kellen) Moore, our coordinator, doing the job he did to neutralize (the Chargers) defense, you see what getting the ball out quick, getting the ball outside to those backs can do."
As Zeke's "backup," Pollard won't amount to anything more than a Flex play with Elliott in the lineup. But, he does have standalone value and should see over 13 touches per game going forward. Most importantly, Pollard is still out there on 66 percent of Week 3 waiver wires. That needs to be changed this week.
"TP ran his tail off today," Elliott told reporters. "He's definitely a great back, all around, he can catch it, he can run it. He's smaller, but he runs hard. He breaks a lot of tackles. He had a hell of a day. I'm proud of him. I'm glad that he went out there and did his thing."
While Cowboys fans might want Pollard to take the reigns, the third-year back said there's no controversy between the two running backs.
"We're good," Pollard said. "As long as we're winning, everything is fine."
Elliott has dropped to RB11 (-5 vs ECR) on The Wolf's Rest of Season Fantasy Football Rankings, while Pollard checks in at RB31.