Player Stock Ticker
Chiefs vs Ravens: Player Prop Bets to Hammer for NFL Week 2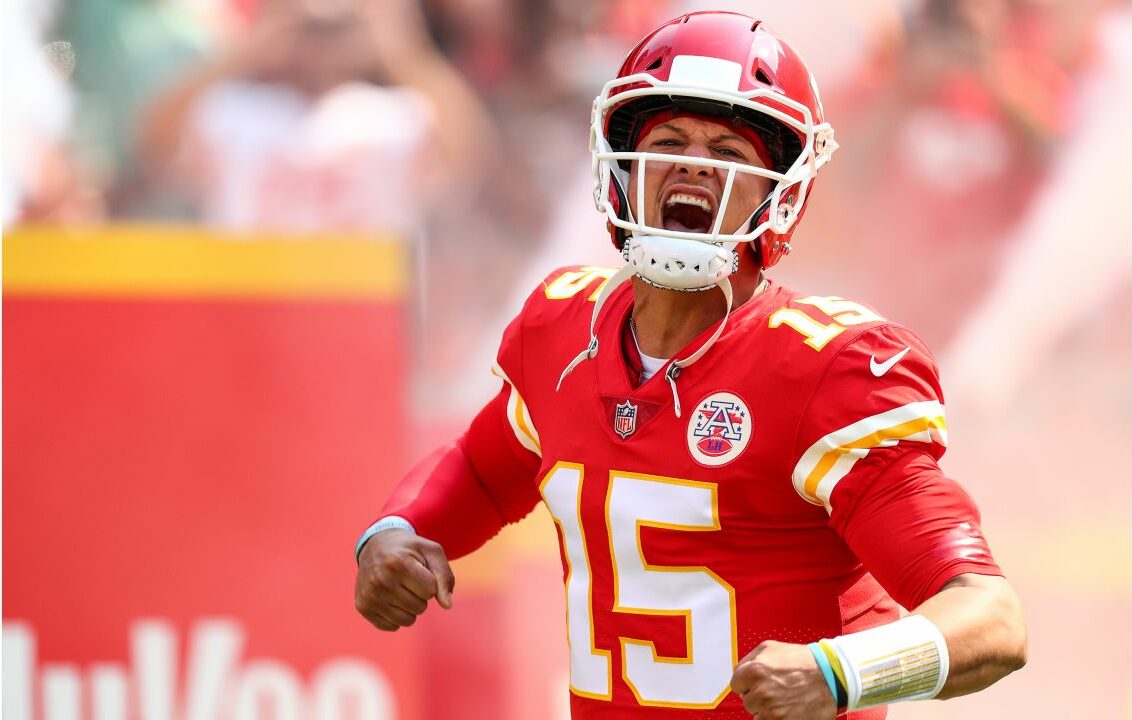 (Andrew Mather/ Kansas City Chiefs)
Week 2 is officially underway and the New York Football Giants fucking suck. I feel like it's not talked about enough how bad they've been since the infamous boat picture. The Giants are an NFL worst 18-48 since they posted that picture in January 2017. And thanks to Antonio Gibson and his 69 rushing yards (NICE), the Giants are now 0-2 this season. I'd really like to thank Gibson for using every last snap he had on Thursday to cash over 67.5 rushing yards(-110). Never a doubt!!! With the win on Thursday night, we're back above .500 sitting at 3-2 (+1.03 units).
Although we've got a great slate of football today, I have just one player prop. I'm setting my sights on tonight's Sunday Night Football game as the reigning Super Bowl loser Kansas City Chiefs head east to take on the 0-1 Baltimore Ravens. I don't want to use the "G" word for my player prop, but it's as close as they get.
CHIEFS VS RAVENS
For my one and only player prop bet for NFL Sunday Week 2, I will be taking none other than Patrick Mahomes to throw over 2.5 touchdown passes (+100). I know what you're thinking, "this is clearly a trap." I. DONT. CARE. I know what you're thinking again, "this idiot said the same thing last week about Aaron Rodgers and he threw more interceptions than touchdowns." Again, WE DO NOT CARE. If DraftKings wants to give us plus-money on Patrick Mahomes passing props, that's on them! I will blindly take that bet every time. But luckily, we've got some numbers to back up this decision.
Mahomes has absolutely owned the Ravens in his career thus far. In 2020, Mahomes completed 31 of 42 passes for 385 yards and four touchdowns in a 34-20 win in Baltimore. In 2019, Mahomes completed 27 of 37 passes for 374 yards and three touchdowns in yet another win over Baltimore. And finally, in his 2018 MVP season, Mahomes actually had his most average game against Baltimore to date. Mahomes completed just 35 of his 53 passes for 377 yards and two touchdowns while also throwing an interception. Nevertheless, the Chiefs again got the win 27-24 in overtime.  I suspect the result tomorrow night will be eerily similar to the previous three.
Louis Riddick and Steve Levy mentioned Baltimore's Defensive Coordinator, Wink Martindale, no less than 1,000 times last Monday night. For as much as they praised the man, you'd think his defense would've looked a little sharper. However, Derek Carr threw for 435 yards and two touchdowns. Let's just be honest, the Ravens defense is certainly not what it once was. Matthew Judon and Yannick Ngakoue did not return this offseason. Marcus Peters and LJ Fort are out for the season. Marlon Humprhey and Patrick Queen are young studs, but Patrick Mahomes is going to absolutely torch this Baltimore defense on Sunday Night. I said I was going to say it earlier, but fuck it. I guarantee Patrick Mahomes will throw 3 touchdowns tonight. Lock it in!
Tail at your own risk! Or don't. What do I care? You can find all these odds at DraftKings Sportsbook. Good luck everybody. Let's win some money. And, as always, bet responsibly! Feel free to shoot me a follow over on Twitter and Instagram: @dvivolo6