Player Stock Ticker
Player Prop Bets to Hammer for NFL Week 1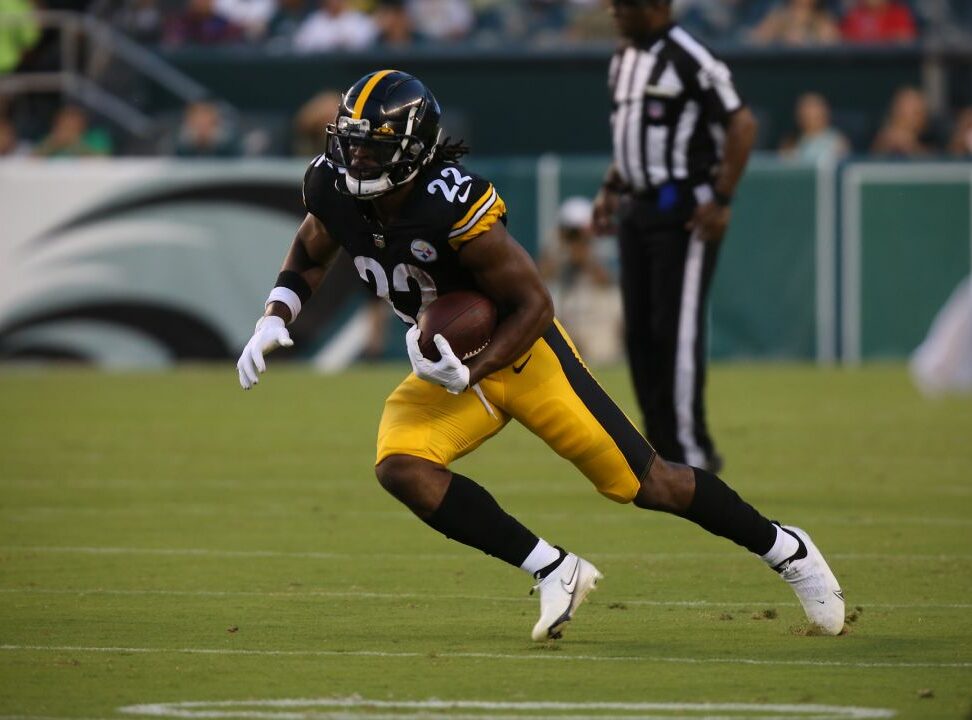 People keep asking me if I'm back. After Thursday night, I think I can definitively say
I mean… how easy were those three touchdowns?! Dread it, run from it, Tom Brady arrives all the same.  I barely finished my wings before Brady connected with Antonio Brown to cash over 2.5 touchdown passes (+135).  What a beautiful start to the season! Tom Brady is doing Tom Brady things. We're winning bets over here at Roto Street. Everything is right in the world. And we still have 15 more games in Week 1! Let's get to work and find some winners!
STEELERS AT BILLS
I think we can all agree that the most interesting game in the early time slot on Sunday will be taking place in Orchard Park, New York as the reigning AFC North Champion Pittsburgh Steelers head north to take on the reigning AFC East Champion Buffalo Bills. Say it with me one time. NOBODY CIRCLES THE WAGONS LIKE THE BUFFALO BILLS! All week I've been thinking about taking a Stefon Diggs or Josh Allen prop, but as I'm sitting here writing this blog something has come over me. I'm not sure if I'm an idiot or the ghosts of the Primanti Brothers have possessed me, but I LOVE this matchup for Najee Harris and the Steelers. So, it looks like I'm going to have to call an audible and take Najee Harris to score a TD (+120).
Don't get me wrong. The Bills offense last year was AMAZING thanks to Josh Allen and Brian Daboll. But, I was never really sold on their defense. Sure, they have some studs like Tre'Davious White and Tremaine Edmunds. But is anyone really afraid of this defense? I mean, they gave up 21 rushing touchdowns last year! That's good for the sixth-most rushing touchdowns of any team in the league. This Buffalo defense is soft and Najee Harris is going to run all over them come Sunday.  Last season, James Conner and Benny Snell combined for only 10 red zone touchdowns. I could see Harris surpassing that total by himself this season as he looks to take home Offensive Rookie of the Year. And it all starts Sunday in Orchard Park. Najee Harris is scoring a touchdown Sunday. Book it!
PACKERS AT SAINTS
Sure, the Cleveland Browns visiting the Kansas City Chiefs is a nice rematch from last year's divisional round of the playoffs. But we all know how that one is going to end. Patrick Mahomes is going to throw some no-look passes and Travis Kelce will likely score several touchdowns. We've seen it all before. Sorry Browns fans. Starting off the season 0-1 is never fun. And while that may very well be the best game of the afternoon slot, I will not be super focused on it. Instead, I'm going to check out what the reigning MVP has left in the tank as Aaron Rodgers and the Green Bay Packers travel to Jacksonville to take on the New Orleans Saints. Yep. You read that right.
Side note: As a Las Vegas Raiders fan, I just want to wish the city of New Orleans well.
But the real reason I will be so engaged in this game is that for my second pick of the day, I am taking Aaron Rodgers over 2.5 passing touchdowns (+145). Am I missing something here? Is this a trap? Even if it is, this line us just too juicy not to take. I mean this is Aaron FUCKING Rodgers we're talking about! The man threw at least three touchdowns in 12 of his 16 regular season games last season including three against the Saints in a Week 3 win. Long hair, pissed off Aaron Rodgers might be the best we've ever seen of the 37 year old quarterback and I can't wait to watch. Aaron Rodgers over 2.5 touchdown passes—take it to the bank!
BEARS AT RAMS
For my third and final pick of the day, I will be going from one aging quarterback to another as Matthew Stafford and the Los Angeles Rams play host to Andy Dalton and the Chicago Bears on Sunday Night Football. In his first game with his new team, Stafford is already playing in prime time— a feat he hasn't accomplished too often besides Thanksgiving Day. Will he fold under the pressure? I personally don't think so. I think the best of Matthew Stafford is yet to come and that is why I will be taking Matthew Stafford over 274.5 passing yards(-115).
Luckily for Stafford, his first game with the Rams is against an old NFC North foe in the Bears. Dating back to 2017 when the Bears traded for Khalil Mack and were the number one defense in the NFL, Stafford is averaging 291 yards per game against Chicago. Just last year, he threw for 297 and 402 yards respectively against this iteration of the Bears' defense.  If Stafford can put up 402 yards passing with the Lions, he will blow this total out of the water with this high-powered Rams offense. Robert Woods and Cooper Kupp are going to thrive with Stafford under center. It's weird to say this since he has been in the league for 12 years, but America will have a newfound respect for Matthew Stafford after he's through with the Bears Sunday night.
As far as I'm concerned, we are going to ride the coattails of these great quarterbacks to a winning streak in Week 1. We are currently sitting at 1-0(+1.35). Tail at your own risk. You can find all these odds at DraftKings Sportsbook. Good luck everybody. Let's win some money. And, as always, bet responsibly! Feel free to shoot me a follow over on Twitter and Instagram: @dvivolo6