It's never a great start to your season when the sideline cameras snag a shot like this.  This image truly encapsulated the Tampa Bay backfield last night, while the other remaining facets of their offense looked unstoppable.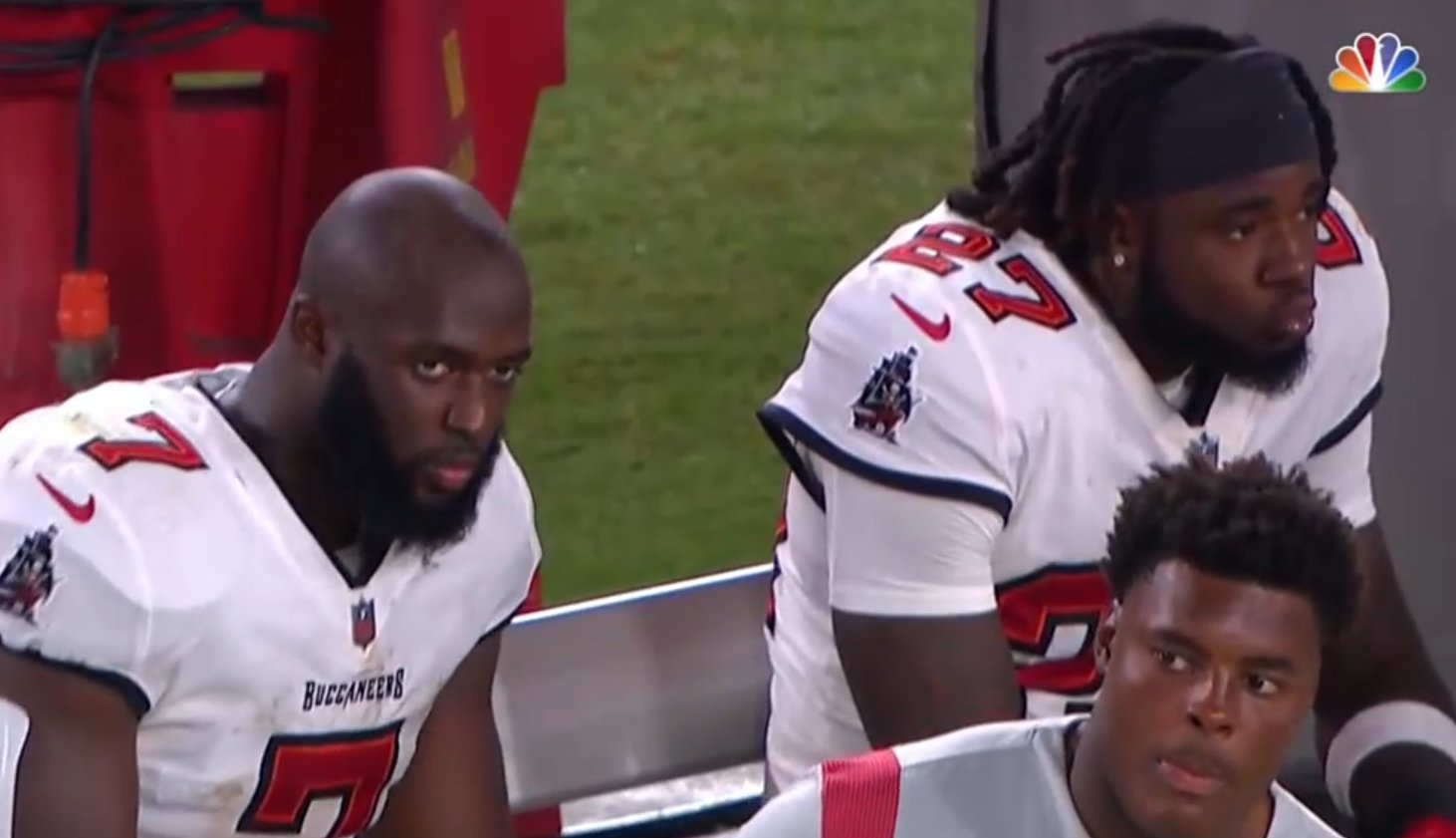 Ronald Jones II finished the night with just four carries for 14 yards and a fumble, for a sturdy -0.6 PPR points.  Jones also had no looks through the air.  Leonard Fournette, the Bucs' RB1, finished with a more acceptable 10.9 PPR points.  Nine carries for 32 yards is not a great line to begin the season, but Fournette made up for this with five receptions (seven targets) for 27 yards.
So, What does this opening performance mean moving forward for the Buccaneer RB stable?
The backfield for Bruce Arians seemed to be headed towards a timeshare from preseason analysis, but Week 1 was anything but.  Fournette paced all backs with 42 snaps, Giovanni Bernard was second with 17, and Jones rounded out the group with only six.
Jones lost a critical fumble, which flipped the field for the Cowboys and led to a short field touchdown.  This secured his backside firmly on the bench for the remainder of the game and cemented him on Arians' shit list.  The head coach said Jones was 'struggling mentally' following his fumble, and couldn't shake it off on the sideline.
"'Ro' was running really, really well until the fumble, and then he struggled mentally to get over it," Arians said of the 24-year-old tailback. "That was too big of a game and go out there and not be focused, so (Leonard Fournette) got the rest of the way."
Fournette did just enough to outshine RoJo last night, but he was far from effective.  He dropped an easily catchable ball that was inadvertently tipped and picked off, leading to three more Cowboy points.  However, the snap share discrepancy and the apparent void between Arians and Jones does bode well for Lombardi Lenny.
Tampa's gameplan reflected the opposite of many fantasy owner's expectations last night, as the Bucs flooded the secondary with 50 passing attempts from Brady and Co.  If this was Bruce Arians' script against a porous Dallas defense, owners can expect Brady to air the ball out throughout the season.
It's not time to give up on RoJo or Fournette just yet, both backs are still deserving of their round 8-12 selections.  That being said, there most certainly will be more instances where both Fournette and Jones struggle to find a rhythm and Arians abandons the run altogether.  Neither back should grace your starting lineup next week against the Falcons' wretched secondary.