Player Stock Ticker
2021 Jets Fantasy Football Preview: Zach Wilson, Elijah Moore, Michael Carter Provide Sparks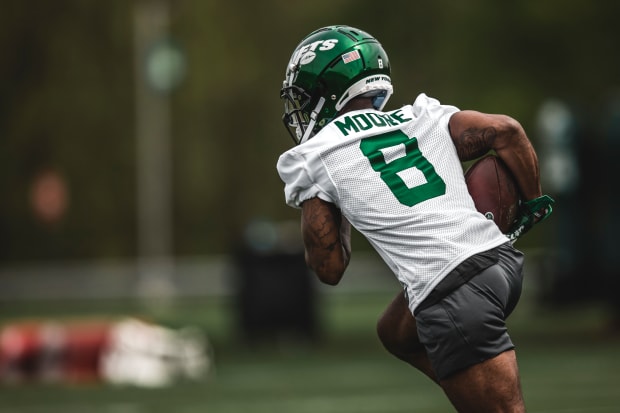 NFL offenses are like cars. They come in various different styles, depreciate in value quickly, and usually have a 3-5 year window of significant value. If the Chief's explosive passing offense is a Porsche, the Titan's Derrick Henry ground and pound game is a Ford F150.
What type of car does that make my beloved Jets? Likely something in the range of a 1994 Chevrolet Minivan. 
While it is tempting to focus on the Porsche when preparing to draft each year, I actually enter into each fantasy season by taking a look at each "Minivan" and assessing their weapons.  Usually, these teams will only provide one notable fantasy asset, and the key is to identify which weapon will be their "go-to" when they need to move the ball.  
Poor teams produce league-winning players every single year. 2020 saw James Robinson win thousands of leagues with the 1-15 Jaguars.  2019 was the year of Devante Parker, where the 5-11 'Fins alpha WR was the WR2 from weeks 8-16. Riding a diamond-in-the-rough player to the fantasy championship is a tale as old as time.
The first "Minivan" team I did a deep dive on this season was my beloved new-look New York Jets. I've been a loyal Jets fan since birth.  I know no other feelings than misery and blind loyalty when it comes to football, but I take pride in bringing objective and realistic projections when it comes to Gang Green.
A new head coach, offensive coordinator, new quarterback, and injection of young, exciting weaponry beg the question… are these the same old Jets?
Let's take a deep dive into the 2021 fantasy outlooks for all the key Jets players, including Zach Wilson, Michael Carter, Elijah Moore, plus what the coaching change to Robert Saleh and new OC Mike LaFleur will mean for these pieces.
Good Bye, Gase
I am a true believer that nothing makes a more significant difference on a team than the coaching staff.  Leadership is the engine that drives the vehicle, and Adam Gase was everything you want your engine not to be.  The so-called "quarterback whisperer" produced an offense that finished dead last in points scored and yards gained in back-to-back seasons.  An unaccountable, pompous, terrible leader whose personality drove talent out of New York from start to finish (Robby Anderson, Lev Bell, Jamal Adams, etc).  
Enter Robert Saleh… the antithesis of Gase.  Saleh has a vibrant and infectious personality who has one of the best reputations in the league amongst his peers.  He is a branch off of the Shanahan coaching tree, coming from his position in San Francisco commanding their elite defense.  He brings with him San Francisco passing game coordinator Mike LaFleur, who will bring the increasingly popular "zone run" scheme plus a quick-hitting passing game that maximizes motions and timely play-action shots to New York.
I struggle to think of one person on Earth who believes that the Jets did not make a massive upgrade in their leadership team this offseason.  Gase's friends and family would likely agree that Saleh is a huge upgrade from their loved one.
Ryan Tannehill

w/ Adam Gase: 87.0 passer rating
w/out Gase: 117.5 (led league)

Le'Veon Bell

w/ Gase: 14.3 PPR/G
w/out Gase: 21.9 (most ever)

DeVante Parker

w/ Gase: 8.1 PPR/G
w/out Gase: 15.4 (WR1)

Kenyan Drake

w/ Gase: 8.4 PPR/G
w/ Cardinals: 19.9 (RB1)

— Scott Barrett (@ScottBarrettDFB) July 23, 2020
Will Zach Wilson Live Up to the Hype?
I am a huge Sam Darnold apologist. 
I firmly believe that Darnold is talented enough to be a winning quarterback in this league in a better situation and he might have finally found that with the Panthers. This is a whole can of worms that is not completely relevant to this article, but just know that I am of the opinion that the Jets should have traded the No. 2 pick for a haul and built an actual team around Darnold. 
Regardless of my opinion of Darnold, the new face of the New York Jets is 21 year old Zach Wilson, referred to by some as the "Mormon Mahomes." Comparing any rookie QB to Mahomes is a recipe for disaster, especially a one-year wonder coming out of Provo, Utah.
In an offense that relies on a short accurate passing game to accompany their run-heavy tendencies, I expect the vast majority of Wilson's passing attempts to be within 10 yards of the line of scrimmage.  The transition from BYU's schedule to the AFC East cannot be expected to be made without some early growing pains, and I expect Saleh and LaFleur to "keep the training wheels on" for at least the first six weeks of this season.  Due to this run-heavy scheme and my expectation of limited shots downfield, I do not expect Zach Wilson to be a usable fantasy QB in his first season.  
With that said… the New York hype machine seems to disagree with me.
While I still believe Saleh and LaFleur's offensive scheme will limit the upside that Zach Wilson can provide fantasy owners as a rookie, I certainly see the appeal of grabbing him as a cheap lottery ticket type of pick.  His current ADP in best ball and dynasty leagues has him going for virtually free, and it is possible that Wilson is simply too good to ease into the NFL.  While I don't expect it to be the case, it would not shock me considering some of the above reports coming out of camp. 
Final verdict on Wilson: Stay away from him in redraft, but feel free to take the cheap shot in best ball or dynasty. 
Revamped Offensive Line
In San Francisco, LaFleur did a commendable job of utilizing a running back by committee to efficiently run the ball.  In 2020, he took two low draft capital backs in Raheem Mostert and Jeff Wilson and turned them into fantasy assets (when healthy). However, I attribute this success to being a product of having a strong run-blocking offensive line.
Last season, the 49ers offensive line was ranked 2nd by PFF in run blocking.  LaFleur is taking his zone run scheme to an offensive line who ranked 20th in run blocking last season. 
While the Jets did trade up to select Alijah Vera-Tucker, an athletic left guard out of USC, at 14th overall in the draft, this only solidified the left side of the Jet's offensive line. The Jets' o-line was built like a left-handed arm wrestler.  Huge and strong on the left side while neglected on the right side.
Enter the mammoth of a man named Morgan Moses.  The Jets recognized their lopsided line and took advantage of the Washington Football Team's salary cap casualty, signing Moses to a one-year deal.  This solidified the starting right tackle position, which was slated to be a massive weakness for this offensive line.  Moses is an elite run blocker, ranking 6th in 2020 PFF grade out of the leagues' 52 qualified tackles. He is an average pass blocker, but the value he brings to this new Jets zone-run scheme cannot be overstated.
Talent Boost in the RB Room
The run game is going to be the bread and butter of the Jets' offense during the Saleh and LaFleur regime.  One would think Gang Green's valuable fantasy asset would come out of the backfield….. Right?
Gang Green added UNC's Michael Carter at the top of the 4th round, to join coaching staff favorite Tevin Coleman and mediocre backups Ty Johnson and La'Mical Perine from the Adam Gase regime.  
I expect the usage of the Jets' RBBC to be similar to last season's two-headed monster in San Francisco with Jeff Wilson and Raheem Mostert.  Last season, Mostert rushed the ball 13 times a game for an average of 5 yards a carry, while Wilson played the "1B" role rushing 10.5 times a game for 4.8 yards a carry. 
While I expect the 28-30 rushing attempts per game to translate over to New York, I don't expect the same efficient level of production for Carter and Coleman.  The weaker offensive line will slightly take its toll on the efficiency of the RBs.  
That being said, I do like Michael Carter for fantasy purposes this upcoming season.  His ADP currently has him going around RB50, and I love his chances to provide sneaky value throughout the season.
While Coleman will likely get the first crack at the "1A" job in the committee, I cannot imagine he stays healthy for too long after missing 10 games over the past two seasons. The value of getting a young RB that late in the draft who can easily expect 10-12 rushes a game plus receiving work is something that you cannot pass up.  
Carter is a value at his current ADP, and has massive value potential should Coleman go down to injury.  Outside of Najee Harris, I struggle to think of another rookie RB with less competition for 15-17 carries a game. 
Carter is also a picture-perfect fit for the zone-blocking scheme that the Jets aim to execute.
"I think my change of direction and stop-start ability complements this system well," Carter said. "I've been running wide zone pretty much since I was born, so it's something that really comes natural to me. It's one of those systems where we ran a lot of it in college, in high school I did, and even youth football. I'm very familiar with it."
"Michael's got tremendous vision, he's got tremendous speed, burst, he's got the ability to make people miss," Saleh explained. "He's good on third down, coming out of the backfield in the pass game and he's pretty stout in protection. For him to be where he was at 107 was a major surprise to all of us, including Joe and his staff. Felt like it was a no-brainer at that point."
Here's some evidence of the clear pass-catching ability: 
WOW @8kMike 👀 pic.twitter.com/2N7WycQnaB

— New York Jets (@nyjets) June 15, 2021
If you couldn't tell by now, Carter is my clear-cut pick to be the most valuable Jets' fantasy piece for the 2021 season.  His current ADP is a sign of fantasy owners not wanting to own a Jets RB.  Take the value of the good scheme fit with little competition and run with it.
Wide Receivers
The Jets wide receiver group is looking surprisingly deep after some offseason acquisitions.
After signing Corey Davis to a 3 year, 37.5 million dollar contract, Saleh and LaFleur drafted Elijah Moore with the 34th overall pick.  A consensus first round pick who fell in the early second round, Moore oozes with potential to become the Jets' alpha WR1 for years to come.  
Ole Miss has a case to trademark the nickname "WRU", as they have consistently produced difference-making wide receivers in the past few years.  The past two wide receivers from Ole Miss to be drafted in the second round? DK Metcalf and AJ Brown. 
Not sure if you believe in the talent of Elijah Moore? AJ Brown does. Listen to him literally tell Moore that he is the better WR of the two:
"I couldn't do none of the shit you do. I never told you this but you way better than me bro. The shit you do I'm still trying to do. The sky's not the limit for you, you can go as far as you want. Not worried about you. You're special. You going to be the best. I believe that." https://t.co/aL93E8L5dF

— Scott Barrett (@ScottBarrettDFB) May 1, 2021
It's also notable that Wilson seems to be getting along well with his new wideout. He recently said this when asked about Moore: "He's someone I want to be around because he wants to be great. He's definitely a motivating person. We're gonna have a good time doing this thing together."
The two also seem to be acquainting themselves with North Jersey's favorite Italian spots as well. 
Adding Moore and Davis to field-stretcher Denzel Mims, Jamison Crowder, and Keelan Cole makes the Jets' WRs a sneaky skilled group.
After convincing Crowder to take a significant pay cut, I am lower on the redraft potential of Moore and the rest of the group. Crowder's sticky hands in the slot demand a sizable target share, and I believe that Crowder and Moore will cannibalize each other's value early on.
With that said, Moore's skill and scheme fit make it very possible that he could be the next league winner that nobody saw coming.  One injury to Crowder/Davis or him simply commanding the alpha WR1 role sooner than expected could turn him into a sneaky gem.
There seems to be a league-winning rookie WR every year. Two years ago saw Terry McLaurin take over as the rookie alpha in a barren Washington passing game.  This past season saw Justin Jefferson start the season as Adam Thielen's sidekick, only to become the unquestioned alpha (WR7) by the season's end.  Both were double-digit round picks, and both of these players commanded the largest piece of the passing pie by the end of their first season.  
While I believe you will likely be frustrated by a crowded WR room early in the season, I love the idea of taking Elijah Moore in all formats. If you can withstand the first 4-6 weeks of Moore establishing himself as the alpha that I firmly believe he is, he will be worth the investment.
Leave Crowder, Davis, Mims, and Cole for others to take. Not enough upside. If you are going to take a later round shot on any Jets WR, make it Elijah Moore.
Tight Ends
When I initially wrote the rough draft of this article a few weeks ago, I had Chris Herndon slotted in as a sneaky TE pick in best ball drafts. Herndon has shown flashes of talent and potential over his first three seasons, but was criminally underutilized by Adam Gase. He also was slated to be the starting tight end for a LaFleur offense who produced multiple pro bowl seasons for George Kittle. 
That was until training camp reports came out of Herndon running with the backups. Reports of him struggling to grasp the playbook and his lack of blocking prowess have led to him handing over first-team reps to Tyler Kroft and Ryan Griffin.  
So unfortunately (for now), #ChrisHerndonSZN is off.  I hope that changes, but for now just avoid the Jets' tight ends as a whole.
2 Rookies Set to Ascend
Michael Carter is the Jet to own for the 2021 season. Meanwhile, Elijah Moore will emerge as the alpha WR1 for the Jets late in the season, making him a much better pick in dynasty than in redraft. He could end up being a prime "buy low" candidate in the midst of the season. The Wolf couldn't be higher on Elijah Moore, ranking him at WR42 (+33 vs ECR) on his 2021 Fantasy Rankings.