Player Stock Ticker
Tyler Higbee 2021 Fantasy Football Breakout Tight End After Gerald Everett Departure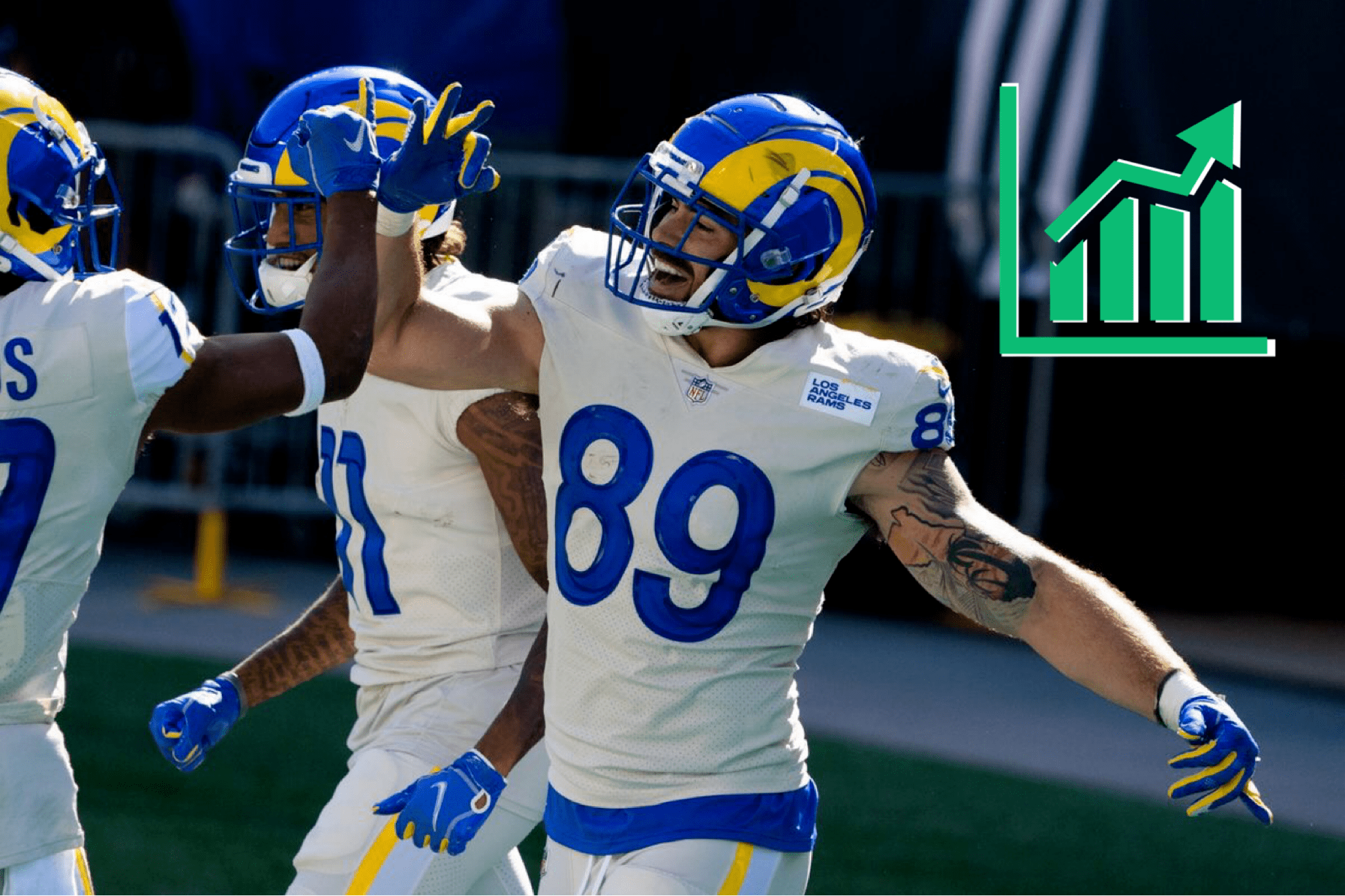 After the Rams let Gerald Everett walk in free agency, to a divisional foe, Tyler Higbee quietly became a monster 2021 fantasy winner. Losing a player like Everett may not sound like much, but we're all old enough to remember 2019 when Higbee absolutely went OFF in the fantasy playoffs and helped many, many fantasy owners bring home fantasy championships.
As the Rams' lone pass-catching tight end, Tyler Higbee's 2021 fantasy outlook is set to shoot to the moon.
Over the final five weeks of 2019, Higbee was the No.1 scoring TE in all of fantasy football. He racked up 23.7 (TE1), 18.6 (TE5), 23.1 (TE3), 19.4 (TE7), and 22.4 (TE1) fantasy points across that stretch, averaging over 20 FPs per contest. The volume was particularly incredible, as Higbee registered over 11 targets in four of those five games, racking up 100-plus yards and/or a touchdown in all five games.
As a result of that process, Higbee became the most likely tight to bring owners a fantasy championship. He was rostered on a position-best 21.3 percent of winning fantasy teams in 2019.
Higbee's ENORMOUS spike occurred once Everett got hurt, but luckily for Higbee's 2021 fantasy outlook, Everett is no longer a member of the LA Rams.
With Everett out of the lineup, Higbee played 90 percent of the snaps in all five games, and the production followed: 56 targets (11.2 avg per game), 43 receptions (8.6), 522 yards (104), and 2 TDs. This amounts to an absurd pace of 138 receptions (180 targets), 1664 yards, and 7 TDs.
Take a look at the splits: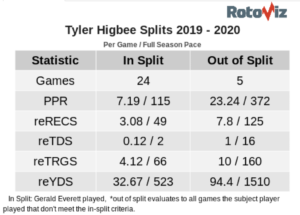 Obviously, this pace is hilariously unsustainable, but unlike many of the dart throw TEs out there, we've seen an elite stretch of high upside games from Higbee. 
Not that you needed to be sold on Higbee anymore, but what I have yet to mention is the Rams' big offseason move they made. Oh yeah… Matthew Stafford has finally been freed from the Lions' shackles. Stafford has never played for a coach like McVay with a full cast of weapons like he now has in LA.  
As the full-time starter, Higbee will have increased snaps, targets, catches, and yards, and will catch balls from a QB who is far better than the one he was able to dominate the league with two seasons ago. Keep an eye on Higbee's ADP as fantasy draft season approaches. He could be a nice mid-to-late round piece with immense upside. 
Higbee comes in at TE11 (+11 vs ECR) on The Wolf's 2021 Fantasy Rankings and Big Board.