Player Stock Ticker
Daniel Jones Updated 2021 Fantasy Outlook: Quality Late Round QB Sleeper Stab with Kenny Golladay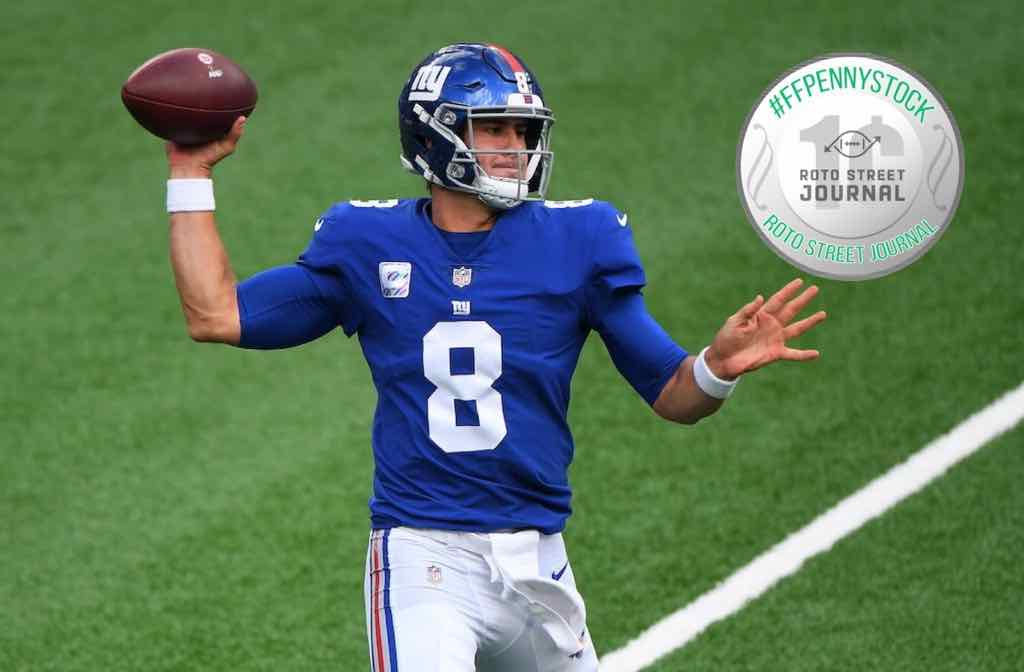 Daniel Jones slid backwards in 2020, and hard. After ranking QB12 in fantasy points per game as a rookie, Jones fell all the way to QB31 (15.8). In fact, he topped his 20.6 FPPG rookie average just twice all season, his only two Top-12 QB efforts (14%).
In a word: ew.
Enter Kenny Golladay, the ultimate remedy of the 2021 Free Agency crop. When healthy, BabyTron is a bonafide Alpha. A 6'4″ monster with 4.50 forty speed that turns 50/50 jump balls into 65/35s.
We just saw what a WR1 injection did for third-year Josh Allen and the entire Bills offense. Could Jones' fantasy outlook and the Giants take a similar leap in 2021?
Daniel Jones isn't Josh Allen, but…
No, Jones isn't on Allen's level in any way, shape, or form. Yet.
The third-year Giant still has the physical gifts to approach that ceiling, though. Specifically, Jones can sling the deep ball. He ranked 1st in NFL Passer Rating on passes of 20+ yards (132.5), while grading out third in PFF Deep Passer Grade (95.6). This, while throwing to largely trash.
Though not the runner of Allen, Jones actually finished sixth among QBs in rushing yards. He ranks in the 61st percentile for forty-yard (4.81) and 82nd for burst score (118.6). Assuming the turf monsters stop ripping him down, Jones can bring a little Konami to his game.
Deep passing + rushing = huge fantasy ceiling. Despite a horrific sophomore season, Jones flashed his enormous upside regularly as a rookie. In fact, Jones trailed only Lamar Jackson in 30+ FP days among QBs, with 4+ TDs gems in four of his 12 starting games (33%).
Reminder: this all came before Golladay joined his weapons cabinet. With an Alpha WR1 + Saquon Barkley back + an improved line, Jones will have zero excuses for failure.
Well, except…
Jason Garrett is still the Giants OC
Despite finishing 31st in total offense and points scored, the Giants brought back Jason Garrett as offensive coordinator in 2021. They topped 23 points just once in their final 11 games. Woo!
No amount of sugar or clapping can cover up a clear fact: Garrett sucks.
I really can't figure out a way to spin this into a positive. Sure, those Tony Romo-led Cowboys put up Aerial Bonanzas. I think it's becoming clearer and clearer this was far more due to Romo than it was The Clapper.
The Giants ranked in the bottom half in pace, and only the Jets and Texans (?) ran fewer plays per game. Despite Jones' success on deep passes, Garrett kept him reigned in with only 43 attempts of 20+ yards — seven fewer than the season before, in four more games. Puke.
I guess the one positive here is continuity and stability. If continuing a shitty system is positive…
Yeah, I'm grasping. If Jones takes a third-year leap, it will largely be his own doing. He has the physical tools and especially the weapons with Golladay here. In Garrett's defense, his offenses have operated at their peak with an Alpha WR1 (Owens, Dez, Austin), and they didn't have one on the roster last year.
Now, Jones must become more cerebral, and Garrett must become infinitely better. Both are possible, though not plausible. Still, if you miss on Ryan Fitzpatrick (don't), you can do worse than Jones as a last-round QB2 dart throw, who slides in as my QB22.
Check out The Wolf's latest 2021 Fantasy Football Big Board & Rankings to see where all these players and more fall after 2021 NFL Free Agency!
Plus, stay up to date on all the Fantasy Football Value Swings! Bookmark our Fantasy Stock Watch. Even better, consume them in our cleanest format by downloading the Roto Street App