Player Stock Ticker
Chase Edmonds' 2021 Fantasy Outlook Ascends as Cardinals Potential "Bell-Cow" Running Back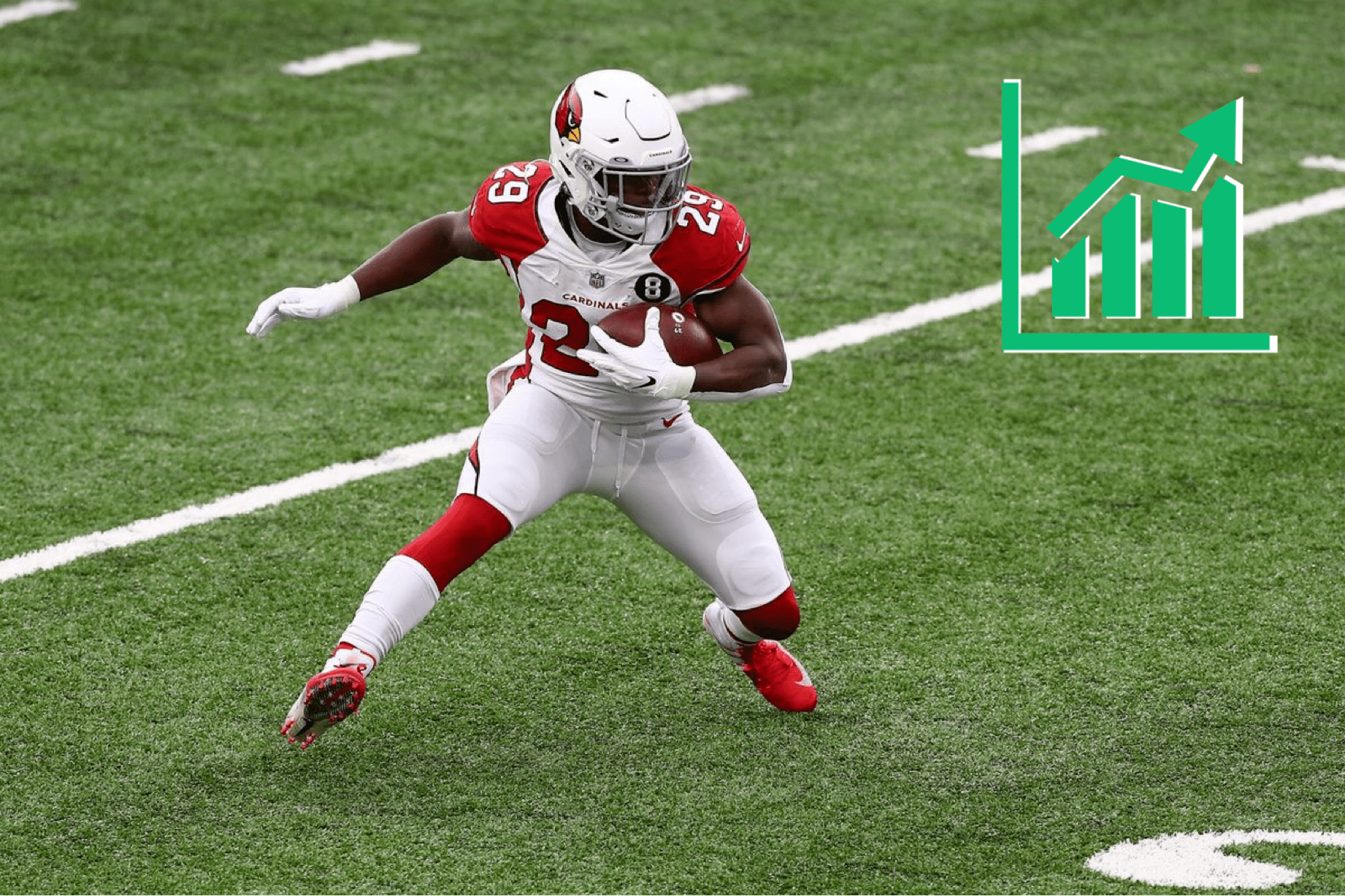 4/13 update: Chase Edmonds' updated 2021 fantasy outlook following James Conner signing with Cardinals
Kenyan Drake, one of Roto Street Journal's most significant 2020 fantasy whiffs, is set to become an unrestricted free agent. While Drake has had his moments in the desert, he's coming off a volatile season that left a handful of his owners on the sidelines during the 2020 fantasy playoffs. With the Cardinals and Drake likely to split up in a couple of weeks, Kliff Kingsbury is set to ride Chase Edmonds as the team's bell-cow running back. If things play out according to plan, Chase Edmonds' 2021 fantasy outlook should gain some steam as the three-down workhorse in Kyler Murray's offense.
The head coach met with reporters this week and was asked about a potential workload increase for Edmonds if Drake moves on from the team in free agency.
"As far as Chase goes, you've seen when he's had his opportunity, he's played at a starting running back level," Kingsbury said. "We all understand that he's unfortunately been nicked up a couple times, which we want to keep him on the field. But we have all the confidence in the world in Chase and him being able to be the bell cow if that's how this plays out."
Edmonds was able to take advantage of Drake's inconsistencies and injury issues in 2020. Edmonds totaled 850 total yards and five touchdowns, and also outpaced Drake's 4.1 yards per touch with a 5.7 average. He also started four games last season, including his most recent Week 9 start when he rushed for 70 yards and added three receptions for 18 yards.
This isn't the first time Kingsbury has sung Edmonds' praises. When Drake donned a walking boot during last year's training camp, the head coach had this to say about his backup running back.
"We all feel like he's a starting running back in this league, and he does, too," Kingsbury said in August 2020.
"We felt that confident in what Chase brings. When he had his opportunities, he shined, and he continues to shine. He can catch it, run it, block, play special teams, and he's really bright football-wise. He's everything you want."
Edmonds, who is coming off a career year, is set to become an unrestricted free agent in 2022. While most would expect the Cardinals to add some depth at running back in free agency or through the draft, it feels like Kingsbury envisions Edmonds as his 2021 lead back.
Chase Edmonds comes in at RB29 (+4 ECR) on The Wolf's 2021 Fantasy Football Rankings & Big Board.