Player Stock Ticker
NFL Wild Card Saturday Player Prop Bets to Hammer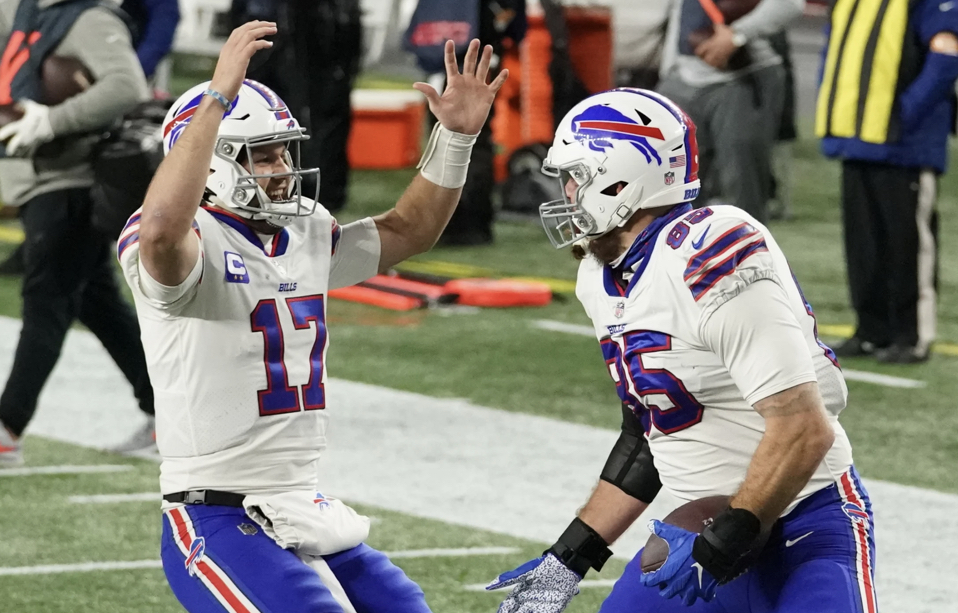 (Craig Melvin/ Buffalo Bills)
The NFL regular season has come to an end. Unfortunately, that means we have to wait a long nine months to hear Scott Hanson tell us that seven hours of commercial-free football start now! But that's a problem for "future us." As for "present-day us", we have six wild card games to look forward to in what could only be described as SUPER WILD CARD WEEKEND.
This is the first time that we've ever had three games on both Saturday and Sunday, and that's not even the best part: we now have six playoff games of player props for each to work with. That goes for the rest of the postseason too! I'm sure this isn't going to be a train wreck whatsoever. With only 13 games in the playoffs, we've got no time to waste. Let's get into the picks!
1.Indianapolis Colts at Buffalo Bills
For my first pick of wild card weekend, I am rolling with Josh Allen to throw for over 2.5 touchdowns (+100).  As of late, Allen has been balling out of his mind! Since Week 13, Allen has thrown 15 touchdown passes and only two interceptions. He also rushed for two touchdowns against the Broncos in a 48-19 rout in Denver, a game in which he accounted for four total touchdowns. Now, I do realize that Allen has gone over the 2.5 passing touchdowns total just six times this season, but Allen and the Buffalo Bills are the hottest team in football right now and I can't pass up on this one.
I love Allen to throw for at least three touchdowns Saturday against a Colts defense that may not be as good as we're all being led to believe. Despite looking strong out of the gate this season, the Colts have managed to give up an average of 376.8 yards of total offense per game since Week 13. Over a full season, that would put them just above the likes of the Seahawks, Cowboys, Jets, and Raiders. We all know how bad those defenses are and as of late the Colts are not much better. Josh Allen is going to terrorize this Colts defense on Saturday and that is why I am hammering this prop. Take it to the bank!
2.Los Angeles Rams at Seattle Seahawks
This next pick was by far the hardest I had to make all weekend. With Goff potentially out for the Rams and the Seahawks seeming like a different team on offense, I didn't really know what to make of any of the props for this game. Ultimately, I decided to take DK Metcalf to haul in over 60.5 receiving yards (-112). After an otherworldly start to the season, Metcalf has certainly cooled off in his last eight games— as is the case for the entire Seahawks offense. In his first eight games, Metcalf had 788 receiving yards, 43 receptions, and eight touchdowns. In his last eight games, Metcalf had 515 yards, 40 receptions, and a measly two touchdowns. If you take out the 177 receiving yards from his unreal game against the Eagles, we're looking at 338 receiving yards over 7 games!
That's certainly not what you want from your stud wide receiver heading into Saturday's matchup as he will be shadowed by one of the best corners in the game, Jalen Ramsey. In his two games against Los Angeles this season, Metcalf had 28 receiving yards on four targets and 59 receiving yards on eight targets. With all that being said, I think Metcalf is going to reassert himself as one of the best young receivers in the game Saturday afternoon, a year after he set the record for receiving yards in a single postseason game by a rookie.
Fortunately, the targets have been there for Metcalf. Since Week 13, Metcalf is averaging 7.8 targets per game so the chances are certainly there for him to break one off and get a ton of yards. If Seattle wants to move on to the divisional round, they're going to need to find Metcalf early and often against a stout Los Angeles defense.
 3. Tampa Bay Buccaneers at Washington Football Team
To finish off Saturday, I will be taking the best tight end of all time, Rob Gronkowski, to score a TD (+136). Stop me if you've heard this before. Tom Brady and Rob Gronkowski are in the playoffs. It is no coincidence that in Gronkowski's one year off from football, Tom Brady looked like absolute shit in the Patriots lone playoff game against the Titans. Without his favorite target of all time, Brady looked lost and ended his career in Foxborough with a pick-6. As the two future Hall-of-Famers are now Tampa Bay, I'm looking for them to make a deep run in the playoffs that starts Saturday against an excellent Washington defense. Yes, I know that Brady and the Buccaneers are 1-3 in primetime games this season. I also know that Brady is 0-3 in his career against the NFC East. While I ultimately do think that the Buccaneers win this game, I don't think it's going to be easy for them.
This game is going to be a lot closer than the eight point spread suggests. In a tough matchup on the road, I'm banking on Brady to look for Gronk when the game is on the line and the Buccaneers need a score. Fortunately for us, Gronkowski is second on the Buccaneers in red zone targets with 14— five of which have ended up as touchdowns. As it stands now, Brady and Gronkowski have connected for 12 touchdowns in the playoffs over the years. If Gronkowski finds the end zone tomorrow, Brady and Gronkowski will break a tie with Joe Montana and Jerry Rice for the most playoff touchdowns between any tandem in NFL history. This prop pretty much sells itself. While he certainly isn't what he used to be, Gronk has still managed to find the end zone seven times this season so I will absolutely be hammering this prop bet Saturday night. I hope you join me!
Stay Tuned for Sunday's picks
Tail at your own risk. You can find all these odds at DraftKings Sportsbook. Good luck everybody! Let's win some money! And, as always, bet responsibly! Keep an eye out for my next blog where I will be giving my favorite picks for Sunday's slate.