Player Stock Ticker
NFL Week 17 Player Prop Bets to Hammer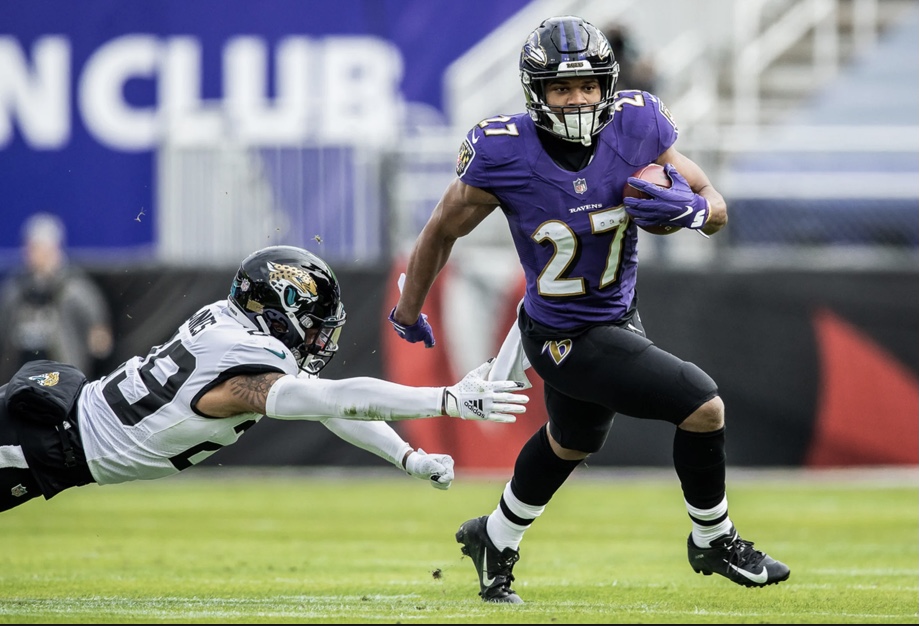 (Shawn Hubbard/ Baltimore Ravens)
I can't believe I'm about to say this, but we are on to Week 17. Congratulations to anyone who won their fantasy championship! I hope not too many people out there have commissioners who set Week 17 as the final week of their league's season because boy oh boy is it going to be a crapshoot! If you're not sure who is actually playing this Sunday, check out CJay's Week 17 Fantasy Primer for a better idea of each team's situation heading into the final week of the regular season.
So with that being said, let me get right into my favorite player props for Week 17.
1.J.K. Dobbins over 69.5 rushing yards.
After losing three games in a row during November, the Ravens have proceeded to win four in a row and now go into Week 17 in control of their own playoff destiny. It's safe to say that the Ravens playoff hopes are looking pretty good right about now considering all they need to do tomorrow is beat Cincinnati. So with my first pick of the day, I will be taking rookie running back J.K. Dobbins to rush for over 69.5 yards(-112). NICE. The last time these teams met, Dobbins had just one carry for 34 yards. Since that game, he is averaging 11.67 carries a game. In fact, Dobbins has had at least 11 carries in seven out of his last nine games. It certainly seems as if Dobbins is finally emerging as the lead back in Baltimore as Gus Edwards has seen his carries diminish and Mark Ingram has not been able to stay on the field. I love Dobbins to cap off an excellent rookie season with a big today tomorrow against a Cincinnati defense that gives up 130.9 rushing yards per game, the eighth most in the NFL. As a side note, Dobbins has found the end zone in five consecutive games. I'm not going to make it an official pick, but it wouldn't be crazy to sprinkle Dobbins as an anytime TD scorer (+125).
2.Derrick Henry over 118.5 rushing yards
For my second pick of Week 17, I am rolling with the NFL's rushing leader, Derrick Henry, to rush for over 118.5 yards (-125).  Full disclosure here, I took a future bet several weeks back that Henry would rush for 2,000 yards this season. Needless to say, I'm hoping Henry has a monster day against a horrendous Houston defense that allows 151.7 rushing yards per game, the second most this season. As it stands now, Henry has 1,777 rushing yards and would need 223 to reach the 2,000 mark. As good as Henry has been this season, 223 yards is no walk in the park. However, I do think Vrabel and Henry will both keep that total in mind which is why I love the number we're getting.  Going into Week 17 last year, Henry was third in rushing yards behind Christian McCaffrey and Nick Chubb. Vrabel proceeded to give Henry 32 carries in the final game of the season and the rest is history. Henry rushed for 211 yards and brought home the 2019 NFL rushing title.
While Henry already has this year's rushing title in the bag, I suspect he wouldn't mind adding 2,000 yard rusher to his resume. Also, you'll never guess who the Titans matched up against in that Week 17 game. That's right. THE HOUSTON TEXANS… AT NRG STADIUM! Barring some unforeseen asteroid crashing to earth and destroying NRG Stadium in Houston, Derrick Henry will easily surpass the 118.5 rushing total on Sunday in an attempt to reach that coveted 2,000 mark. As one final note, I do have to mention that Derrick Henry has thrived in domed stadiums this season. In Week 3, Henry rushed for 119 yards and two touchdowns against Minnesota. In Week 12, Henry rushed for 178 yards and three touchdowns. If those two games are any indication about how tomorrow is going to go, I'd guess that Henry rushes for 224 yards and four touchdowns. I guess we will see!
3.Zach Ertz anytime TD scorer
For my third and final pick of the day, I am simply going with my gut and taking Zach Ertz to score a TD (+150). The Philadelphia Eagles were eliminated from playoff contention last week as they lost to the Dallas Cowboys. The loss to the Cowboys capped off what can only be considered a disaster of a season for the Birds. Sunday's game against the Washington Football Team will be the first game that the Eagles are not either already in the playoffs or in playoff contention since 2016. The Super Bowl honeymoon is officially over. And while 2017 could not seem further away for Eagles fans, two key players from that Super Bowl run will be the center of attention tomorrow as they likely take the field one last time as members of Gang Green.
As all signs indicate that Jason Kelce and Zach Ertz will likely not return next season for the Eagles, I will be taking Ertz to score one last touchdown for the only organization he has ever played for. It's definitely been a disappointing season for Ertz as he missed significant time due to injury. However, in the last two weeks, Ertz has seen seven targets in each game. Since Dallas Goedert is done for the season, I suspect Ertz could see upwards of 10 targets and possibly even find the end zone in the final Sunday Night Game of the season. Ertz has only one touchdown all season and that came in a Week 1 defeat to the Washington Football Team. This is really just a shot in the dark, but I've got a great feeling about this one. Hopefully Ertz won't fuck me over like he has so many times past!
After a 2-1 day last week, I'm currently sitting at 12-11 (+13.56 units) heading into the final week of the regular season. Tail at your own risk. You can find all these odds at DraftKings Sportsbook. Good luck everybody! Let's win some money! And, as always, bet responsibly!