Player Stock Ticker
NFL Week 16 Player Prop Bets to Hammer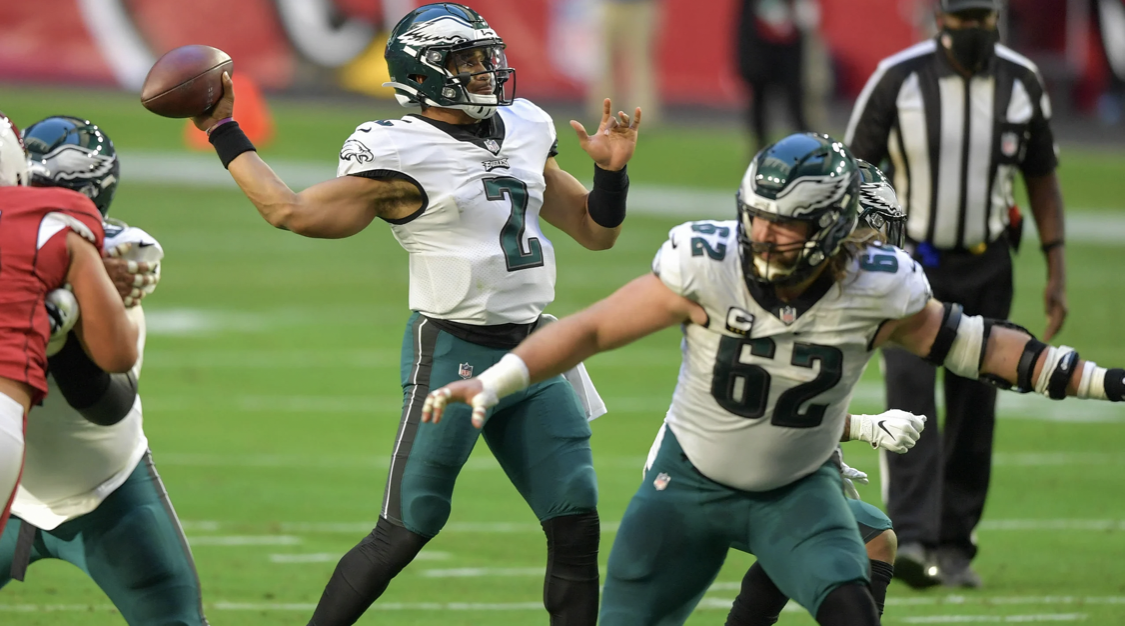 (Drew Hallowell/ Philadelphia Eagles)
Happy holidays to all you fantasy football wolves out there! And my condolences to anyone who happened to be facing Alvin Kamara in their championship game. On the bright side, you don't have to stress yourself out on Sunday by praying and hoping that all your players come through for you. At least that's over with! You can just wallow in defeat like the rest of us. In all seriousness, congratulations to anyone who had made it this far.
For those of us who did not have the most wonderful time this season, I have some player prop bets that will make Week 16 merry and bright. Let's get right into them!
1. Travis Kelce over 81.5 receiving yards
To start off my Sunday, I will be riding with Travis Kelce to haul in over 81.5 receiving yards (-112). The Wolf has Kelce as his TE1 in his Week 16 rankings as he takes on a terrible Atlanta defense that has been more than favorable to opposing tight ends this year. In Week 12, I told you all to hammer Darren Waller as an anytime TD scorer against this Atlanta defense. Unfortunately, the Raiders had their worst game of the year and any chance of Waller scoring quickly flew out the window. I don't quite see us having the same bad luck this Sunday as Patrick Mahomes and Kelce might be the most consistent duo in the entire NFL.
For seven straight weeks, Kelce has hauled in at least eight receptions from Mahomes while also totaling at least 82 yards receiving in six of those seven games. It's no surprise that Kelce is currently second in receiving yards with 1,318 as he is averaging 9.4 targets a game. I will be absolutely be hammering the over on Kelce's receiving total as he looks to retake the receiving yards lead from DeAndre Hopkins. In addition to chasing Hopkins, Kelce is also only 60 yards shy of breaking George Kittle's single-season record for receiving yards.
I'm going to go out on a limb here and predict that he'll break this record with ease. This one is a no-brainer for me and it might be my best bet of the season.
2. Jalen Hurts over 1.5 passing touchdowns
When it comes to the afternoon slate, I will be focused on the Philadelphia Eagles as they take on the Dallas Cowboys because I am taking Jalen Hurts to throw for over 1.5 touchdowns (+100). The Wolf has Hurts as his QB4 in his Week 16 rankings as he takes on a Dallas defense that has given up 30 passing touchdowns this season. In his first start for the Eagles, Hurts held his own against a top-tier defense in New Orleans and actually brought home the W.
While he only threw one touchdown pass, he sure seemed to give life to an otherwise terrible Eagles offense. This new-look Eagles offense brought that same energy to Arizona last week as they put up 26 points in a losing effort to the Cardinals. Despite the loss, Hurts threw three touchdown passes and rushed for one as well.
Although the rookie QB is completing just 55 percent of his passes through two games, I will absolutely be hammering the over on 1.5 touchdown passes as Hurts and the Eagles have thrown the ball a whopping 74 times over two games. The volume is certainly there for Hurts to have a big day in the passing game. If you want free money, hammer the over on this one.
3. Davante Adams over 7.5 receptions
For my third and final pick of the day, I am rolling with Davante Adams to grab over 7.5 receptions (+100) as he takes on one of my favorite defenses to fade, the Tennessee Titans.  Not only do Aaron Rodgers and the Green Bay Packers currently possess the number one seed in the NFC, but they also possess one of the best offenses in all of football. And while Aaron Jones and Robert Tonyan are having tremendous years, the lifeblood of the Packers offense is Davante Adams. Adams leads the NFL in average targets per game with 10.9, so needless to say the opportunities are always there for him. However, what really caught my eye was the fact that Marquez Valdes-Scantling is second in total targets on the Packers with 60. DAVANTE ADAMS MORE THAN DOUBLES THAT WITH 131!
Folks, I will absolutely be hammering the over on this one as Adams is taking on a Tennessee defense that allows the fourth-most pass completions in the NFL this season. Despite the fact that Adams has only surpassed 7.5 receptions five times this season, I absolutely love the value we're getting here and I can't pass up on it. I can't wait to watch Rodgers and Adams torch the soft Tennessee secondary in Lambeau on Sunday Night Football. Apparently, the Wolf can't either as he has Adams as his WR1 in his Week 16 rankings.
After another 1-2 day last week, I'm currently sitting at 10-10 (10.66 units) on the season so tail at your own risk. You can find all these odds at DraftKings Sportsbook. Good luck everybody! Let's win some money! And, as always, bet responsibly!